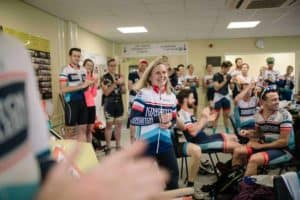 **COVID-19 UPDATE**
In light of the Government's advice of 16 March 2020, and British Cycling's statement today, 17 March 2020, all our club-organised rides are suspended until further notice.
Unfortunately, this includes all New Joiner Rides.
We will continue to monitor the situation in light with Government and British Cycling advice, so please do keep an eye on our website for any updates, or send us an email on [email protected] to let us know you'd like to join one of our rides and we'll let you know when they start up again, because we'd love to hear from you!
In the meantime, ride safe and stay healthy.
Best wishes,
KWCC
—
Looking to join one of the friendliest cycling clubs in London? You've come to the right place.
If you fancy getting a flavour for what we are about, you can join one of our 'new joiners' rides' that take place on the first Sunday of each month during our regular club run. Please contact us to register your interest and receive info on the meeting point and route details. We have a number of favourite routes and these can be seen here: Routes
If you enjoy your first ride with us, we will add you to a joining list and contact you when a space becomes available. You can then sign up and join the club.
When registering your interest please let us know if you are under-18 as you will be required to fill in a consent form and if you are under 16 you will need a ride guardian.
Club Run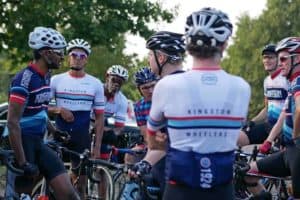 We meet every Sunday morning at 9am in the car park of the Laithwaites wine shop, at the junction of Portsmouth Road and Brighton Road in Surbiton.
Any non-member interested in riding and joining the club can sign up for the monthly dedicated new joiners ride by contacting us. This is a great way to experience Kingston Wheelers, meet members and be taught the basics of safe group riding. Once you have joined a club ride, you can apply to be added to the joining list. For more on this, please refer to our joining and membership page.
Most rides will stop for coffee and cake about halfway through the ride but some will ride non-stop, all will be advertised before they leave. Club runs can be anything from 40 miles and back within a couple of hours, to upwards of 100 miles riding all day!
Volunteering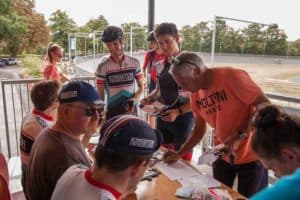 Kingston Wheelers relies on all members to help out with all activities and duties the club needs to fulfils to serve its purpose. Whether this is helping lead a club ride on a Sunday morning, baking a cake, marshalling a road race or being on the committee, everyone has to do their part or the club won't exist. As with all amateur sport the members serve the club as much as the club serves them. Volunteering is great fun, a good way to meet lots of members and to get to know them socially off the bike.
When you join Kingston Wheelers, you sign up and agree to the Members Terms, which require you to volunteer at least once a year to help the club. Kingston Wheelers has a duty to help maintain and develop cycling at a grassroots level. This requires us to put on events such as road races and time trials, not only for our members, but cyclist across the area and country. As one of the largest clubs in the south east we have obligations to the cycling community in helping maintain and grow the sport for current and future cyclists.
As well as open races, we also put on private events for our membership. These include yearly events such as the race skills day, club TT series, velodrome track days, club championship race, awards night, summer BBQ and much more. With such a wide range of events going on, everyone is required to pitch in and help where they can.
If you love cycling and want to get involved in all aspects of a great cycling club, then Kingston Wheelers is the club for you.
FAQs
Am I good enough to join?
Joining a cycling club isn't a competition. If you want to test yourself, join us and start with a few beginners rides. Otherwise, don't worry about what level you are at, enthusiasm is the most important thing. Many members don't race, they want to do the Sunday club runs, meet other like-minded people and just talk cycling. Read the other FAQs below to get a better idea.
Can I just come along and ride?
No, the club run is only open to members of the club. You can apply to ride and a newbie ride that happens usually on the first Sunday of the month. Please look at the Club Run on how to apply.
Do I have to have a racing bike and all the kit?
No. Enthusiasm for cycling is the most important thing. Some members do have flashy bikes but the truth is they don't help you ride that much faster. For the club run, a road bike is preferable although a mountain bike with slick tyres should be ok too. We recommend you ride with a helmet and bring a spare inner tube in case of a puncture.
Do I have to live in Kingston?
No. We have members from all over Surrey, Middlesex, London and even some members who live abroad.
How do I become a Kingston Wheeler member?
After applying to come on a Newbie Club Run and attending a successful ride. You will be contacted by the membership secretary when a place is available, you will then confirm your intention to join the club and the membership secretary will create you an account on the website and forum. You will then be able to login to the website and add your membership details plus purchase your membership subscription through the on-line shop. Once this has been done you will be a member and have full use of the website, forum and Kingston Wheelers club.
How many women are members?
We have a good number of female members. Like everyone else they are involved in all forms of the sport, from riding the odd Sunday club run to regular racing and representing Surrey. But the ratio is far from 50-50, so we'd like a lot more women, so you'll be extra welcome if you join.
I don't want to race, what can your club offer?
Bored of riding alone? Want to discover new routes? Hungry to know where the best cakes are? We're a social club, not a professional cycling team. Our regular Sunday rides are popular amongst all members and we have a lot of other activities. Recent activities include trips to see the Ghent Six Day and the Tour of Flanders as well as riding the Etape du Tour. If you like cycling, joining a club is a good way to meet like-minded members. We hold regular curry nights too.
I want to race, what can your club offer?
A lot of members race. We're a friendly club so you'll find yourself on the start line with allies alongside you – you won't 'meet' your clubmates for the first time as they barge past you for the finish line. We've lost count of how many new members took up racing and moved from fourth to third category racing. We're ranked as one of the top clubs in the South-East. You'll also benefit from the advice of a coach and the experience of others who have ridden at the highest levels. We have riders winning races from local to national level. You'll find our Club 10 series in the summer is a great way to start, the 10 mile time trials are races but there's a fun atmosphere. Above all, we race as a team and this greatly increases your chance of winning and enjoying the race.
I'm under 18 can I join?
Yes, we have a child policy and conform to British Cycling by having a Club Welfare Officer as well. We take our commitment to child protection and the welfare of all our members seriously. If you are 16-18 we only require that you have a consent form signed by a guardian and returned to us before you are able to ride with the club. If you are under 16 we require you to have a ride guardian and a signed consent form. The ride guardian is someone who you must find and agrees to be a ride guardian. They must be a member or willing to join the club to attend rides with you. The ride guardian must always ride with you, please see our 
KW Under 18 Consent Form
for more details.
What about mountain biking or cyclo-cross?
Several club members also compete in MTB events and cyclo-cross races too and more just enjoy hitting the North Downs from time to time. We do not currently have regular mountain bike rides but we're keen for mountain bikers to join our club and we do have some organised rides over the winter. Our interest in cycling means that potential new members who ride MTBs can benefit from advice on riding, training and a club coach as well as meeting some likeminded cyclists. However, if you want regular MTB rides, try asking in local shops for a club that'll be more suitable.
What makes you different from other clubs?
That's probably more for you to find out, try talking to other clubs. But we like to think we're a club that offers plenty to a broad range of people interested in cycling. We're a friendly lot with a good Sunday ride. You'll find we meet socially too, we're not an internet-based club. If you want to race, we've got some talented riders who are down to earth and keen to pass on their knowledge and you'll find a team spirit's that's second to none. Likewise, there's plenty of knowledge across all areas of cycling, from repairing your bike, buying kit to cycling abroad. Join us and you can choose what activities you want to do, from a Sunday ride with a cake stop, to a trip to Belgium, even racing in the Alps.
What sort of distance and pace can I expect on your Sunday club rides?
The distance varies according to the weather and what people feel like doing but 40-50 miles is normal whilst the pace is usually a steady 16-18mph. It's a sporting ride but we're not out for an unofficial race every Sunday: the pace is steady. If you think you're good, join us and take out a racing licence to do some of the local races instead of making the club run into a burn-up. When you come along, introduce yourself to some club members and explain that this is your first ride with the club so we can make sure you don't get dropped or too tired. If you can handle a 40 mile ride, you'll be fine. Remember that riding with others is a lot easier than riding by yourself. For more on the club runs, click here.
What's the age range of members?
We have members from 18 to over 80. We do accept membership if you're under 18, you get a junior rate but please contact us first by email. For Under-16s, think about the Kingston Junior Cycle Club.
When is the club run?
The Kingston Wheelers club run is like many cycling clubs, it runs on every Sunday morning come sun, rain or snow. We meet at Laithwaite's on Portsmouth Road. at 9am every Sunday.
Your news page is full of stories about racing, is that all that matters?
Many members race, some weekly, some just a few times a year and their results are often published in the press, get reported on cycling websites and people come out to take photos of the events. So it's easy to copy their results on this website and to add some comments. Even so, winning a race is a great achievement and we'll shout loudly when a club member wins! The club has plenty of other activities, from the weekly club run, regular rides in Richmond Park, the club night and curry nights, for example, but no one does a write up of these yet.