Join us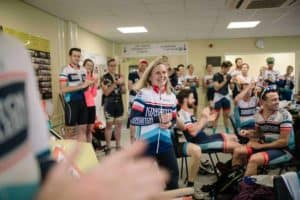 Looking to join one of the friendliest cycling clubs in London? You've come to the right place.
If you fancy getting a flavour for what we are about, you can join one of our 'new joiners' rides' that take place on the first Sunday of each month during our regular club run. Please contact us to register your interest and receive info on the meeting point and route details.
If you enjoy your first ride with us, we will add you to a joining list and contact you when a space becomes available. You can then sign up and join the club.
When registering your interest please let us know if you are under-18 as you will be required to fill in a consent form and if you are under 16 you will need a ride guardian.
Club Run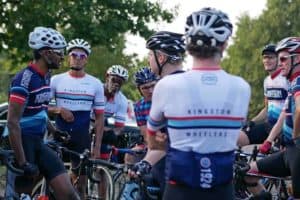 We meet every Sunday morning at 9am in the car park of the Laithwaites wine shop, at the junction of Portsmouth Road and Brighton Road in Surbiton.
Any non-member interested in riding and joining the club can sign up for the monthly dedicated new joiners ride by contacting us. This is a great way to experience Kingston Wheelers, meet members and be taught the basics of safe group riding. Once you have joined a club ride, you can apply to be added to the joining list. For more on this, please refer to our joining and membership page.
Most rides will stop for coffee and cake about halfway through the ride but some will ride non-stop, all will be advertised before they leave. Club runs can be anything from 40 miles and back within a couple of hours, to upwards of 100 miles riding all day!
Volunteering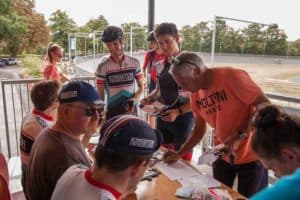 Kingston Wheelers relies on members to help out with all activities and duties the club needs to fulfil to serve its purpose. Whether this is helping lead a club ride on a Sunday morning, baking a cake, marshalling a road race or being on the committee, everyone has to do their part or the club won't exist. As with all amateur sports the members serve the club as much as the club serves them. Volunteering is great fun, a good way to meet lots of members and to get to know them socially off the bike.
When you join Kingston Wheelers, you sign up and agree to the Members Terms, which require you to volunteer at least once a year to help the club. Kingston Wheelers has a duty to help maintain and develop cycling at a grassroots level. This requires us to put on events such as road races and time trials, not only for our members, but cyclists across the area and country. As one of the largest clubs in the south east we have obligations to the cycling community in helping maintain and grow the sport for current and future cyclists.
As well as open races, we also put on private events for our membership. These include yearly events such as the race skills day, club TT series, velodrome track days, club championship race, awards night, summer BBQ and much more. With such a wide range of events going on, everyone is required to pitch in and help where they can.
If you love cycling and want to get involved in all aspects of a great cycling club, then Kingston Wheelers is the club for you.
FAQs
Who is the club for?
We strive to be the most inclusive club in London and have something for everything, representing all disciplines of the sport. We foster an engaged community who make an outstanding contribution to their own club and the wider cycling community. Through an active volunteering programme, our members are encouraged to give back in a way that is a positive experience for everyone.
When are your club rides?
Our regular club run takes place every Sunday morning at 9am, meeting in Surbiton. In addition to this there are often Saturday rides posted on the forum, as well as Wednesday night social laps in Richmond Park and training rides during the week rides in the summer.
What sort of speed and distance can I expect?
There are a range of rides that head out each Sunday, which are categorised by a speed rating from K1-K4. If you're not sure you'll be able to keep up, you can start with a slower K3 or K4 ride and build up to a faster paced ride. Club rides usually head into the Surrey Hills or towards Windsor but you'll also regularly find rides heading into Sussex, Kent and the Chilterns. Rides tend to vary in distance from about 35 miles at the shortest to over 100 miles at the upper end.
Can I just turn up and ride?
If you are interested in joining the club, we ask that everyone attends a new joiner ride. These are a good introduction to the club and a chance to meet existing members.
Do I have to have a racing bike?
Most riders at the club run will be on a road bike but we do also have members taking CX and MTB rides out. We also have a thriving group of track riders. Enthusiasm for cycling and being part of a club are the most important things.
Do I have to live in Kingston?
We have members from all over London and even some members who live abroad.
How do I become a member?
Once you've registered and completed a new joiner's ride you'll be able to login to the club shop and purchase a membership. Membership costs £30 per year for seniors and new joiners are required to sign up for two years.
How many women are members?
We currently have around 50 female members and a dedicated women's area of the forum. Whether you want to ride socially or race, you'll find the club welcoming and inclusive. We have dedicated women's reps who you can chat with prior to joining to see if this is the right club for you.
What's the age range of members?
We have members from 16 to over 80. We do accept membership if you're under 18, you get a junior rate but please contact us first by email.
I'm under 18 can I join?
If you are aged 16-18 we only require that you have a consent form signed by a guardian and returned to us before you are able to ride with the club. If you are under 16 we require you to have a ride guardian; they must be a member or willing to join the club to attend rides with you.
Can I race for the club?
We have a number of members who race across multiple disciplines. We are one of the top ranked BC clubs in the south east for road racing. We have lots of members who compete at time trials, from those on road bikes up to national level. There are a number of members who regularly race on the track, indoor and out.
What about CX and off-road?
We have an active cyclo-cross scene with several members racing both the London and Central CX Leagues, as well as hosting our own race at Bedfont Lakes each September.
Several club members also compete in MTB events and many just enjoy hitting the North Downs for off-road social rides and training.