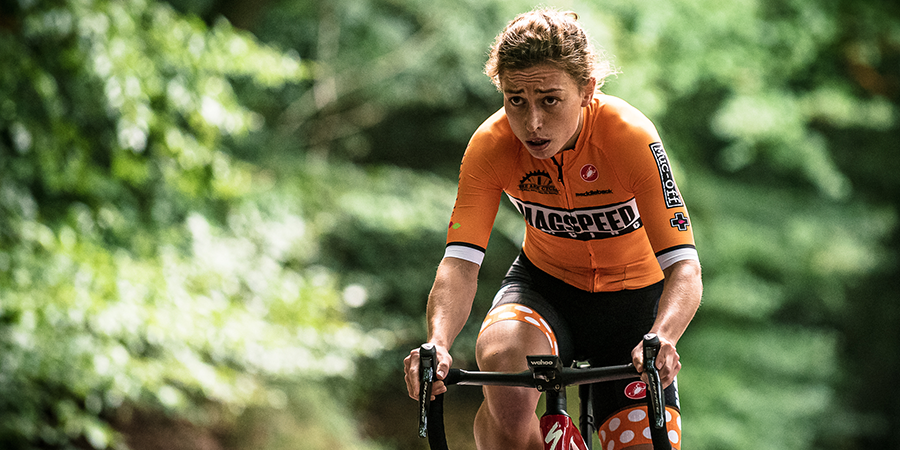 A new women's record on Leith Hill
A sunny Saturday in Surrey saw a packed field of riders for our annual John Bornhoft Memorial Hill Climb. With most racing cancelled this season, the time trials and hill climbs that have been running have been seeing a great turn out and we were thrilled to have over 100 hundred riders listed on the start sheet. The warm weather was accompanied by a northerly wind, giving the racers a challenging headwind on Leith Hill.
Young Owain Williams from Kingston Wheelers was the first rider off at 11:01 with the rest of the field taking to the startline in one minute intervals, through to 12:42. The men's competition was a hard fought affair with only 13 seconds separating the top 10. The top spot went to junior Matthew Houlberg (Meudon Pedal Heaven) who completed the course in a rapid time of 3 minutes 44 seconds. Becky Hair (Magpseed Racing) took the top spot in the women's race and set a new course record in the process with a time of 4 minutes 27 seconds, just 0.2 seconds faster than the time set by former national champion and Kingston Wheeler Maryka Sennema in 2014.
Big thanks to Alice Lethbridge and all the volunteers who worked very hard behind the scenes to put the event together. All the more impressive by the fact that Alice has the added stress of racing too, and came 2nd despite a last minute bike change at the start line!
Men's Top 10
Matthew Houlberg (Meudon Pedal Heaven Le Col RT) 03:44
Thomas Arkell (East London Velo) 03:45
Chris Crabtree (Orwell Velo) 03:45
Tobias Dahlhaus (Foran CCC) 03:50
David Ross (LFGSS CC) 03:53
Chris Moores (Norwood Paragon CC) 03:53
Frazier Carr (SPIRIT TIFOSI RT) 03:54
Finlay Hawker (VC de Londres) 03:55
Michael Cunliffe (Paceline RT) 03:56
Matthew Ferguson (Redhill CC) 03:57
Women's Top 10
Becky Hair (Magspeed Racing) 04:27
Alice Lethbridge (Torelli) 04:48
Kate Palmer (1904RT) 05:04
Madeleine Heywood (Lea Valley CC) 05:04
Gemma Hobson (URDT) 05:05
Harriet Hernando (Vision Innovative Leisure Racing Team) 05:12
Henrietta Aitken (Rapha Cycling Club) 05:22
Lucy Hurn (Woking Cycle Club) 05:27
Uta Pollmann (CC London) 05:31
Katie Simmonds (URDT) 05:32
Full results available here: https://www.cyclingtimetrials.org.uk/race-entrant-list/20713#anchor