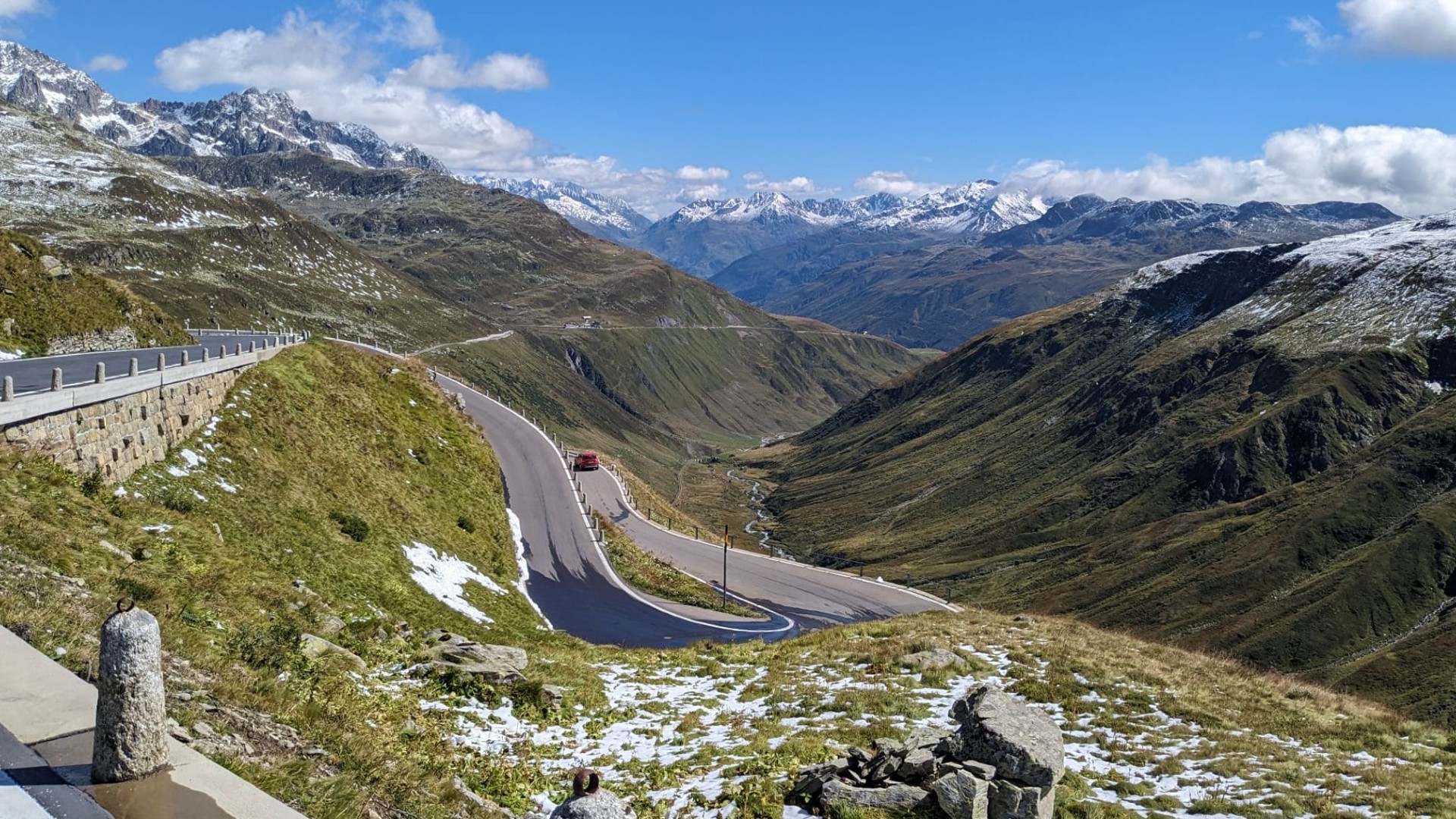 Alpen Brevet for breakfast
Five huge mountain passes with 7,200 metres climbing in one ride… what could go wrong? Dai Michael reports back from the Alpen Brevet in Switzerland last month, where he roped in a bunch of equally brave (or foolish?) Wheelers to take on one of the toughest sportives in Europe.
Alpen Brevet started close to a year ago. DD loves Switzerland, for cycling, skiing and her youngest brother lives there. She knew of this event and wanted to ride it. On showing it to me, before I actually look at it, I said fine but we'll do the longest route, "we" always do. My regret was instant, Platinum is 268km and 7200m of climbing… yikes, only thing for it is to rope in all the usual suspects to suffer with me.
We ended up with a large group, agreeing it was worthy of our effort and with FOMO, Javier signed up knowing that it was 2 weeks after P-B-P. With some early foresight we booked a few apartments in Andermatt, the start and end of the event. Knowing it was an early start and likely late finish, being a few 100m's was going to make a difficult day a smidge easier. We all planned a tough years riding which didn't really happen but we all discussed it in length, which went from James Whit optimistic (it will be easy) to Ed's Francis pessimistic. Unfortunately, over the months we had a few drop outs due to injuries (and covid) but the biggest blow was DD's crash a couple of months before the event, requiring an operation to pin and later remove the pin (9 days before the event) from her thumb. Our chief protagonist was unlikely to ride… there was rumblings of murder, but she made the plane with a hastily put together bike and with no knives in her back.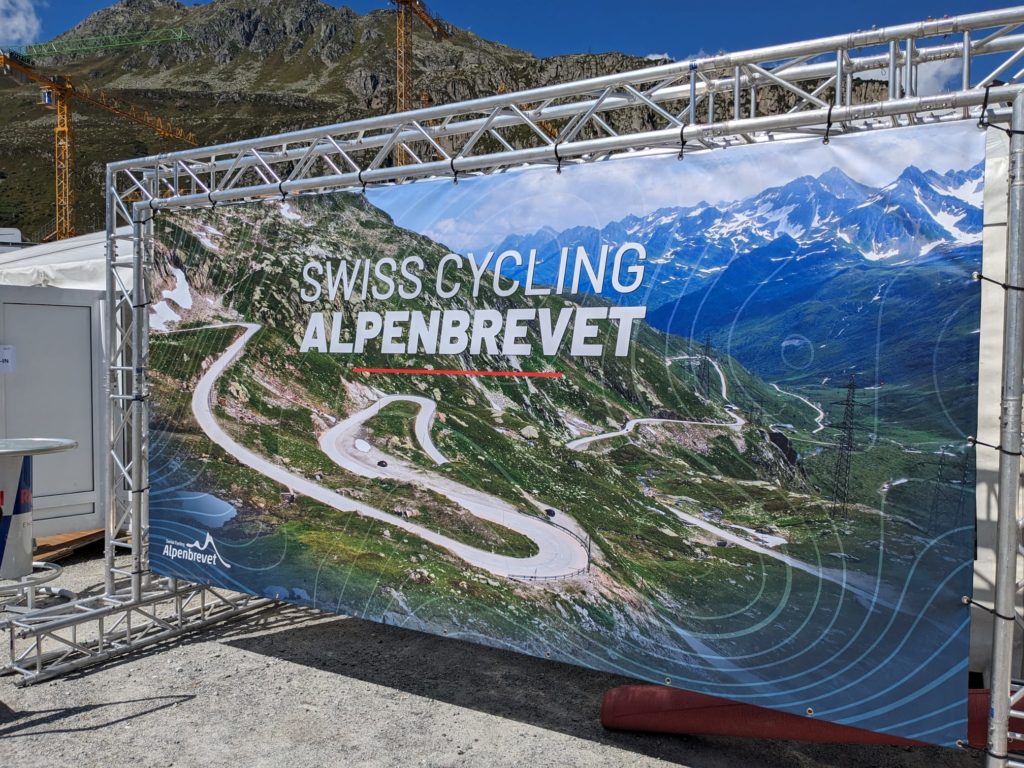 We arrived in Andermatt on a Thursday afternoon after a very picturesque train ride. There was a lot of snow on the mountains… it looked pretty and conversation turned to how much clothing to wear. That afternoon I donned a proper dark winter kit to ride the Gotthard Pass, a mere 25km, there and back including the short section of cobbles. I started sweating and so did everyone else instantly but the descent was cold… that night discussions around what to wear for tomorrow's ride up the Furka Pass and 2400m. We also were interested to see how much James was going to drink… we weren't disappointed with his enthusiasum.
Suitably less clothed but still a good amount… I was instantly regretting it as we hit the climb, so so hot in the direct sun. It was even a hot on the descent around midday… I was clueless as to what to wear and everyone was bored of my clothing conversation. We had a nice quiet night, even James was giving respect to the event and only had a couple of glasses of wine. I made my clothing choices that night and would live with them after fretting a lot in the morning.
It was a 6:15 start and true to the genius of apartment planning (I booked) we were a couple of hundred meters from the start giving us a lot more sleep that most people who would be getting the train in overnight. DD had managed the two previous days and whilst the descending had been a bit sore, she was going to start the Platinum with the group and then turn to do the shortest detour of 120km and 3500m or see if she could do 160km and 5500m. After that there is no option but to finish the whole event, in the end DD managed to incredibly do the 120km/3500m with Tommy G (ex-wheeler), thumb and wrist sore but completed what didn't look possible for her a week earlier – massive kudos. T-Y (ex-wheeler) over from USA managed 160km and 5500m option which was equally impressive having had a double hernia operation 6 weeks earlier.
We all started in the 3rd batch of riders, setting off in groups of 100, 10 minutes back. The first part is a neutralised 10km descent to the start of the Susten, this was taken at breakneck speeds of 60kph+ in dawn light. So much for neutralised! and would be a sign of things to come. We hit the start of the climb, we had "all" decided that a sensible pace would be required, I took the front sitting at 220-230 watts. James was having none of this boring stuff, started sprinting for the lower town signs and pressed on making friends as he went. The rest of us, myself, Denis, Javier, Grant (ex-wheeler) and Ed Francis stuck together. Adam B kept to himself and Dan P and Kush decided to ride with Tommy, who suggested they might want to ride a bit quicker! Having done a lot of climbs all over the world, the Susten was a stunning climb, the sun coming up over the snow tops with the moon still in the sky. A sensible gradient and we made good progress catching a lot of the bulk of the first group who started 10 minutes before us. We pull over to put on rain capes to stop the cold and start the descent, I consider myself a reasonable descender but a rude awaking was about to take place..
A quick recap, this is an event that is fairly big in Switzerland but not really that well known outside, there were only 4 other British people to our good selves in the Platinum route. Anyway… the speed the locals would descend was scary, much to the slight annoyance for the first half of the event as we would overtake them on the climbs… we soon hit the Grimsel, this is a long climb and we are all in good spirits, discussing what bottle of red we would have later. We stick to the plan of 220-230 of my watts. James is still up the road doing who knows what but it is expected… We mostly stick together with a bit of a breakup as we get towards the end lake. Again we don raincapes to descend and the now traditional people passing us, we get caught in cars and buses but as we push along the valley we start to join up and there is a food/drink stop before the 3rd climb. Here we all group up, take a few minutes to get water and start to take off underlayers, it is getting warm. Nufenen was next and pretty much kicks in straight out of the feed station, this was now known as Nurofen by the group, almost 10% and topping out at 2410m, it was the climb we all thought would be the hardest. It didn't disappoint. We kept the pace steady as per the plan(tm) and James is back in the fold after his initial breakaway, it is a fairly draggy straight-ish first half which the wind didn't help, even if it wasn't bad. About halfway up, 2018 Surrey Road race Champion, Ed Francis, started to push on to show respect for the jersey and left the group, not to be seen until the finish line. As we start to hit the switchbacks and the higher altitude the rest of the group start drifting apart a few hundred metres. We crest, regroup, put on raincapes and start the descent. I'm getting a bit bored of it now and despite promises of perfect roads this one wasn't as perfect as I would like… after a lengthy descent we hit the feed station, this is the cutoff point. We have made it by 30 mins, we all agree that we have ridden pretty quickly and the cut off is tight…. Adam Bidwell appears as we ready to leave so we have a slightly longer break much to Javier (Mr PBP) charging…
There is a 45km ride, mostly 1-2% downhill but some flat, we set off and other riders join the group. This is good, we get to share the work to knock the km's off. In reality Adam picks up the mantle to drive the pace suitably matched for long periods by Grant with only the odd bit done by the other riders. We knock off the distance in quick order and we now have a 40km climb to Lukmanier. It starts off gradual and picks up later… it has got unbearably hot as we have dropped to 750m, the Garmin reads 33c, so much for clothing worries! we stop for water at the side of the road and about halfway up we stop at the feed station. Eating has been hard, we have been either descending or climbing, I have been trying to eat on the descents but it isn't the easiest. I'm very under calories and try to eat the bread, cheese and chocolate on offer as well as drink copious amounts of coke. Adam has dropped suffering from lack of food as well.. He decides to take longer at this stop. James is starting to get grumpy and Javier to coax him along, "Come on Baby!" not the last phrase Javier "too happy" will use to upset the group.
We push on and towards the last part of the climb James drops of the group not to be seen until the finish. He burned bright but definitely faded…. The last part is draggy, I'm really feeling it now, I'm in the stick with the group and suffer or ride on your own and take longer… I fight to hold the wheels of Javier, Denis and Grant. We "crest"… in a tunnel, most underwhelming… we push on, lots of bumps in the road, my feet are hurting and I prefer climbing to descending at this point as it is more comfortable on the shoulders and feet. We hit the bottom, still warm and the last feed station. Here the 4 of us take a bit of time to get some enthusiasm. We are tired, it has been a very long day and I'm struggling to want to eat. Denis and I are looking a little down, some might say broken. Javier looks like he just got out of bed and ready to go… We decide to get it over with… Javier tries to convince Denis and I that we will get a second wind halfway up the next 1000m final pass, we aren't convinced. Garmin breaks the climb into 2 parts the first part is 3% and we push along far to fast for my now sore and tired legs but I fight to stay in our group. There aren't many riders on the road, just the 2-3 people groups. We hit the last part 650m left of vertical climbing and 9km distance over the Oberalppass. I stare at the vertical meters count down, I'm sure my Garmin is broken, it is going to slowly… I eventually detach about halfway up from the Grant, Javier and Denis. I'm grinding my way up the switchbacks and finally crest out with Javier and Denis waiting with T-Y who rode to meet us. For the final time we don raincapes and start the decent to Andermatt and the finish. Tired we wind our way down the pass to the finish. Denis and I both collapse on the grass, very very sugar depleted. Ed got back 30 mins before us and was trying to numb the pain with 3 bottles of free beer, only to discover they are alcohol free. Adam, James, Kush and Dan all make it back before the cut off time of 9:30pm to cap off a very successful ride for all.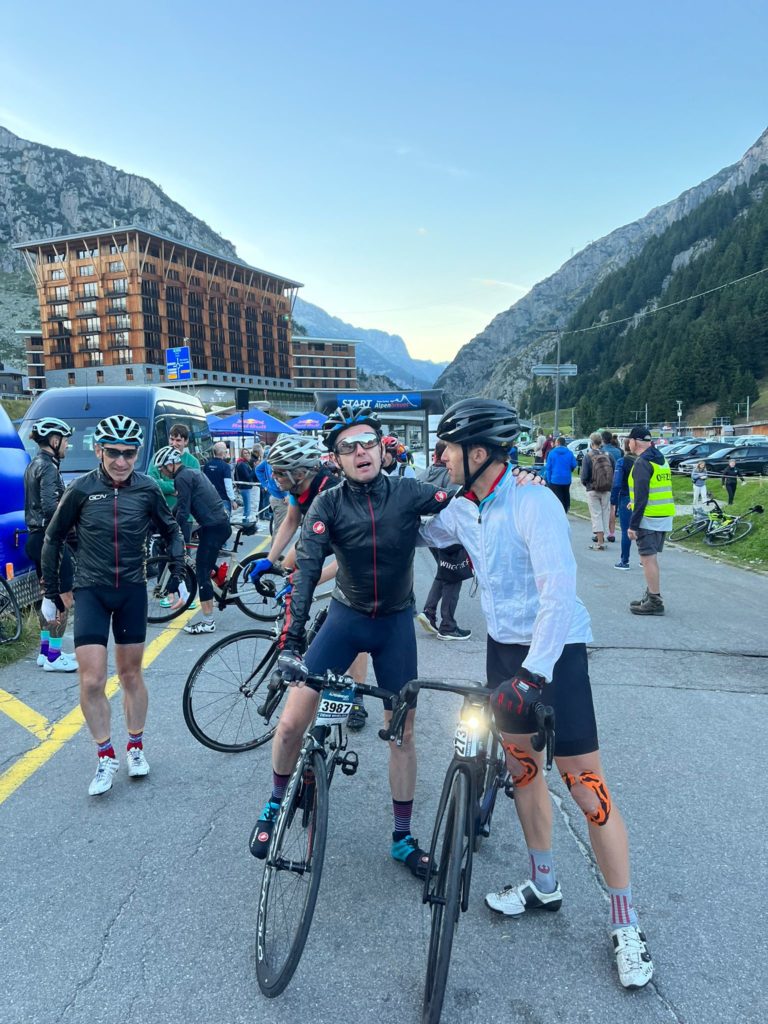 I've done most of the main EU sportives, generally place high, I've done some very long and high climbs in Asia and USA, I love climbing. This was the toughest one-day ride I have done. 265km is a long ride, 7200m climbing is a lot, the combination makes it a very hard long day.. Something I never considered until the day before walking back from dinner with Dan, was cut off times. Whilst we all made them and it wasn't an issue, they don't give much headroom, 500 people entered the Platinum and only 350 finished. It was a very tough day but very worthwhile doing…
I'm looking at the parcour before suggesting "do the hardest" in future…
Find out about the 2024 edition here