Class of Paris-Brest-Paris 2023
Paris-Brest-Paris is the jewel in the crown of the audax calendar, only coming round every four years and attracting riders from around the world. Given the popular audax scene at Kingston Wheelers it was no surprise to see seven members taking on the 1,200km ride. We hear back from some of the members who took part.
Javier Arias Gonzalez
In August last year I set myself the target of riding PBP2023 in less than 59 hours. When I dreamed about an amazing time, 55 hours was what came to mind. I never dared to mention that figure to anyone. It just sounded too wild. Audax is not racing. I live by that philosophy.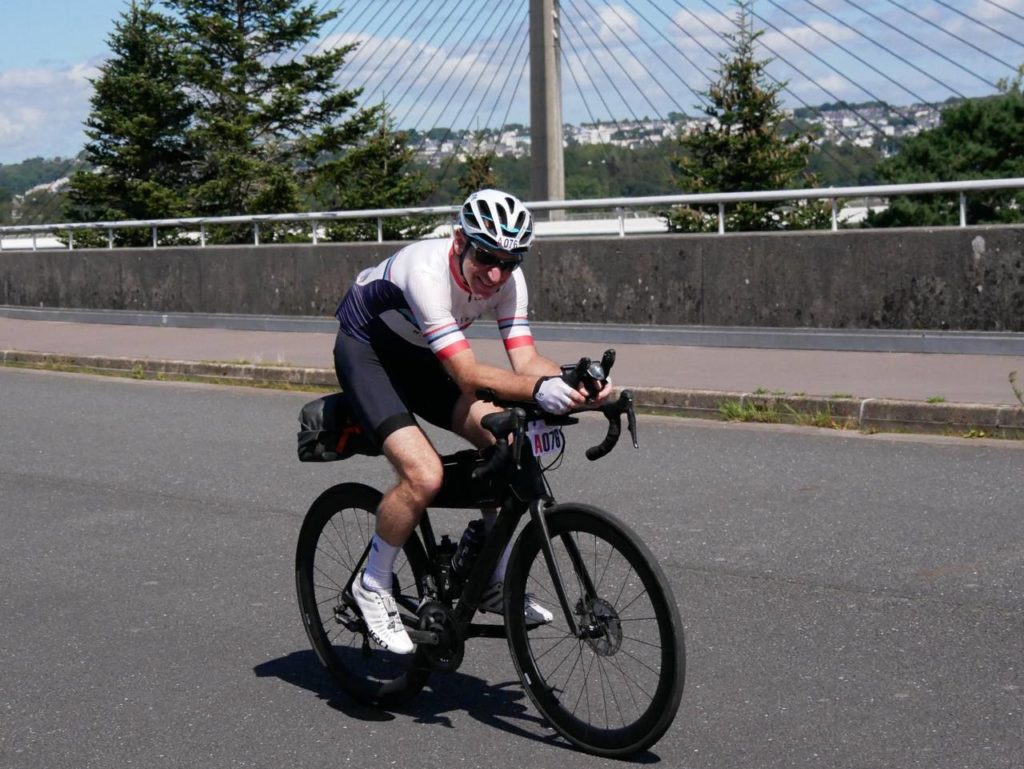 Still, in this edition of PBP I wanted to set my personal record. The way I was thinking was "Javier, you are 54 years old, focus this PBP edition in setting your record for the rest of your life. Next PBP edition you'll be 58 and you'll focus on enjoying the unique PBP atmosphere".
To say I was happy at the end of the ride is a massive understatement. I couldn't stop crying in disbelief. I couldn't understand how I managed to get such a great ride. So many things have to go just right to allow for this but the most important one is the people you ride with.
I was very lucky to share part of the ride with Juan Pedro Moreno, first riding in the same group and then riding just the two of us, working together, taking turns. Very generous with his effort, a true gentleman.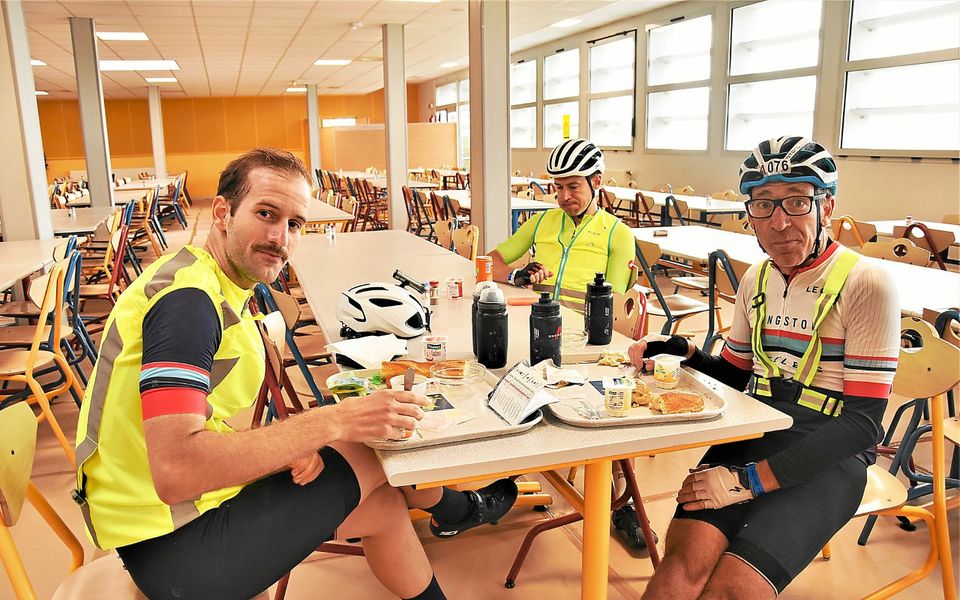 Then it was Björn Holzapfel, willing to give up his chances of getting a sub 48 hours PBP to tow me across Brittany. That's true Audax spirit.
Finally I shared most of the ride with Lucas Cortini. A very strong rider and better person with the quality of getting me into my senses when my overdose of caffeine infused optimism got me a bit too excited.
And this is it. Riding bicycles gives me many pleasures but riding with friends is my favourite one.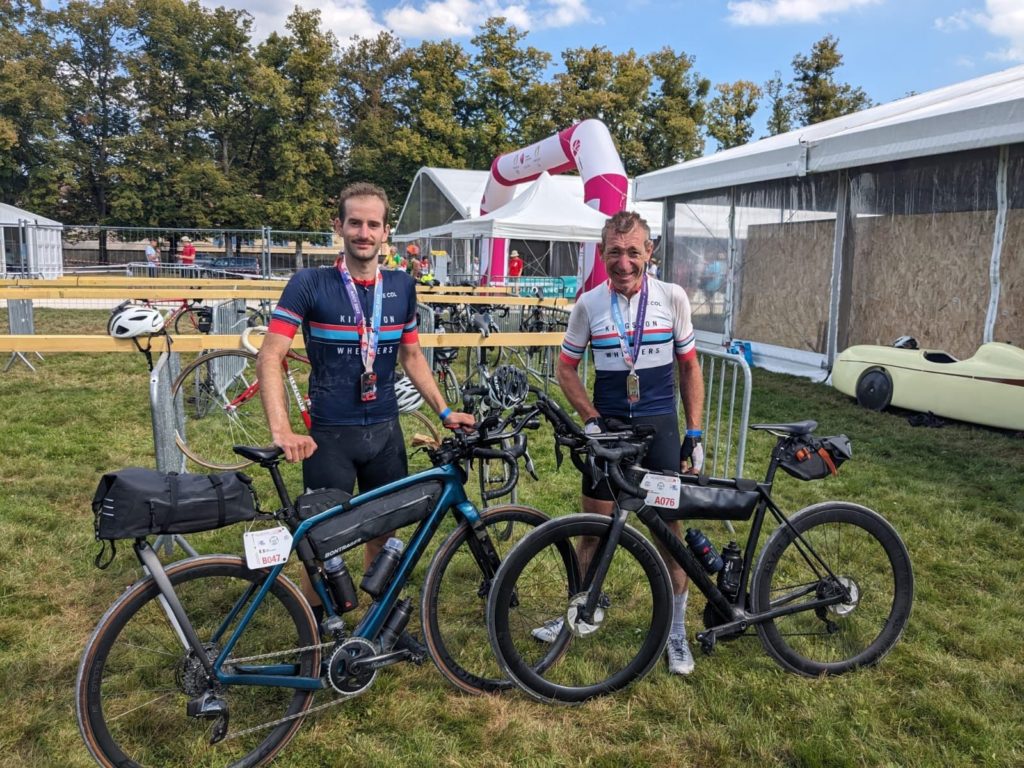 Javier's ride on Strava: https://www.strava.com/activities/9703059610
Richard Evans
My 6th time here. What an event! It's not just a bike ride, it's a four day international festival of cycling with the atmosphere of a Tour de France stage finish at every control.
There is multi-generational roadside support spanning the French Hexagon from east to west and back. Feel the love.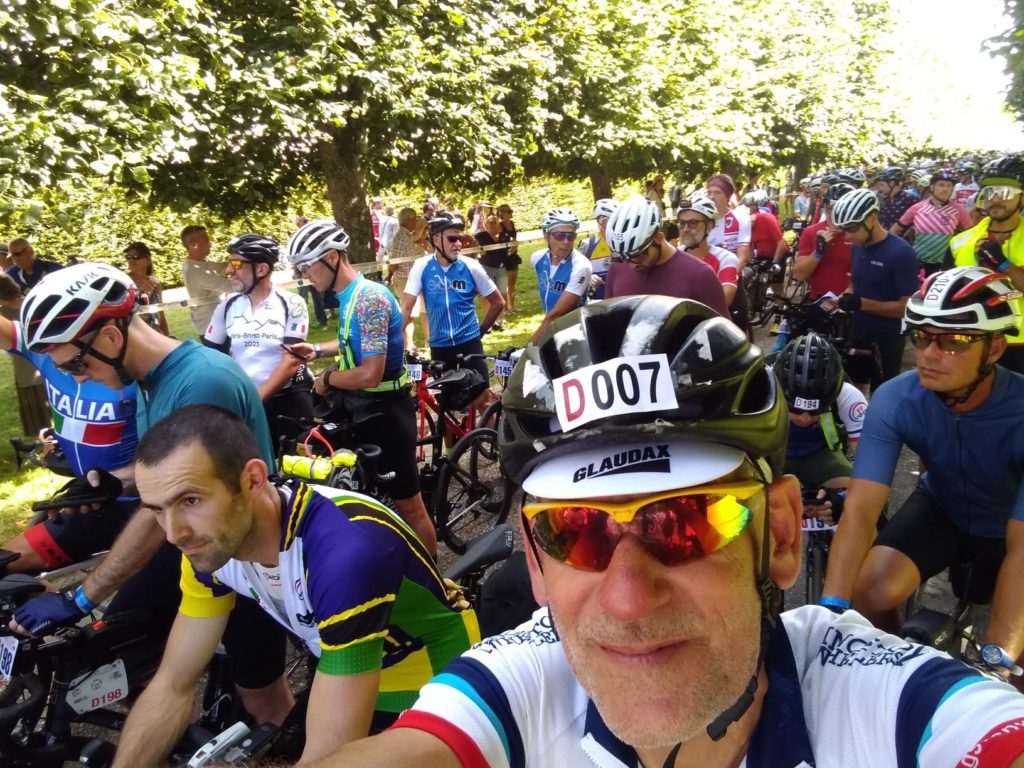 I'm always here to have a good time rather than do a good time. It's a randonnée not a race.
But let's not forget that it was a race. The first edition was in 1891, 12 years before the first Tour de France. Charles Terront won that in 71h. 5 hours faster than me this year. And I had tarmac roads and a lightweight bike with gears.
Very proud therefore of fellow Kingston Wheeler clubmates Javier Arias Gonzalez and Lucas Cortini who with a nod to race tradition set new fastest times ever by unsupported British riders. 47 hours and some minutes. Incredible achievement (Ed: setting a new UK record a time of writing).
My ride went mostly to plan, which was basically race out, tour back. Hot weather and fatigue on day two were troublesome, I had five roadside naps and no leg power. It felt hopeless for a few hours. But the mojo came back towards the evening and I got to Brest by 1am a few hours behind the schedule but inside the time limit.
Control rammed, all beds occupied, so a night on the tiles, literally, in the dining area. Slept like a baby for 3 hours, quick brekky and off by 5am. Back to Paris in 2×300 with one more sleep on a gym mat in Fougères. Party in full swing at the arrivée in Rambouillet. Rock on PBP 👍
Much enjoyed riding about half the distance with Nick Allen, Alan Parkinson, Dave Bradshaw and Jackie Townsend. Let's do it all again in 2027!
Only four more to get 10. I'll be 78. What could possibly go wrong?
Rich's ride on Strava: https://www.strava.com/activities/9718806388
Patricia Villar
An incredible, life-affirming faith-in-humanity-restoring experience but also the hardest ride I've ever done and the most pain I've pushed through on a bike. My whole body hurt by the end and my bike is now in the naughty corner, although in fairness it behaved very well.
We were lucky with the weather – it was mostly hot and sunny with a gentle breeze. A little too hot in the day but that meant we weren't cold at night. The French volunteers and roadside supporters were phenomenal and went all out to cheer us on and keep us fed and watered.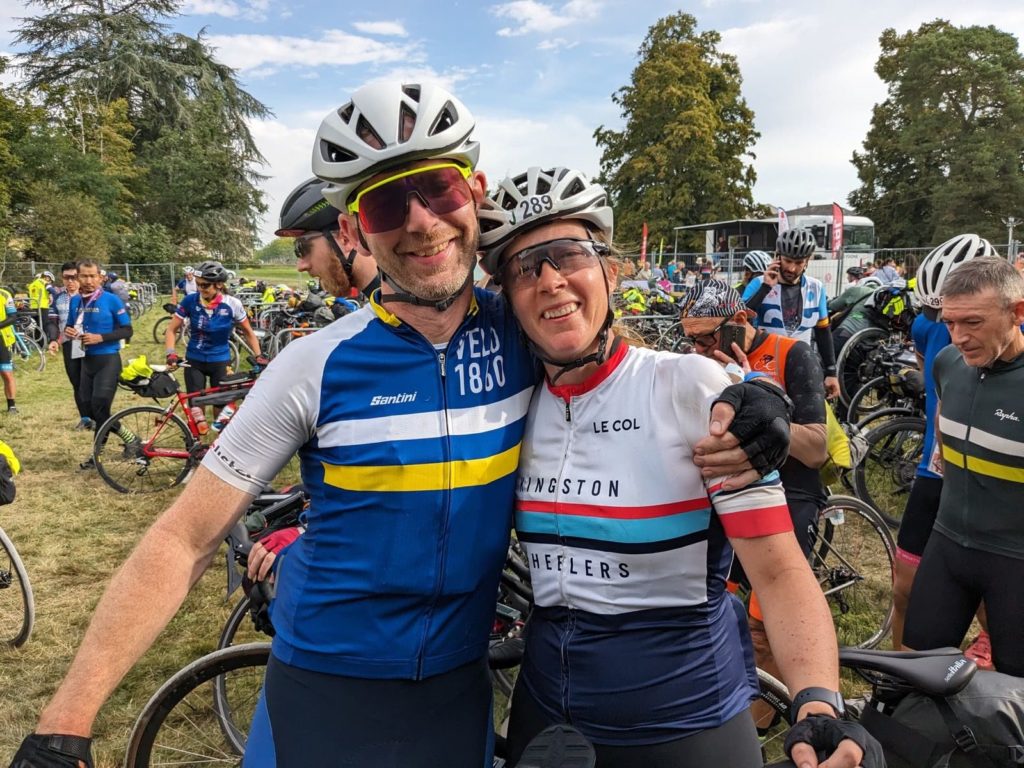 The organisation was exceptional and it was amazing to ride with so many people from all over the world. Our goal was to have a full value experience and we managed 3-4 hours sleep in all but the first night.
The yoga mat dormitory experience on the last night was memorable but when you're that tired you'll sleep anywhere and even the symphony of snorers didn't bother me.
It was totally worth the months of training and sacrifices, and I'm super happy that we made it.
Special thanks to my hero Tony Vickers who not only agreed to join me on this crazy adventure but also towed me around for most of it.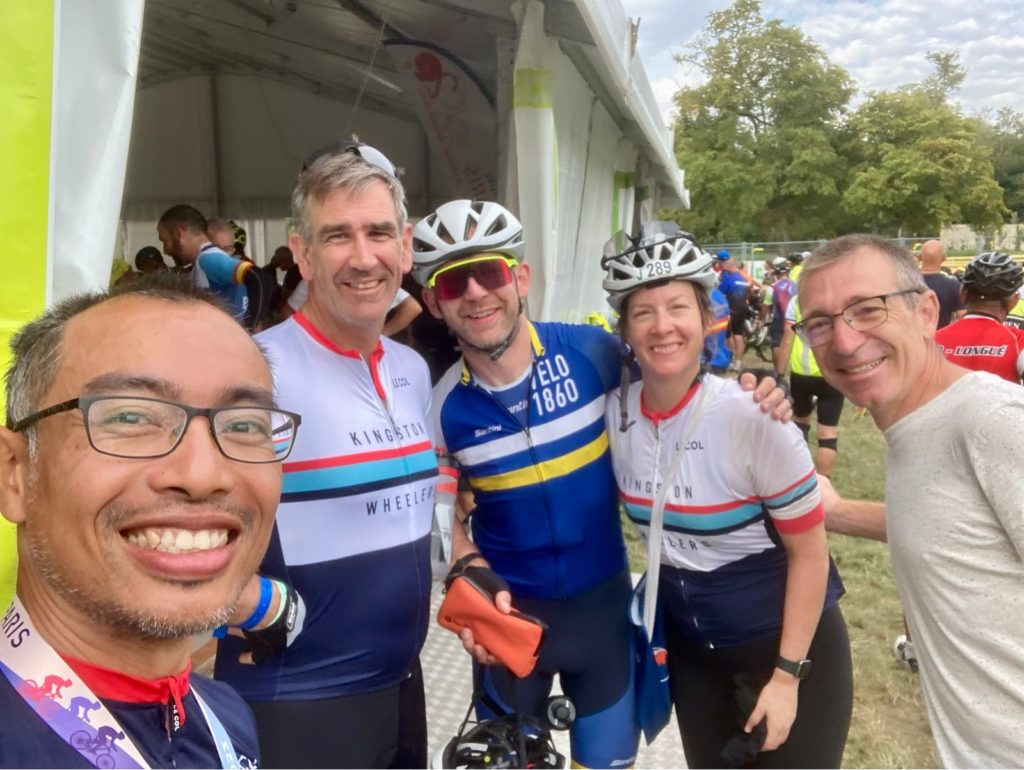 Also great to bump into several familiar faces along the way, especially fellow Wheelers David Cowie and David Wong.
Patricia's ride on Strava: https://www.strava.com/activities/9758380584
David Wong
Paris-Brest-Paris… where do I start? There's the usual taglines of "an epic challenge to tackle a great distance within a limited time, having to overcome intense heat during the day and chaos at the controls." etc. Blessed with good fortune my ride went well (within 90 hr limit) and as planned (i.e. slept well and felt good most of the time). Everything went relatively smoothly so I could focus on enjoying the experience itself.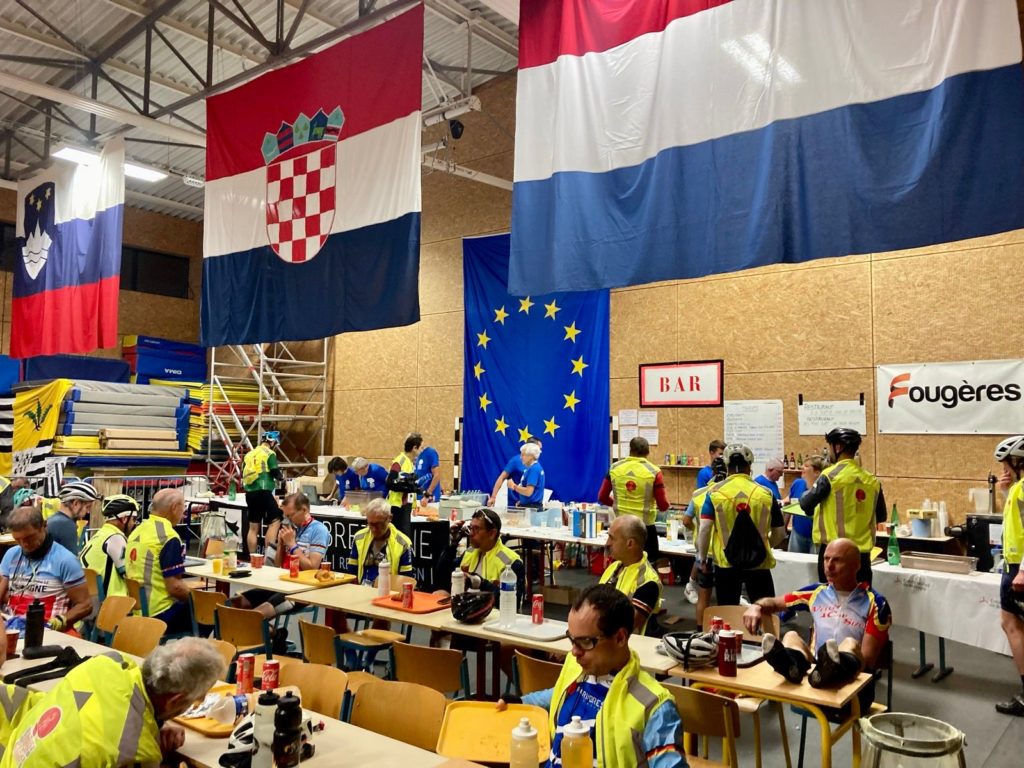 While many riders are driven by the "challenge" aspect of the ride, for me it is the "journey" itself that is my primary motivation. And what a journey! The stand out aspect for me is certainly the phenomenal support and hospitality all along the route. Countless people of all generations came cheering for us and offered us food and drinks by the roadside in practically every settlement we rode past.
PBP is so steep in heritage and so deeply woven into the local culture along the historic route. And as such the locals are often as excited and enthusiastic as us riders are. At times I felt like I was on a pilgrimage of some sorts. And the riders are from all over the world as well! This is something special and simply not found in other ultras and long distance events that I have come across so far.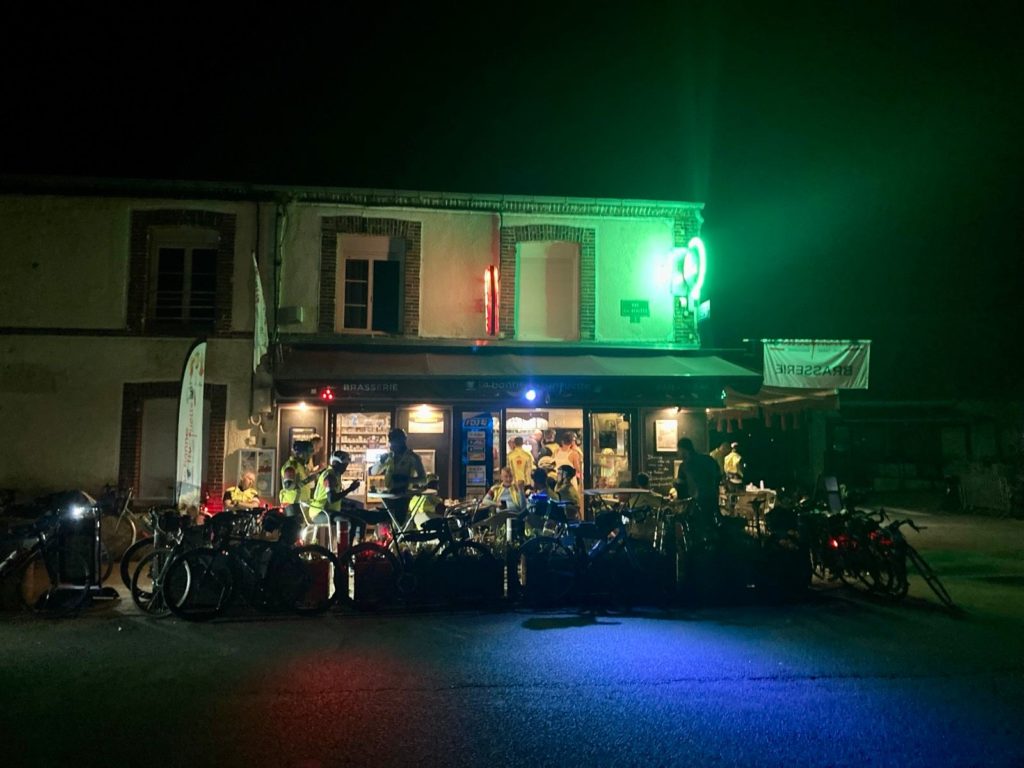 It would be impossible to recount all of the amazing encounters along the way. but there was one definite moment that I would like to share:
At around 1000 km into the ride, with only about 200 km left back to Paris, I rolled past another lovely yet unremarkable French village. There were the usual friendly bunch of locals cheering for us. Among them there was this lady sitting by the side. She was not cheering, but simply pointing up towards the sky. I looked towards where she was pointing, and then I saw it – there was a big white banner overhead between the townhouses, with a simple French phrase written on it:
"Courage! Courage à l'horizon!"
(Or something similar to that effect …)
I don't know why, but at that very moment when I finally took in its meaning, all the raw emotions that have been unwittingly bottled up inside me over the past few days, have decided to suddenly come pouring all out! I almost burst out in tears and could barely hold on to my bike…
This is exactly the kind of experience that motivates me to keep coming back for more long distance cycling events such as Paris-Brest-Paris and many others. For me it has always been about the journey, and all that entails. As I am certain that I would have got plenty of cherished memories just like this time.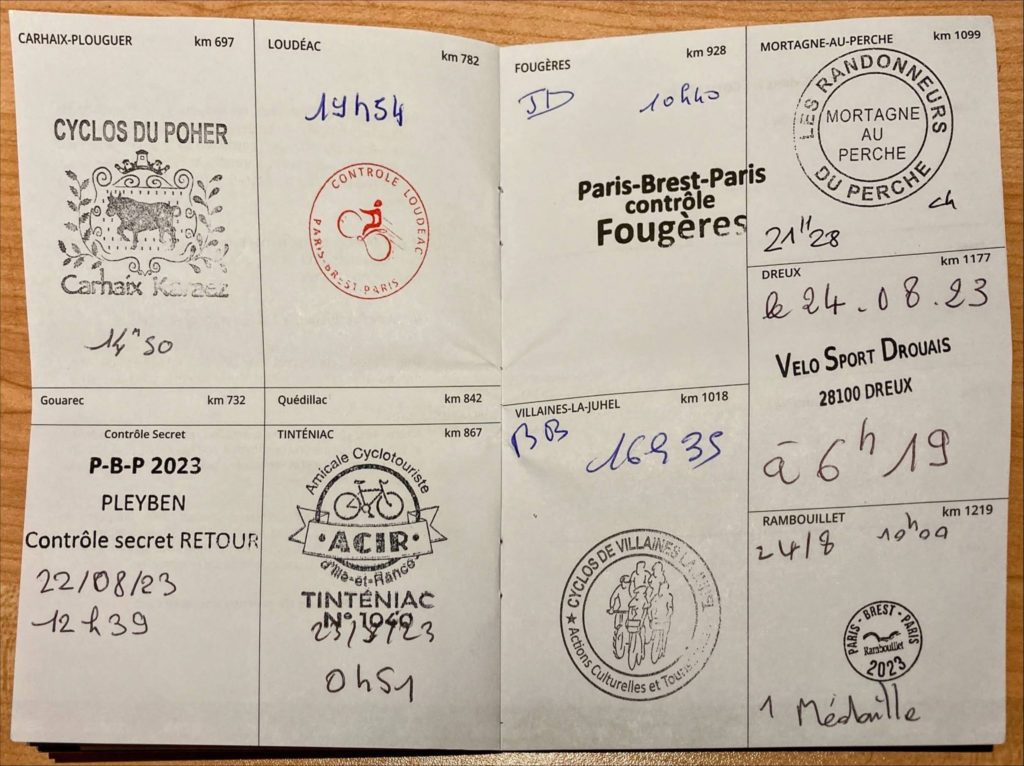 The added bonus is that one does not need to be super strong or mightily fit in order to achieve this – although some decent fitness has certainly helped me to better enjoy this ride.
Overall I have had a really good ride and a nice time. Merci Beaucoup!
David's ride on Strava: https://www.strava.com/activities/9726352286
David Cowie
The Audax that has been two years (and more) in the making. 2022 for simulation (SR series and London-Anglesey-London) and 2023 for an SR to qualify for the event. The time limit was 90 hours.
We started at 6pm on Sunday night and the plan was to ride through and also Monday. Thanks to advice from Javier Arias Gonzalez the goal was to make Carhaix. Set off with a speedy group and then realised after an hour they were too fast for my bigger plan. I'd given myself a 1 hour stop at the Controls, which in hindsight was about right.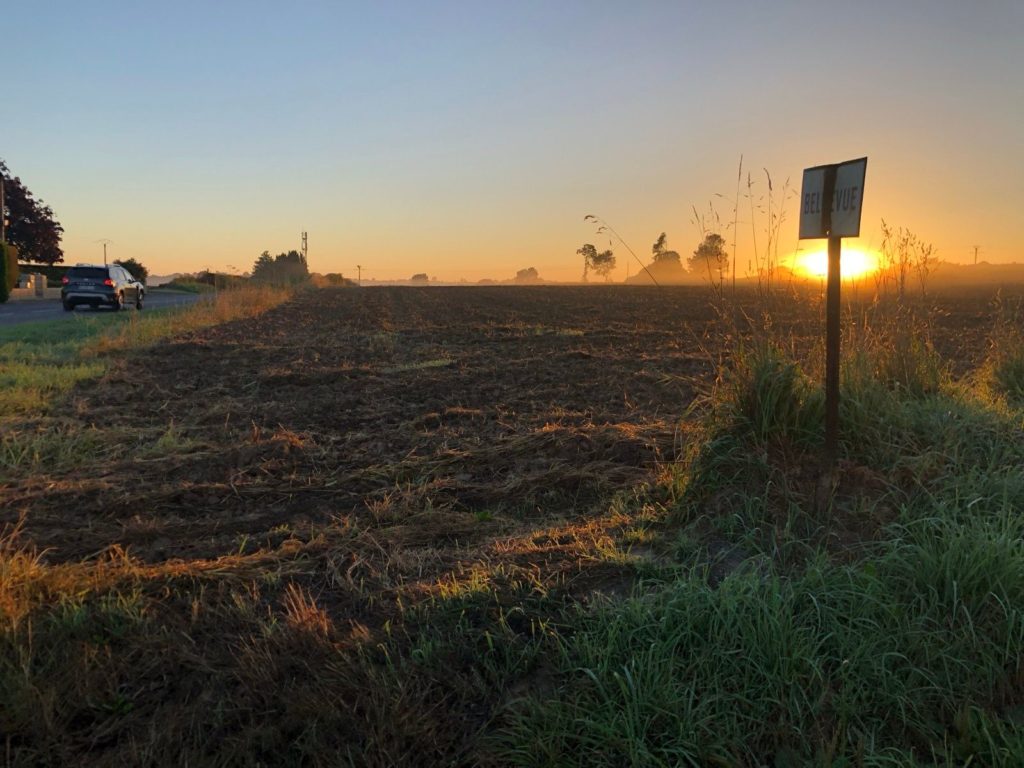 Given I was riding in the bulge, there were queues for anything, food, toilets, stamps or sleeping. Staying awake the first night wasn't bad at all and the day brought the first of 3 days with temps over 30C. The wind varied between Northerly and Easterly but oddly never seemed like a tailwind. I made Carhaix by Monday night at 10:30pm, 515km in. I think I got 4 hours of sleep, plus a shower and food as well. Sleeping was on camper-beds and it took about 10 seconds to fall asleep.
Day 2 (Tue) I set off for Brest and arrived there at 9am. What wasn't clear until the start, was that we had 40 hours to get there and then 50 hours to get back. Thankfully we only crossed the major climb once and came back a different route. A simple matter of now heading back to Rambouillet. Working my way now back though the controls it became testing again due to the day time temperatures.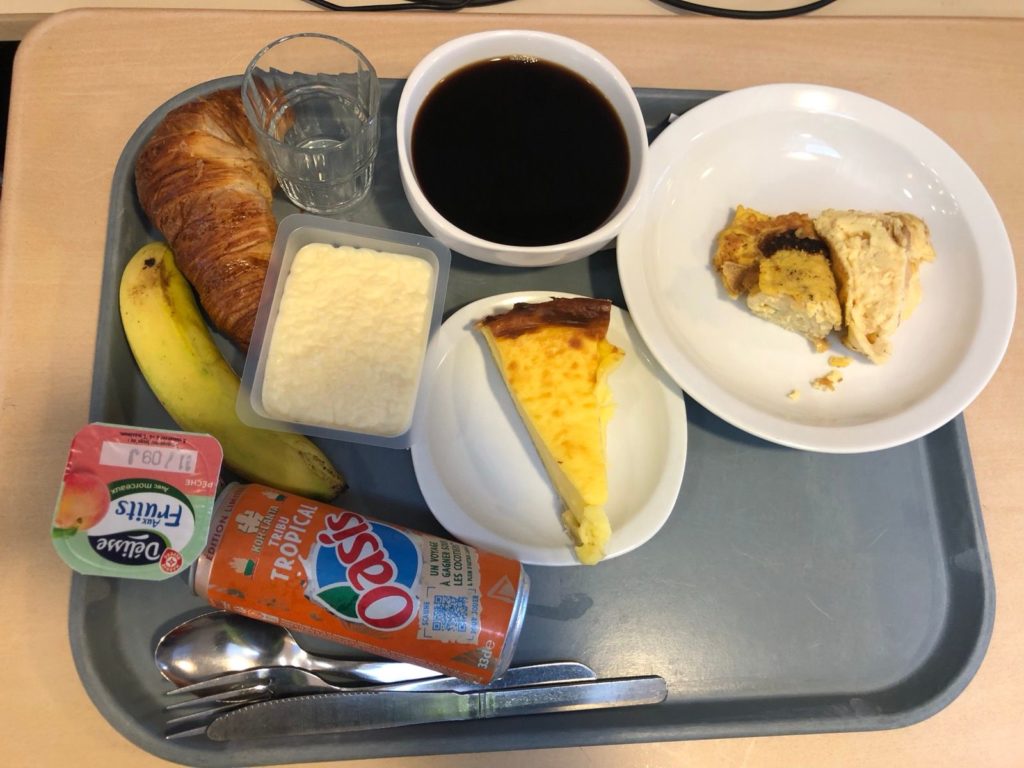 I made Quedillac for the 2nd night at 842km. I managed a supper, shower and slept for 3 hours on an inflatable mattress. Into Day 3 (Wed) and the goal was further with the aim to get to Mortagne au Peche for night meaning a short distance to the finish Thursday. Fatigue due to the heat, hills and duration meant my average speed was around 20km/h. This ate into my planned sleep time. By the time I arrived there (1,099km) I didn't have much beyond my 3 hours buffer so carried on.
At about 4am I was in much need of sleep and took a 30 min nap in a park in Crécy-Couvé. This gave some relief as I made the penultimate stop at Dreux. Here I met David Wong and we rode the last stage to finish together.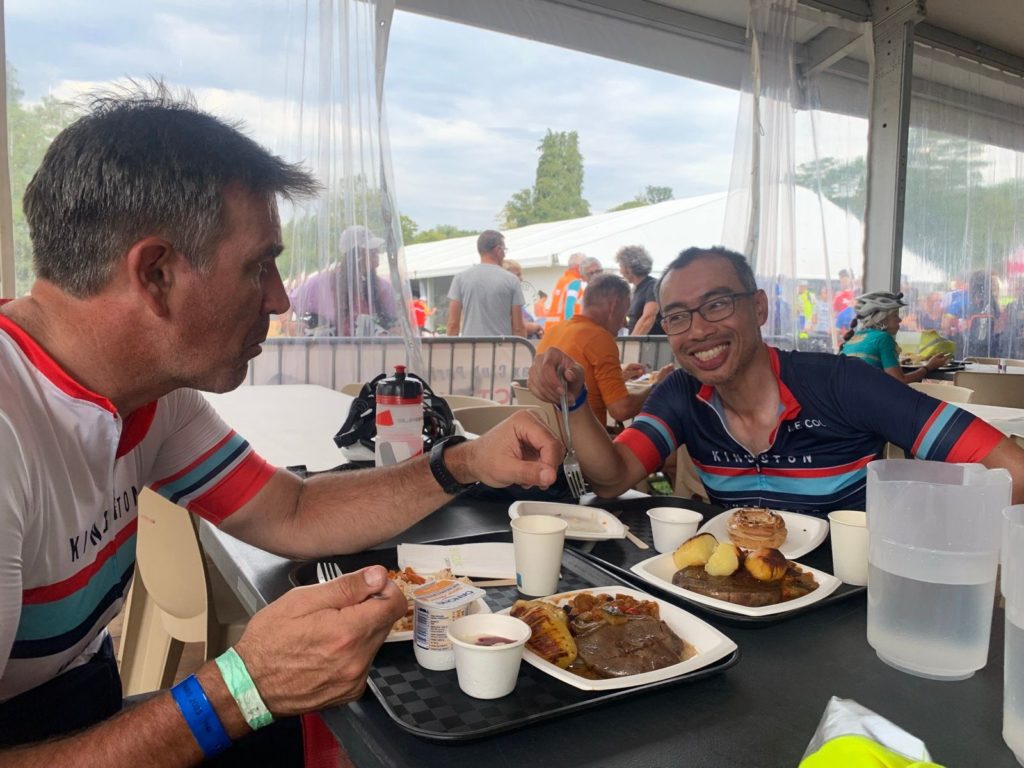 A truly amazing experience, too many to list but some as bars open all night for coffee, spectators on the route offering coffee or water or just cheering with "Courage" or "Bon Chance" or the hundreds of volunteers working at the controls.
My bike gave no problems and chain just needed a lube around halfway and tightened the derailleur barrel screw 2 turns to take up some cable slack. Pleased to see all the Kingston Wheelers finished and many thanks to Javier for staying to welcome us all in.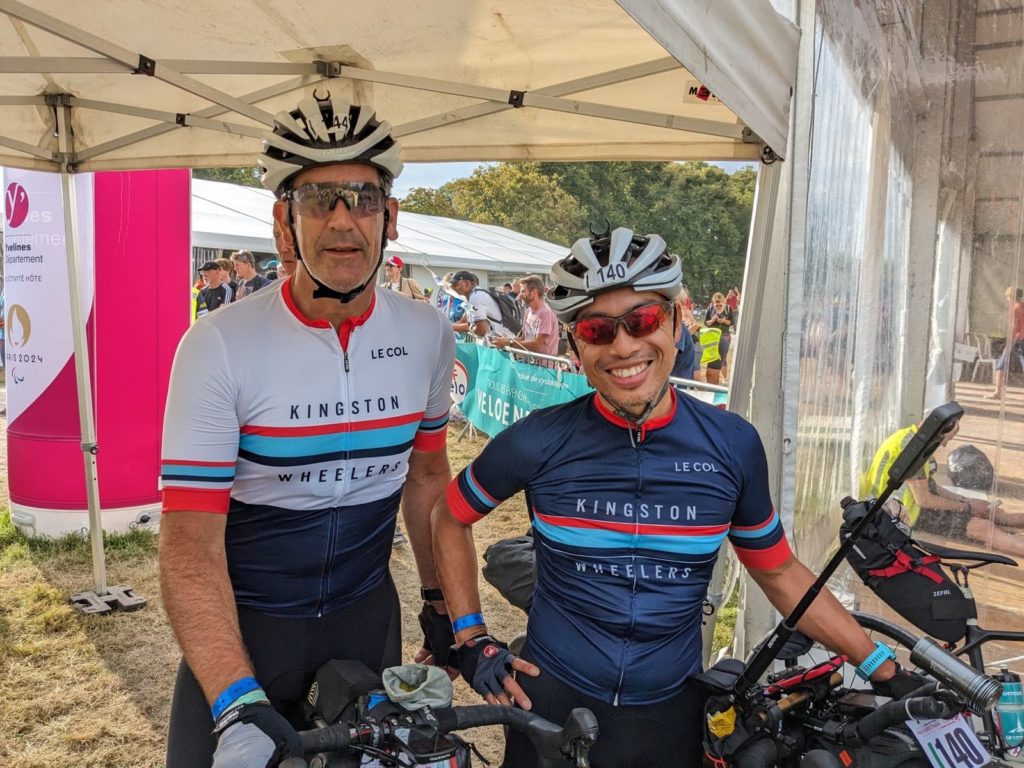 David's ride on Strava: https://www.strava.com/activities/9733325844