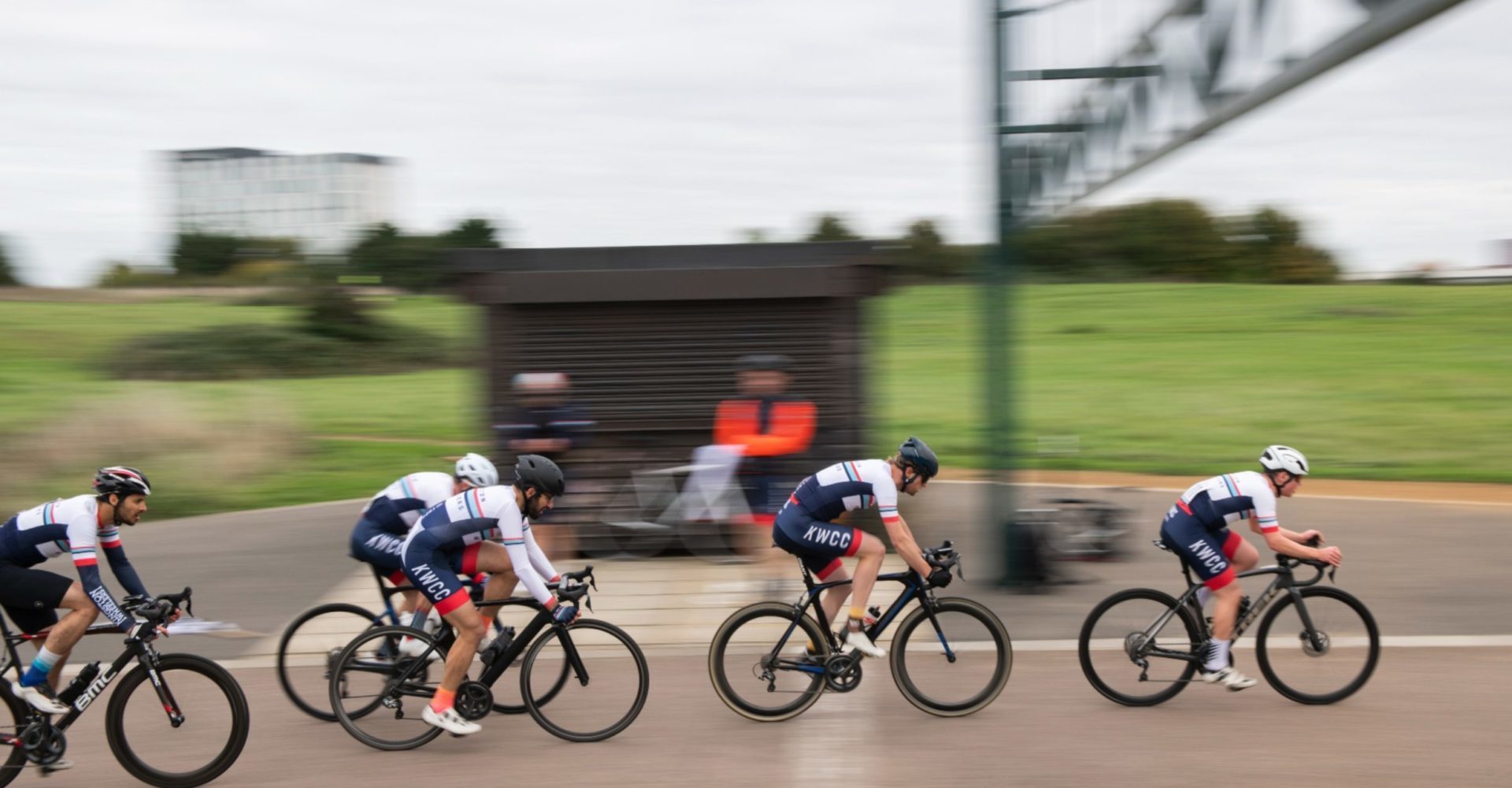 Crowning the new Club Champions
Following our recent Skills Day, we were back at Hillingdon again in October for our Club Championships. This was our first edition in two years and the 2019 men's champion Linton van Zyl was back to defend his jersey, whilst the women's competition was wide open for a new champ with Alice Lethbridge now racing with a new team. As is customary we had a Go Ride race for those new to racing, along with a separate men's and women's race. Here's a report from the winners on the day.
Luke Fenney (Go Ride Winner)
A quality field of 25 racing "newbies" lined up for this year's Club Championship "Go Ride" race. After a steady opening lap of the anti-clockwise Hillingdon Circuit, the pace quickly accelerated through numerous attacks off the front. Adrian Hattingh, always identifiable with his bright yellow Cervelo s5, was strong in the early stages, driving a lot of the pace at the head of the field.
An early breakaway on lap three didn't deter the main group and was reeled back in without panic. And the attacks kept coming. Making his first club appearance for some time, Craig Bruce was the instigator of numerous breakaway attempts. While Nathan Dinsley also enjoyed accelerating on the back straight with the tail wind.
But no one managed to maintain a gap and before we knew it, 25 minutes had elapsed. The "5 laps to go sign" was presented to the field and an air of nervousness slapped across the peloton. Going into the final lap, "support rider" Declan Egan was clearly not impressed with the pace and flew to the front to stretch out the group. Coming around the clubhouse at 45km/h, the peloton started positioning themselves for the final corners of the race in what was going to be a bunch sprint.
With 800m to go, Tobi Rosenkranz took a wide line to start his advance towards the front. A strong southerly headwind meant positioning and timing for the sprint was going to be everything. Rounding the final corner, the finish line came into view. 250m out the pace really lifted and I jumped first to open up a gap, with Raif Oz closing in quick. To say it was a close finish is an understatement. It's likely not even UCI approved cameras could have separated the top two at the line. But after studying multiple angles, the adjudicators awarded me first place with Raif Oz second. Bill McClatchy managed to hold off Tobi Rosenkranz for a fine third place.
It was great to see such a close, clean race with so many participants enjoying their first racing experience. Thank you to everyone involved.
Moira Brailsford (Women's Champion)
Saturday's club champs was my first time racing IRL with KWCC. I spent quite a bit of time with club members on Zwift over lockdown in the weekly WTRL TTT's and ITT's so it was a great way to finally experience a real event with friends I had made online. The atmosphere on the day was amazing, definitely better than Discord, Zwift and WhatsApp group chat!
Having never raced in a crit race, I was slightly nervous in the run up, mainly about not understanding the format, counting the wrong number of laps or going the wrong way. However once I got there there were plenty of willing brains to pick on how it all worked and it was great to get some practice laps in and familiarise myself with the course.
In our ladies race of six, all first timers to crit racing, we set off 30 seconds after the men's Go Ride with a marshall to ride with us for the first couple of laps. The group took it fairly easy for the first lap and I rode in front not paying too much attention to the others but the next time I checked there was a gap. I continued at a steady pace expecting the group to not let me get away but decided to put a bit of a push to extend the gap and see what would happen. The next 20 minutes became a solo ride spurred on by all the great support from the club members.
Towards the end of the race, the men caught up with me and I got a chance to experience riding with a group through the bends which was not as scary as I was expecting. The last few laps after the bell were fun and fast and after the men's sprint across the line I carried on for an extra lap which I think may not have been necessary!
In all it was a fantastic day, very well organised, great cake and prizes and the perfect way to experience racing with other members in a relaxed and safe environment. I would definitely recommend this to anyone who would like to have a go at racing.
Chris Carter (Men's Champion)
Following some strong performances by wheelers IRL and on Zwift over the last 12 month, the club championships were always going to be a competitive affair. With Declan starting the games off a few weeks out by listing me in Group 4, it was set to be a fun afternoon of racing and an opportunity to meet other wheelers for the first time.
The scratch group started 45 seconds in arrears to group 2 and 75 seconds to group 1. Fortunately, the scratch group knew which side their bread was buttered and rolled through paceline from the gun which meant we made the catch on the next group after 8 minutes or so and the whole field was together shortly after. This is where we saw some early attacks from the names I only knew from their accolades on Zwift in Seb and Judah.
Following a bold (or foolish) solo attack from Harry B, Dom J made his bid for glory at around 25 minutes into the 45+5 race. I knew of Dom, as I had seen him make a similar move off the front past the club house at many Tuesday night World Champs this summer, and over heard some pre race chat that he used to be a rower – always useful in a breakaway. Declan clearly saw the danger before I did a tapped across to Dom, which left me looking around the group for somebody willing to take up the chase. With Harry's legs soft after his solo move, I put in a big mid race sprint to get across to Dom and Declan as quickly as I good – this wasn't entirely wise as I was blowing out of my arse once I was onto them.
Once we were together as a trio at the front we worked well together to keep it moving, but the peloton had us in their sights and the elastic still strong. I personally wasn't on great legs after taking some time off at the end of the summer, I found myself having to skip a few turns and rely on Declan's good nature to keep me away. I'm convinced I only ever got a turn into the headwind on the home straight, but I'm sure that was just my legs playing with me .
There were a few moments of hope from the peloton, I was sure we were getting reeled in and saw Harry B in the gap. But at this point it was looking a little too much too late for them, as the elastic was snapping.
After 40 minutes of racing, Dom really started to turn the screw putting the pressure on Declan and I. Fortunately I was second wheel at this point, but Declan was less fortunate and clearly not feeling comfortable (or safe) being on the wheel of the infamous 'Cannonball'. As the screw was turned, Declan found himself dispatched and ridden off wheels and crying expletives in frustration. He might argue that a puncture was involved, but I'm yet to see any evidence of this….
Fortunately, Dom still wanted to work together once we were down to a duo, which is fortunate because if he had put the hammer down again it might have been the end of my day. We had a good deal going on where I took the wind in the home straight and he took the rest of the lap.
With 1.5 laps to go, I was keen to try and stop Dom making a big dig for home. I let his wheel go in an effort to try and make him prematurely burn some matches thinking he had breathing room- which briefly worked.
Going into the final lap it was my turn to pull through to the front, but I knew my best chance would be to go for the sprint. So knowing we had a good enough gap back to the bunch, it was going to be a match sprint with me tracking Dom's wheel ready to hit him in the sprint. After drawing up side by side past the bus stops, there was a cheeky glance between us both and we sprinted off for club champs glory.
I feel super privileged to be able to wear the gold club champs bands for the next 12-months and I'm sure I speak on behalf of everyone who raced in thanking Phil for his efforts in putting on the races for us!
Results
Go Ride
Luke Fenney
Raif Oz
Bill McClatchie
Women's Race
Moira Brailsford
Jess Hardwick
Jo Reynolds
Men's Race
Chris Carter
Dom Jackson
Harry Bunnell
All photos by Roger Brown rogerbrownphotography.com