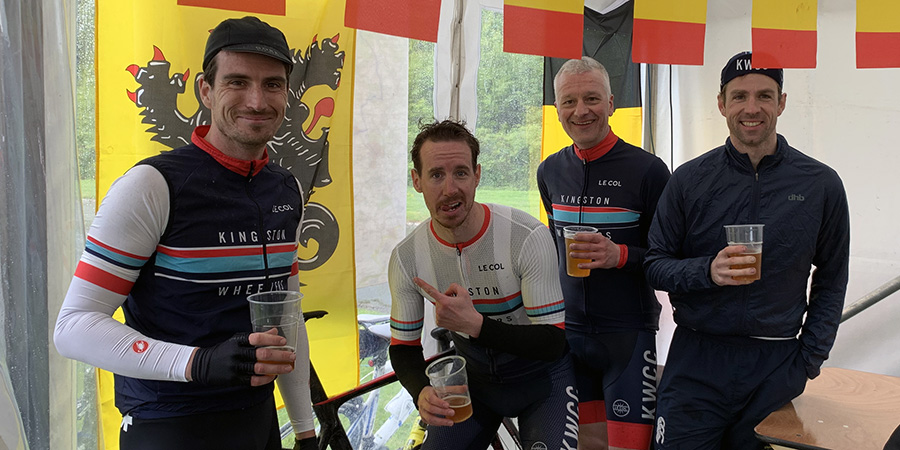 Four go 'Belgianing' in East Sussex
On a drizzly Sunday morning four Wheelers swapped pain caves and the Surrey Hills for the open roads of East Sussex, taking part in the fifth edition of the annual Beachy Head CC Spring Classic sportive.
Last year's edition was unfortunately one of the casualties of lockdown restrictions, and the same restrictions also meant that this year's edition had to be pushed back from it's usual earlier spring date coinciding with the Belgian classics season. Despite the date being closer to Summer Solstice than to Spring Equinox the weather still had a distinctly spring Flandrian feel with blustery showers and temperatures barely creeping above 10 degrees.
Setting off from Herstmonceux Observatory Science Centre near Eastbourne, the 100km 'Epic' route (a shorter 66km 'Challenge' route also available) rolls out into the Sussex Weald up towards the Ashdown Forest along country lanes with very little traffic.
Although relatively modest in length the route still manages to pack in nearly 2,000m of climbing, with many of those metres gained on kickers at close to or above double digit gradients – and more often than not these ascents are followed by equally short and sharp descents. With very little flat ground and a sawtooth elevation profile the route is certainly no pushover!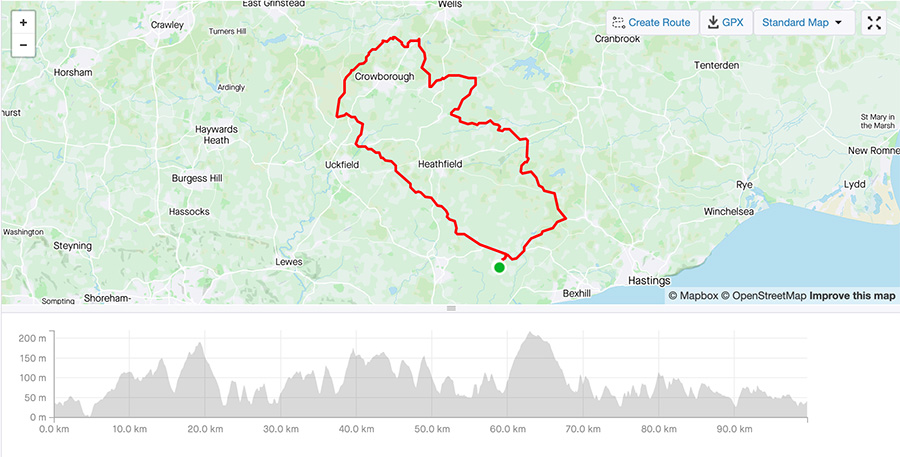 The pace was solid from the gun and, ably supported by three local BHCC/Eastbourne Rovers riders, various Strava 'cups' were picked up and other PBs tumbled. It didn't take long for the pace and ever changing gradients to start to bite, causing the field to be strung out and riders from earlier waves to be caught.
The feed stop around the halfway mark at Eridge village hall couldn't have come at a better time to get some sugar on board before hitting the Black Hill climb just north of Crowborough, taking us to the highest point of the route before turning for home again. It was at this point the weather turned from bright sunshine to wet and windy, further adding to the incentive to get back to the finish as quickly as possible.
Once back at base finishers were rewarded with a sportive medal and a delicious pint of freshly poured Belgian-style beer from Beer Me Brewery in Eastbourne. Beer Me also sold bottles of their beers to take away so needless to say their beer can now be found in at least four homes in the Southwest London area (it would have been rude not to …)
Apart from the opportunity to ride some very different roads it was also noticeable to those of us more used to riding closer to London how little traffic there was on the route, and refreshing to see car drivers being respectful and courteous to cyclists.
A big shout-out to BHCC for the organisation of a fantastic event. After a year of varying degrees of lockdown restrictions it was great to be able to do something like this again, and even with some restrictions still in place the organisers had put a lot of hard work and creative thinking into pulling off an arrangement which felt like a full return to normality. Everything from start to finish – including mobile bike mechanics (which thankfully none of us needed), food & drink caravan, an incredibly well-stocked feed stop (the lemon drizzle cake and date slices were delicious), and the 'Beerbulance' at the finish just worked brilliantly. We're already looking forward to returning for next year's Spring Classic.
Chapeau!