Getting hot at the Marmotte
First held in 1982, the Marmotte has grown to be one of the biggest Sportives in Europe with around 7,000 riders taking part each year. The Granfondo covers four major cols and the newer Ultrafondo distance adds a second ascent of Alpe d'Huez for those who fancy a bit of extra elevation. This year a big group of 15 Wheelers headed out to take on the challenge on a hot day in the Alps.
Adam Bidwell
The Ultramarmotte was a pretty straightforward affair in advance. Ride over the Col de la Croix de Fer, the Telegraphe and Galibier, then cling on for two laps of Alpe d'Huez. On the day, it was a lovely morning, warm and dry. One hundred and fifty people set off, and I was soon riding on my own in the mountains.
Watching the sun rise as I gently tapped over the Croix de Fer was an amazing experience, and there were beautiful scenes as I worked towards the Galibier up the Telegraphe. It was here that things started to get a bit grippy. I started to feel the altitude towards the summit, and was grateful of a feed stop and an enormous descent the other side.
The first ascent of Alpe d'Huez was like riding into a furnace, and after what felt like forever i reached the summit, desperately trying to ignore the celebrations and medals at the top, to press on for the second lap.
At this point, I realised that my route research had gone awry, it wasn't a descent back to the bottom, but further climbing over the top. Psychologically this did for me, and it felt like time for a little break. I paused to look out across the mountain range and soak it all up for a bit. I felt very fortunate to be where I was, in such an amazing place. But, that last climb wasn't going to ride itself so, a few minutes later, I pressed on.
The final ascent of the Alpe felt like riding on the surface of the sun itself. Ridiculously hot by this point, I reduced myself to just tapping out the last few kms whilst taking any opportunity to throw water in and over myself.
There was a lot of pulling together on this climb, I chatted to other riders, we mocked each others poor decisions in entering this ride. Aidan and Harry cheering me on at Culhane Corner raised my spirits further, and I was able to give one last dig to get over the top. At the finish I could barely move, and was in a right state. I couldn't eat or drink. I collapsed near the medical tent so I didn't have far to go if I needed more assistance.
All in all, type 2 fun, possibly bordering on type 3 fun. Close to a third of the starters finished the event. A lovely route, but brutal conditions. Very pleased to have finished alive!
Harry Bunnell
It was my first time riding the Marmotte and though I'd done several of the climbs before I'd not ridden the mighty Alpe d'Huez so was excited to give it a crack. The organisers tweaked the route a couple of weeks before the event, doing the full Croix de Fer climb and descending down the Mollard due to gravel on the Glandon decent adding an extra 12km and 500m climbing.
I wasn't too intimidated by the distance/climbing having done several editions of the Etape, but I'd not had the most restful build up and of course got overexcited when I got out there and rode up Alpe d'Huez twice on the Friday before (including the Grimpee hill climb).
Started in the 7am wave, was nice and easy to roll to the start from our place in Bourg d'Oisans. Worth getting down there early as there were about 1000 riders ahead of me by the time I got there at 6.45am.
Croix de Fer was a bit of a slog to be honest, legs were still waking up at that time and descent down the Mollard was on a pretty rough ride with endless hairpins. Not my fav.
Hit the Col du Telegraphe 90km in, around half way. At this point was just under 4 hours riding time so I set my sights on 8 hours total, though that was never going to happen as was well under half the climbing at this point with 3 mountains to go. Legs felt pretty decent on the Telegraphe, though you ride it knowing it's kids stuff compared to what lies ahead.
By the time I hit Valloire at midday, which marks the start of the Galibier the sun was nice and toasty. On the lower slopes you could see people were starting to struggle. Absolutely amazing climb though along the valley, before the road ramps up ahead with switchbacks to the top. About 2km from the summit one guy stopped ahead of me in the middle of the road screaming with cramp. Another rider stopped to try and extricate him from his bike. I carried on past, focussed on my own personal battle. Stunning descent down, which I took pretty easy as other nutters blasted down at pro pace.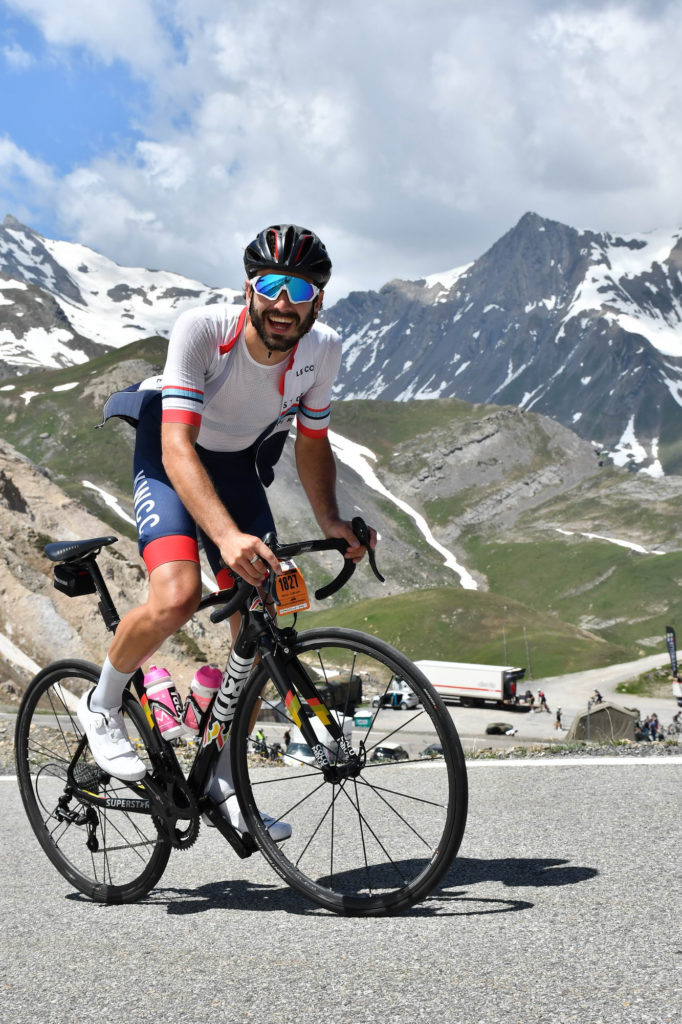 By this point it had really thinned out but a nice peloton had gathered together for the valley smash back to Bourg d'Oisans. I was sat on the back of the bunch and annoyingly the guy in front of me dropped the wheel and before I'd properly clocked it we'd dropped back 10 or 20 bike lengths. I tried in vain to bridge back and then ended up dragging my new friend about 20km back in the wind. I could see it would cost me my new revised target time of 9 hours :joy:
Anyway got back to Bourg and the final feed station before Alpe d'Huez. People looking slightly delirious, laughing manically. Nearly 2pm by this point. Very hot. As I hit the lower slopes my Wahoo was telling me 42 degrees. Probably added a few, but still. Had to have a mountain shower on the way up. Got a second wind with about 2-3km to go and attempted to finish it off with a bit of dignity. Nice to see Aidan cheering on the side.
Felt pretty ok at the end, but my butt was really in a bad way. Salt abrasions. Maybe next time worth topping up with Chamois cream mid ride… or wearing Assos. Final time was 9:03 and official time of 8:20 (minus neutralised descents).
Decent pasta party then linked up with Aidan with a bag of beers and we perched up on the mountain at 1-2km to go to cheer people in. Was actually a great vibe and we got a chant going "There's only one David Willis" as the one and only David Willis rolled in. Guy in FDJ kit got the same treatment "there's only one Thibaut Pinot" and plenty of other witty banter from myself and Aidan. Probably my highlight of the day.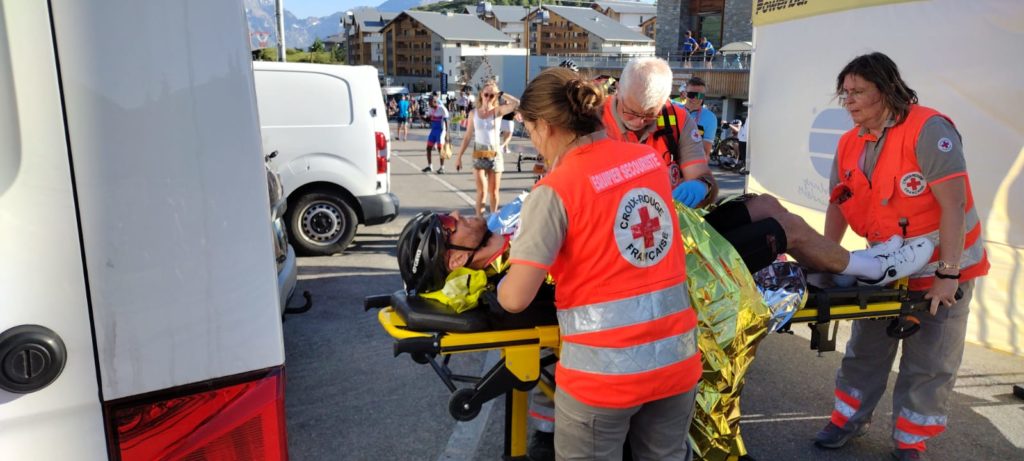 Overall really enjoyed staying in Bourg d'Oisans. Would love to go back for the TDF for an Alpe d'Huez stage. Travelling to and from was a bit of a mission and several of the guys in the other group had delayed luggage both ways with BA. Easyjet was fine, maybe as they were checked as bikes (?)
Shout out to all the Wheelers who made it round, a long day for some! Especially Adam Bidwell who did the Ultrafondo with a second ascent of Alpe d'Huez. And a notable mention for my non-KW friend Fred who did this as his first sportive with limited riding experience.
Top weekend in good company.