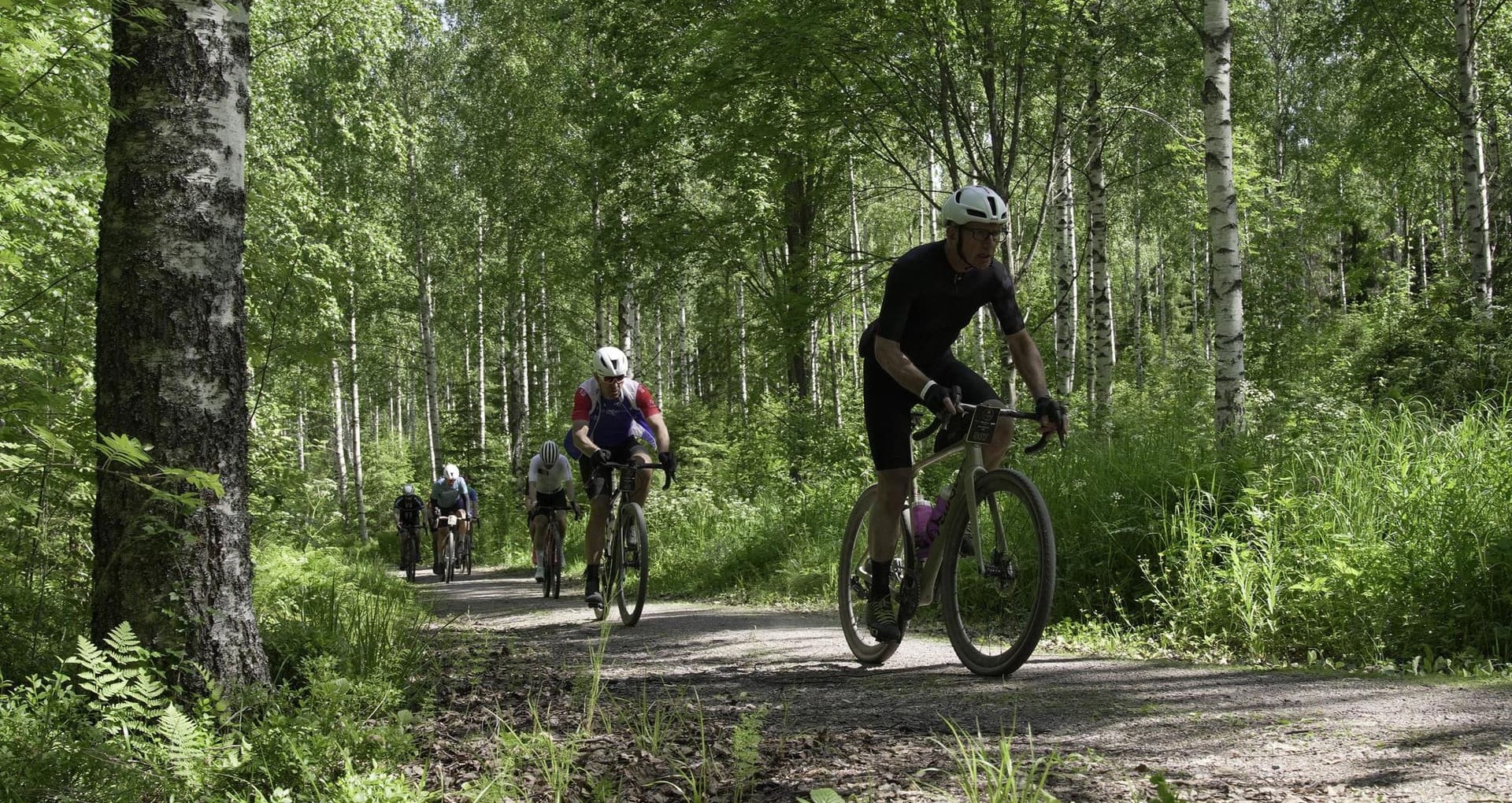 Gravel Galore: The Gralloch & FNLD GRVL
Ever wondered how gravel riding in Scotland compares with Finland? Well, Brian Williamson has been busy some of the biggest gravel events on the calendar and gives us two reports for the price on one.
The Gralloch
The Gralloch was held on 20 May in Scotland's South-West, centred on Gatehouse of Fleet, with a 113 km route and 1,854 m of climbing. 'Gralloch' means the viscera of a dead deer.
Riders finishing in the first 25% of their age group (in 5-year bands) qualified for the UCI Gravel World Championships in Italy in October.
The event was held in a great location with the sea a short cycle away and a network of tracks in the hills, and we were blessed with sunshine.
Race day had a staged start with women, then 55 plus men, ordered by age group, then a 35-minute gap followed by younger men including pros. My strategy was go like hell and do as much overtaking as possible on the short closed-road climb before hitting the gravel, to avoid getting boxed in.
So that is what I did, close on the wheel of one other guy in my age category (UCI events have colour coded race numbers, so you know who your competitors are during the race). I likely overdid it and suffered later from cramp, as a lot of riders did. Fast rocky downhills also contributed to fatigue, possibly cramp, and for some, punctures.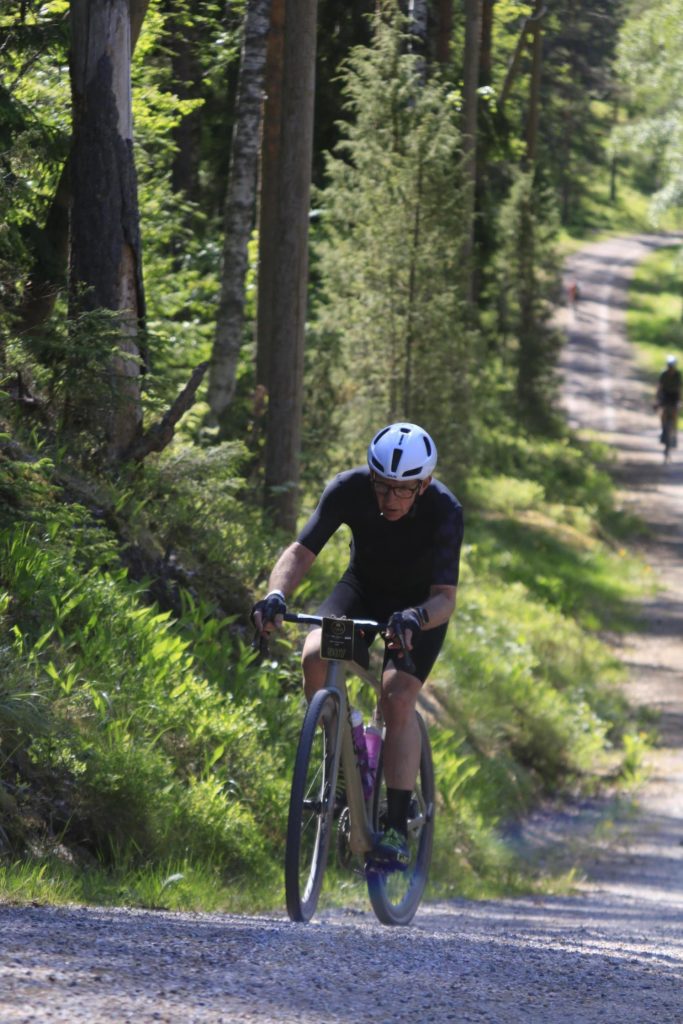 Mid race I was on my own for a while. For a moment I contemplated trying to catch the wheel of an overtaking rider. Later I learned it was Connor Swift (Ineos Grenadiers) who had made up the 35-minute delayed start and went on to win with a solo finish. Tiffany Cromwell (Canyon-SRAM) won the women's race.
I joined up with a young woman who was happy for me to tag along and inspired me go beyond my comfort zone on the downhills. We were passed twice by the women with rider number 1, first after she had punctured then after she had crashed. They knew each other.
A nice thing about gravel races is that everyone does the same course regardless of gender or age, amateurs and pros are together (if only briefly), no one has support and the atmosphere is competitive but friendly.
Later, a rider with a red race number – a competitor – passed me, and that was the order we finished in; with me third, a podium and qualifying for the worlds. I was over threshold for 48% of the race, with an average heart rate of 161 bpm, too high for an old guy. You learn!
FNLD GRVL
FNLD GRVL (Finland Gravel) was held on 10 June in Lahti. The event was the brainchild of Formula 1 driver (and decent gravel racer) Valtteri Bottas and the team behind SBT GRVL, a US gravel race held in Steamboat Springs, Colorado (many riders from the US participated in FNLD GRVL).
There were three routes, and I entered the longest – the midnight sun route at 177 km with 2100 m of climbing. I'd never ridden that far on gravel in a day, and was a little apprehensive, especially after finding the much shorter 'The Gralloch' in Scotland hard. Unlike The Gralloch FNLD GRVL was not a closed road event.
Another source of anxiety was that my Wahoo hadn't made the transition when I repacked my bag! I'd have to do the race with no navigation and almost no data. Mentally I came to terms with this. On a pre-race day group ride I practiced comparing my heart rate via my Apple watch with my subjective feeling. I also taped a 'linear' course guide showing elevation and the distance to food stops to my bars. Not having navigation was also extra motivation to stay with others! Yes, the course should be marked, but how well?
Overall, the course was billed as having relatively smooth gravel, and I ran 35/33 psi with 40 mm tyres set up tubeless (a couple of PSI lower than for the Gralloch with its fast rocky descents). I'd read that the winner of The Gralloch , the same weight (but much taller!) had run around 35 PSI after pre-riding the course and puncturing with lower pressure. Tyre pressure is an important choice. I also had a waxed chain to last the distance and not pick up dust (Silca is my go-to sealant and chain wax/lube).
It was a first-come first-served mass start, and although I got there with 40 minutes to spare, I was some way down the grid. My strategy was don't go as hard initially as I had at The Gralloch and try to make sure I was with a group when we exited an undulating forest section 15 km in for from the start for a 5 km stretch of tarmac. That worked well, and I stayed with the group to the 50 km mark when my chain came off on a rough section. Goodbye group.
I eased up a little and managed my effort solo, and joined three others when they caught me. We worked well together, until we picked up two others who disrupted the group. From there I was solo to a food stop around 100 km, which I left with a group of mainly younger guys, and we worked well together.
But, and unlike a UCI event with age category colour coded numbers, there was no way to be sure who you were competing with, and there was one guy who just might have been in my age category. I shared some of the effort at the front to help keep the pace up and, hopefully, wear my potential competitor down. Eventually a rider accelerated, I gave it everything, and four of us broke away and steadily opened a large gap, including with my potential competitor.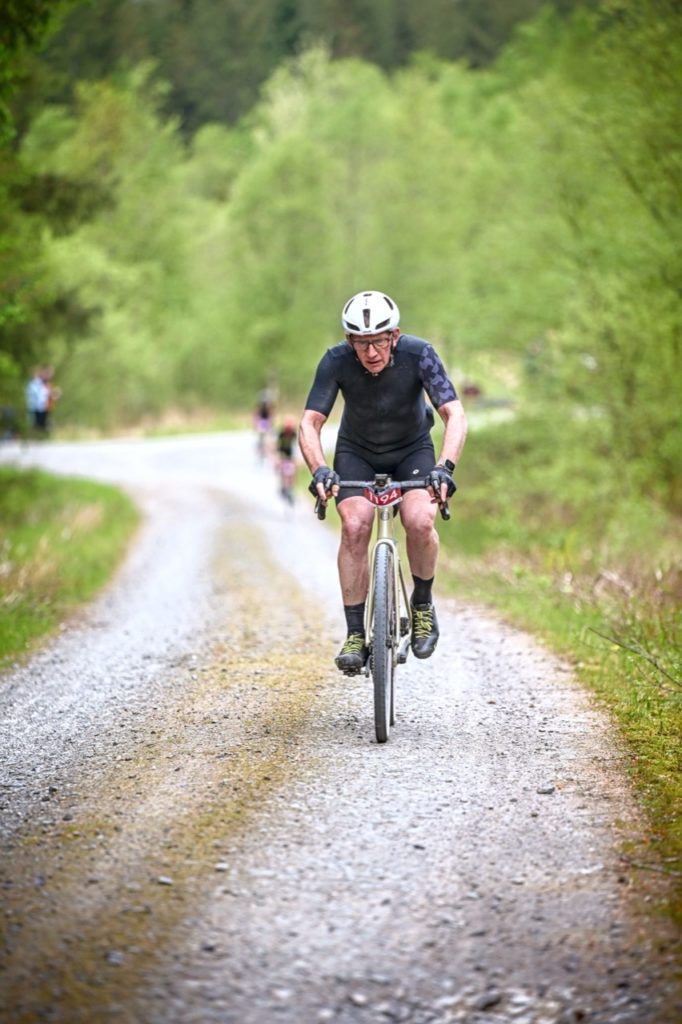 The largest hill was saved for last, after a large cheery sign 'You are not almost there yet'. I felt good, but it was too steep to stand and not lose traction, which I'd have liked to have done to vary the strain a little and avoid cramp. During the climb the four of us spread out, and there was no one close enough to chase or close to catch me – who was remotely my age – so I rode my own race to the finish line, coming 5th in my category. The overall pro category winners were Toms Skujins (Trek Segafredo) and Tifffany Cromwell (Canyon-SRAM) who'd also won at The Gralloch.
Overall, I managed my effort better than The Gralloch with around 12% of the time above threshold and an average heart rate of 152 over 6hrs 15 minutes.
Lessons? Avoid a dropped chain – keep the power on over rough bits and maybe get a chain retainer (I've got a one-by set-up), and consider using a hydration pack for longer races to avoid the need to stop – though on this occasion a stop allowed me to join a new group. I'd drop the tyre pressure further too for a race like FNLD GRVL, to gain greater confidence on the fine loose gravel. Compared to The Gralloch, FNLD GRVL had various route options (177 km, 77 km and 40 km) and wasn't a qualifier event – so perhaps that made the overall atmosphere more relaxed – but it did have prize money – €20,000 for the top men a