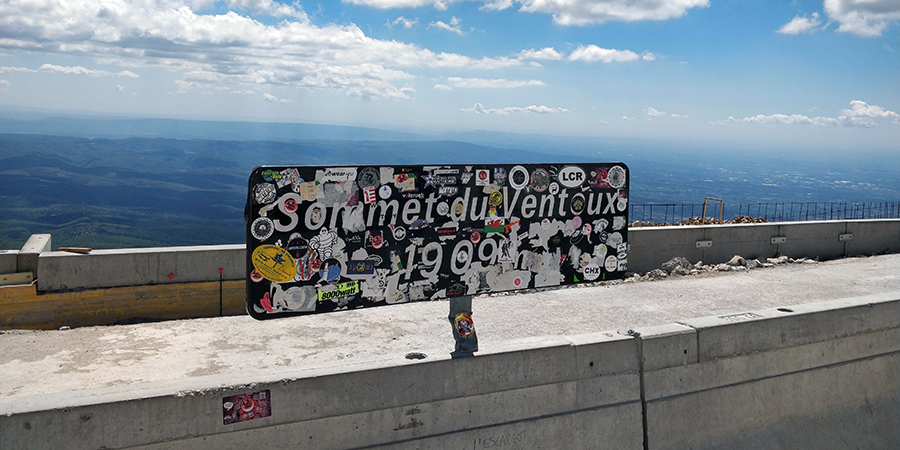 Le Wheeler du Ventoux
With two weeks cycling in France and several cols to tick off the bucketlist, member Luke Lynch took on the mighty Mount Ventoux not once, but three times, gaining himself a place in the legendary Club des Cinglés du Mont-Ventoux.
A 3-peat of Mont Ventoux is one of the those challenges that's entirely unnecessary, borderline stupid even. The first tier of entry to The Club des Cinglés du Mont-Ventoux, the Cinglé, requires cyclists to ride up all 3 ascents of the mountain in a single day, no easy task in any circumstance, never mind in the August heat. It tots up to 137km and 4400m of elevation gain; you're always going either uphill or downhill. However, if you introduce an 'official' governing body and offer the reward of a medal, you can all but guarantee people will sign up. Throw in the novelty of a stamped brevet card and you have a rather unique cycling event which I'd encourage anyone to try.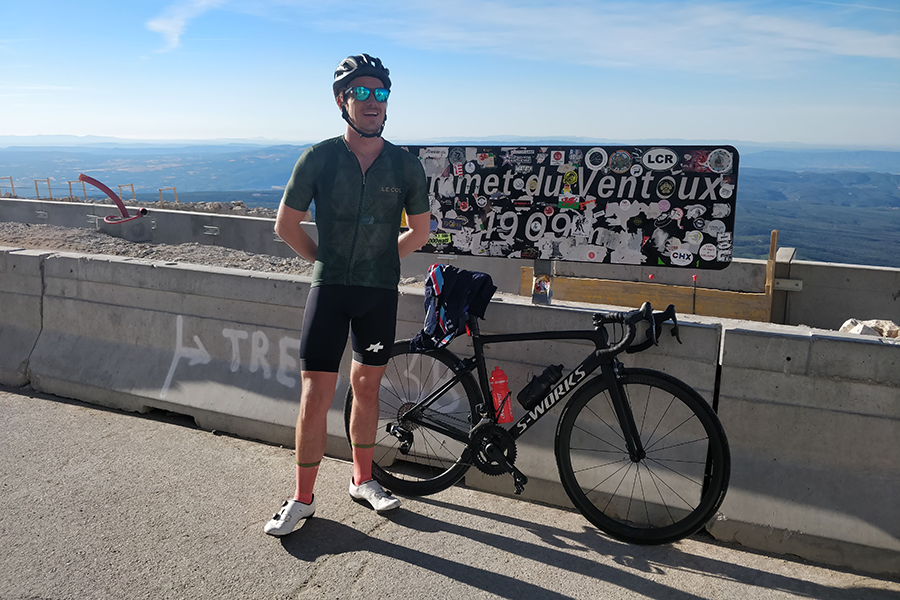 I'd managed to convince my wife that a two week trip to the French Alps would be the best compromise between the outdoorsy holidays we enjoy and sensible self-isolation. Secretly, I was taking the best opportunity I might ever have to spend some real time in the Alps conquering all the cols I'd wanted to do for years, one of those being Mont Ventoux.
Ventoux is infamous in cycling for many reasons, not least for it's prolonged grueling gradients. There are three routes to the top, starting from the villettes of Bédoin, Malaucene and Sault. Bédoin is the steepest ascent and The Club recommend you start here, and I would also recommend staying here. It's a small and beautiful town but has enough bars and restaurants to keep you occupied for a few evenings. The climb itself starts from the town's centre, where the local boulangerie offers you a stamp for the brevet card in exchange for the purchase of a croissant, an easy trade.
The Bédoin climb itself is a beast: 21km with an average of 7.5%. It's also the most ascended side when they come here for the Tour. There's a natural warm up for the first 6km or so, gently winding up to 5-6% before the road goes skyward as you enter the tree line. I'd started at 6:30am to try and evade the heat for as long as possible, but it was already 20 degrees in the sun, so the tree cover was a welcome break for my pasty skin. From here on it's relentless, never really dipping below 8% and rising to 12% at times – not bad in isolation, but to do it for 10km certainly wakes the legs up. The road continues to snake between the trees, but as far as views go, it's not the best and you'll find yourself staring at your front wheel for periods. Once you burst out of the trees though it's a different story. The 'lighthouse' at the top comes into view and deceives you into believing you're nearly there. I skipped past Chalet Reynard, adhering to my personal rule of never stopping on a climb, and was surprised to feel the gradient slope away to a now-pleasant 6%.
The famous views of Ventoux ensue as you snake through the moonscape; Ventoux meaning 'windy', it's hardly surprising that it's nicknamed 'the bald mountain', luckily for me there was only a light breeze that day, as the winds can sometimes reach up to 300kph! As I near the end of the climb I doff my cap to the Tom Simpson memorial and think what it must have been like for him, and push through the final few kilometers, which sting the legs but make the summit so much sweeter. I'm up there for 9am and am able to get a summit photo with relative ease, something that can't be said for later ascents!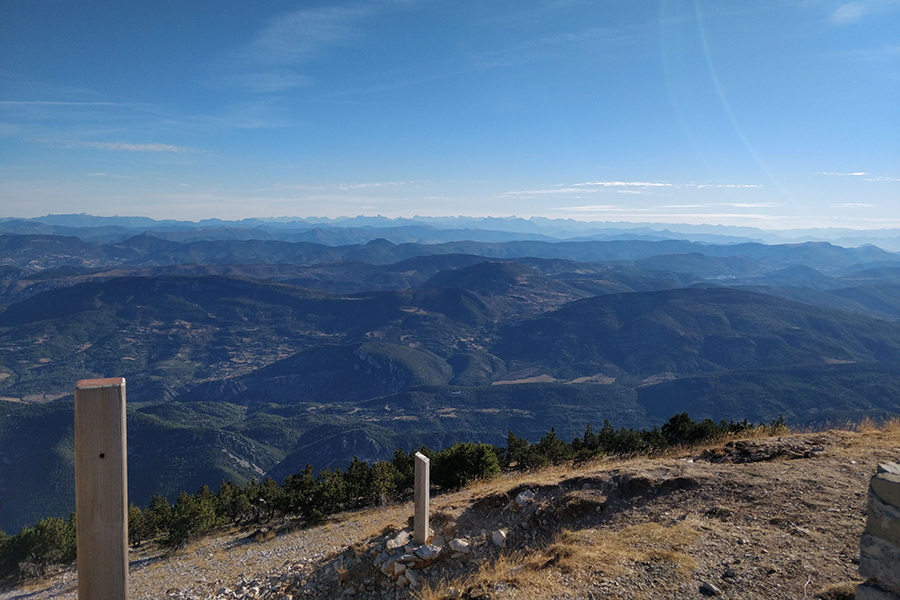 Down to Malaucène then, stopping for a couple of photos on the way (stopping on descents is allowed). There's a certain dread that fills you when you descend a road you know you have to climb and topping out at over 75kph without turning the pedals means it's going to be hard going on the return journey. I stop for a coffee in the busy, slightly larger town and get my card stamped. The Malaucène leg is much more pleasant than Bédoin in many ways. The views are spectacular as you're only in the trees for a short while, and whilst the length and gradient are almost identical to the Bédoin climb, the punchy parts are broken up nicely by sections of false flats which make it much easier on the legs. I thoroughly enjoyed this one and settled into a steady rhythm. I was running a 52/36 setup and had fitted a 30 cassette on the back for this challenge, I got into the bottom gear and was able to hold a nice cadence – if you like to spin up the legs then definitely use a 34-30 ratio or lower.
The top came around again soon enough and I felt relatively fresh, I knew the Sault ascent was the more favourable side and had dutifully left it until last. I allowed myself a stop at Chalet Reynard (on the descent of course) for a jambon et fromage baguette, the national food of France it seems. The Sault and Bédoin routes merge at Chalet Reynard, so the final 6km aren't easy, but the rest of the Sault ascent is like the anti-Bédoin; never really going above 6% and at times, flat. I was up to 30kph for brief spells and whilst this side is 26km long, it took me less time than the Bédoin ascent. I reached Chalet Reynard again and bumped into Vicki (my wife) who'd set out earlier in the day to ascend from Sault. She was returning from her triumph at the top and so broke my rule of stopping while climbing for a quick congratulatory chat. I used the last of my reserves to complete the Reynard-Summit leg faster than I did it the first time from Bédoin. I got my final 'sommet' stamp at the small shop at the top and congratulated myself on becoming a member of The Club des Cinglés du Mont-Ventoux, whatever that means.
I descended into Bédoin and was gratefully moto-paced back in to town by some motorcyclists, who dropped me off at the Flandrien café in town for a couple of Trappist ales – the French do a lot of things well but beer isn't really one of them, so I couldn't have been happier to find Belgian beer right at the end of my ride. All done and I couldn't have been happier, I'm a sucker for a commemorative anything, and so treated myself to a road beer and a jersey; a tribute to the day. Chapeau! as they say.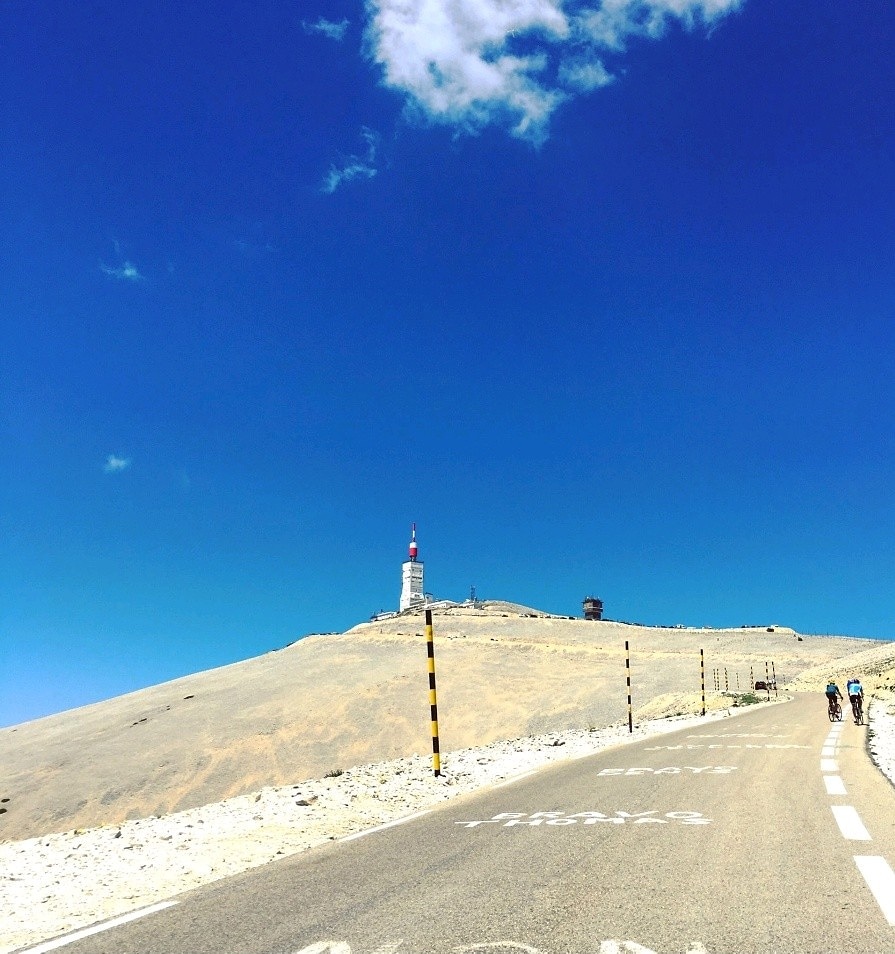 View the ride on Strava: https://www.strava.com/activities/3935574421