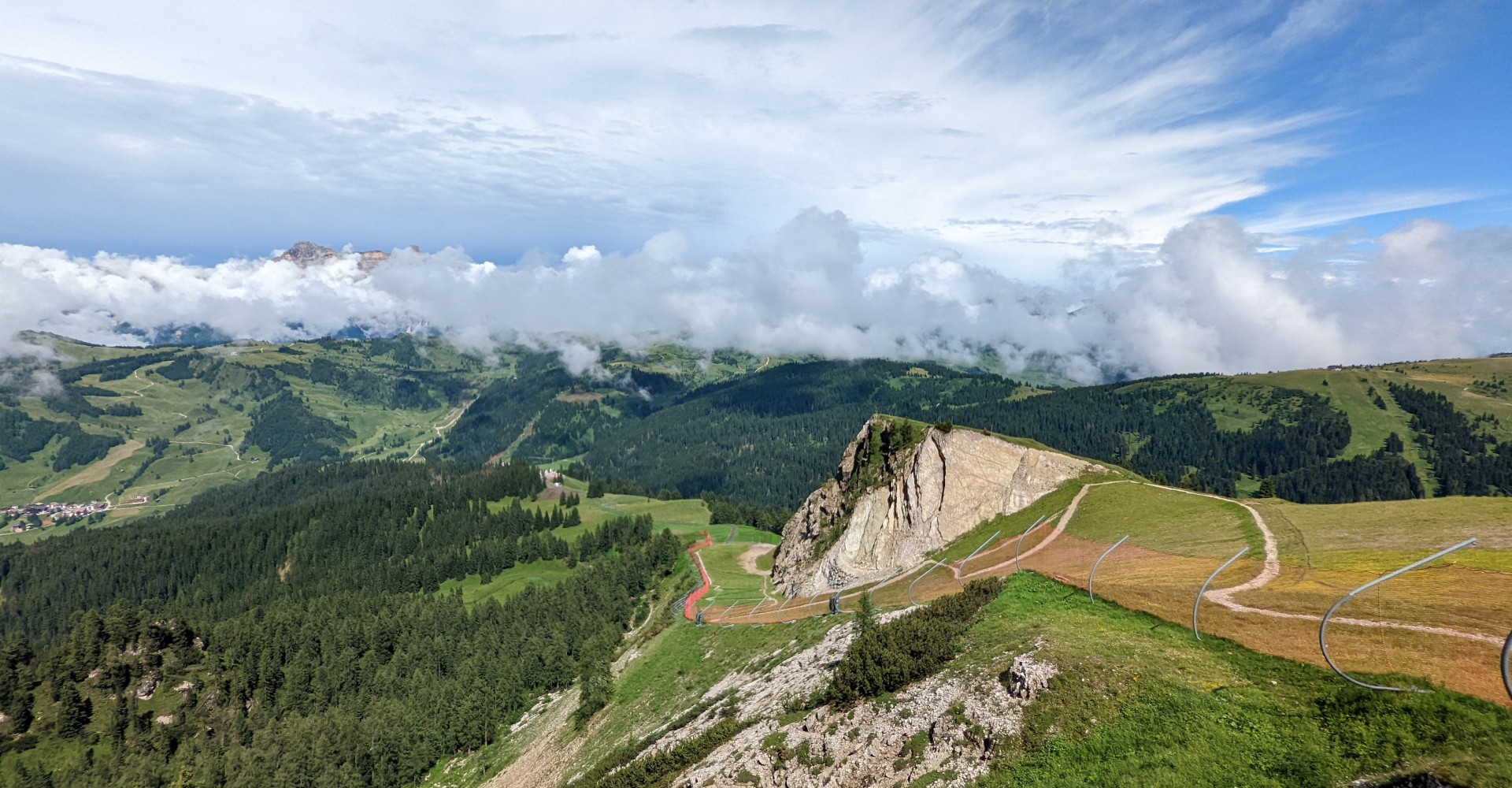 Maratona – better late than never
Every year over 9,000 cyclists converge on Alta Badia for the Maratona dles Dolomites, one of Italy's toughest sportives. After signing up in 2020, Eimear Toomey finally got to the startline and reports back from an epic weekend in the mountains.
After multiple covid-caused cancellations, getting to the start line for the 35th edition of Maratona des Dolomites was particularly special. This event has long been a bucket list item so it was quite a relief when we touched down in Venice airport on the Thursday night, 2 hours late, but with everyone and everything in tow for our group at least. Given the multiple stories of bikes and luggage being left behind- or in one case flights being cancelled resulting in 2 bikes, 2 people and 1 Audi TT driving from London to Corvara in a day, we got off lightly! We picked up a hire car from Venice between 4 of us (our bikes having been couriered out- top tip!!) and took the late night drive to Corvara. The windiness of the roads in the dark was quite something- Kwells travel tabs have never worked so hard- and despite the best efforts of an enormous stag deciding to play chicken with the car at midnight round a hairpin bend, we made it unscathed.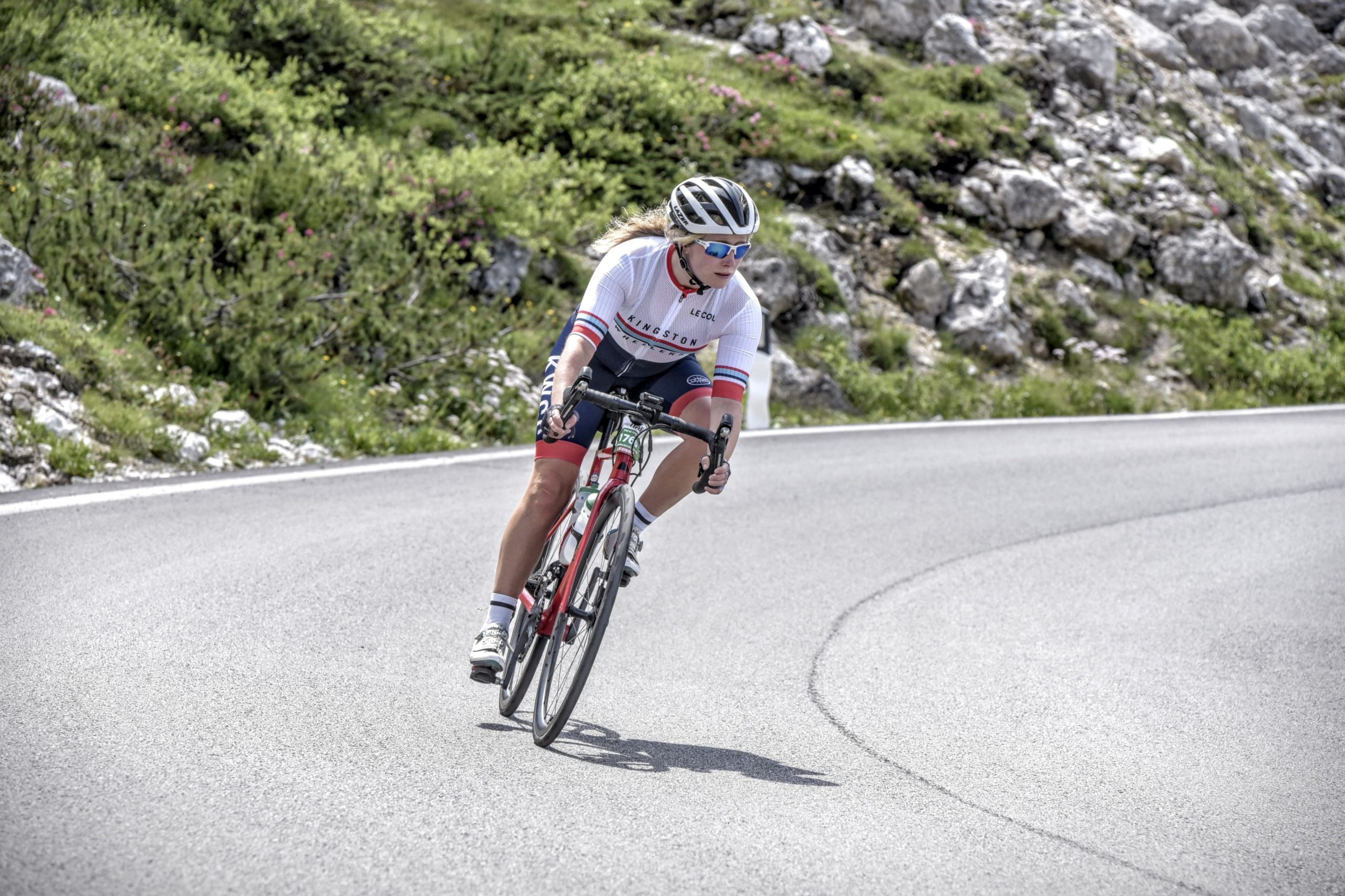 Our group of 10 was a mixed group of 6 Wheelers and other fabulous friends- with myself, Andrew Jack, Emma O Neile, John Borton, Sian Morgan and newbie Wheeler and all round monster James Ellis representing. There were also a whole heap of other clubmates, friends and acquaintances from cycling and triathlon scattered around the dolomites which made for a lot of fun. On the Friday, race pack pickup was a special highlight- with two buffs, a castelli gilet and jersey, and a bottle of prosecco among the pack highlights! Later in the day, we did varying levels of course recce ranging from a nice steady first climb up Campolongo and back to others who decided a smashfest up Valparolo was just the ticket to 'warm' the legs up.
After a cruel 4.30am start on the event morning, we rolled over to the start. Overhead there were multiple TV helicopters buzzing around, clearly wanting to get a close up of my new pro air jersey (an inspired piece of kit for a hot day – thank you kit kings and queens). With 9,000 participants, the whole area in Alta Badia is basically shut down for the weekend and the entire community gets behind this very special event. The starting gun was fired at 6.30am and soon we filtered to the line. As we were crossing, we noticed James (who had long disappeared to the front of the pen) pulled to one side. He'd managed to snap his chain before even starting. Mechanics eventually found him and managed to partially fix his bike with him subsequently doing the whole race with only half his gears in an insane ride time of 5hrs 35 having started last out of all competitors by the time the bike was bodged (a prospect which would make my brain explode).
From the start you're basically climbing. Or descending. There is exactly 0km at 0%. It is famous climb after famous climb, punctuated by speedy descents and outstanding feed stations (the Italians know how to do a food stop!). The views up and down are nothing short of spectacular, mind-blowingly beautiful in fact. The 138km course covers 4,300m of elevation; the medio is 106km of over 3,000m climbing and the short course of 55km still covers 1,780m. Wearing club colours added to the fun- I saw so many fellow clubmates out on the course including some fun descending with fellow member Aidan Culhane and there were so many others that gave the wheelers kit a big cheer! Even Andrew managed to both find me on course and ride with me for a few minutes before he spotted Tim Bunnell and they disappeared up the Passo Pordoi.  Thankfully, I had my own ride buddy and rode the whole day with the lovely Emma who paced me round despite me having my own 'mare, which meant that at the turn off to the Medio course vs the long, we went medium. This meant dodging the Passo Giau- a wall of a climb at nearly 10km at nearly 10% average gradient. It did not however mean avoiding the Mur del Giat, which is a little treat that the organisers chuck in right at the finish for a laugh (an unnecessary 19% ramp just to finally break the unbroken!). From there it was on to the finish to grab a medal, some beers and a lot of very good food!
There is, however, some unfinished business with Passo Giau so when registrations open in August (we go through Ian Parr at cyclingmaratona.co.uk instead of taking our chance in the ballot for anyone else who wants to join in the fun next year), we'll be all over this again.