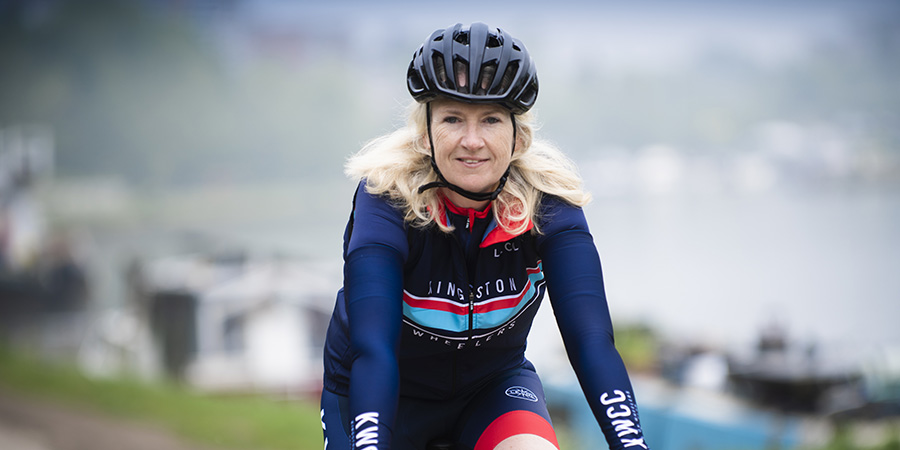 Meet the Wheeler: Jo Reynolds
Like many people, Jo rediscovered her love for cycling during lockdown. From training on an old Carrera mountain bike to regular club rider, discover her journey into cycling and why she loves riding with the Wheelers.
Tell us about your journey into cycling
I grew up watching the grand tours, marvelling at the fitness and mental resilience needed to ride a bike competitively but never thinking I'd ever end up on a road bike myself. When the pandemic hit, I needed to keep the kids entertained and active, so I pumped up the tyres on an old Carrera mountain bike I found in the shed and hopped on. Slowly but surely, I got stronger and fitter, so I pushed myself to ride more challenging routes. I created circuits in and around the 'bergs of Wimbledon, spurred on by the quiet, lockdown roads. Each week, I added another hill to my repertoire so that, by the summer, I was able to tack from Copse Hill over to Wimbledon Hill, riding up and down alternate hills. When Richmond Park opened up to cyclists, I upgraded the old mountain bike to a Trek FX4 Sport hybrid, still refusing to believe I was good enough to try a road bike but so keen to get better. 2,500 miles cycled around the park in both directions by December convinced me that maybe I was ready to clip into the cleats and take the plunge with a Cannondale Synapse. And the 70lb weight loss that came with those miles meant I was a bit more agile on my new set up! I started to notice the KWCC team kit on my rides and, after reading in a cycling magazine that joining a club would help me improve more, I got in touch! I haven't looked back!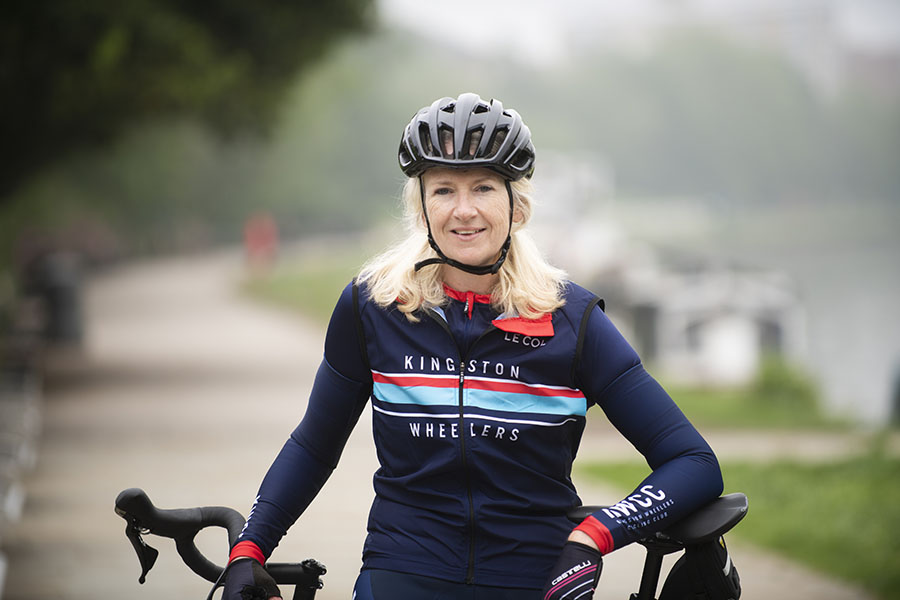 What do you like about riding with a club?
I spent most of 2020 cycling on my own, so meeting up and cycling with people who are passionate about cycling has been amazing. My husband doesn't cycle and I know I'm boring him to death with all my talk about groupsets and arm warmers. Being able to hang out with people who want to talk about groupsets and arm warmers has been lovely! Another important aspect of club riding is improvement. I love Richmond Park but I've cycled around it 3 days a week for nearly a year! There's not a pothole or gully I don't know. So getting out on the roads and hills of Surrey with experienced riders and learning how to ride in a paceline and a group has been challenging and exciting. My cycling is improving because I'm being challenged each Sunday to ride hills that are new with people who are more experienced. I'm learning a lot. And the most important aspect is camaraderie and support. I've been made to feel so welcome! Club members are incredibly friendly and the inclusive approach to club rides has meant that I can really push myself because I know the team will look out for me on the road.
How can the cycling community encourage more female participation?
Continuing to shine a light on the female cycling experience is an important part of making women feel like they can join in. I read Caroline's and Mag's 'Meet the Wheeler' articles when I first looked at joining – without those endorsements, there is no way I'd have plucked up the courage to get in touch. KWCC does a great job of attracting and retaining female members and a lot of it has to do with the calibre of the members and the culture of the club. I've joined a couple of club rides where I've been the only female. Before those rides, I felt a bit nervous about whether I'd be able to keep up. But as soon as we hit the road, those nerves disappeared because I felt part of the team. It's an exciting time to be a female cyclist! Broadcasters are taking a real interest in female competitions (which helps women develop a competitive consciousness). Product manufacturers are adapting equipment and clothing to better suit female anatomy (so we are not constantly struggling with a fit that isn't quite right). And clubs are making every effort to invite and include female participation.
What advice would you give to riders new to the sport?
You don't need all the kit to get started –  just find a bike and get cycling. Shop new kit in the sales (I bought my winter gloves during the Wiggle summer sale for 70% off!). You don't need to be super fit to get started – go at your own pace and build up your fitness. It really won't take you long to see results. Don't be put off by the myth of the MAMIL – cyclists are friendly, inclusive and keen to share their expertise so you can improve.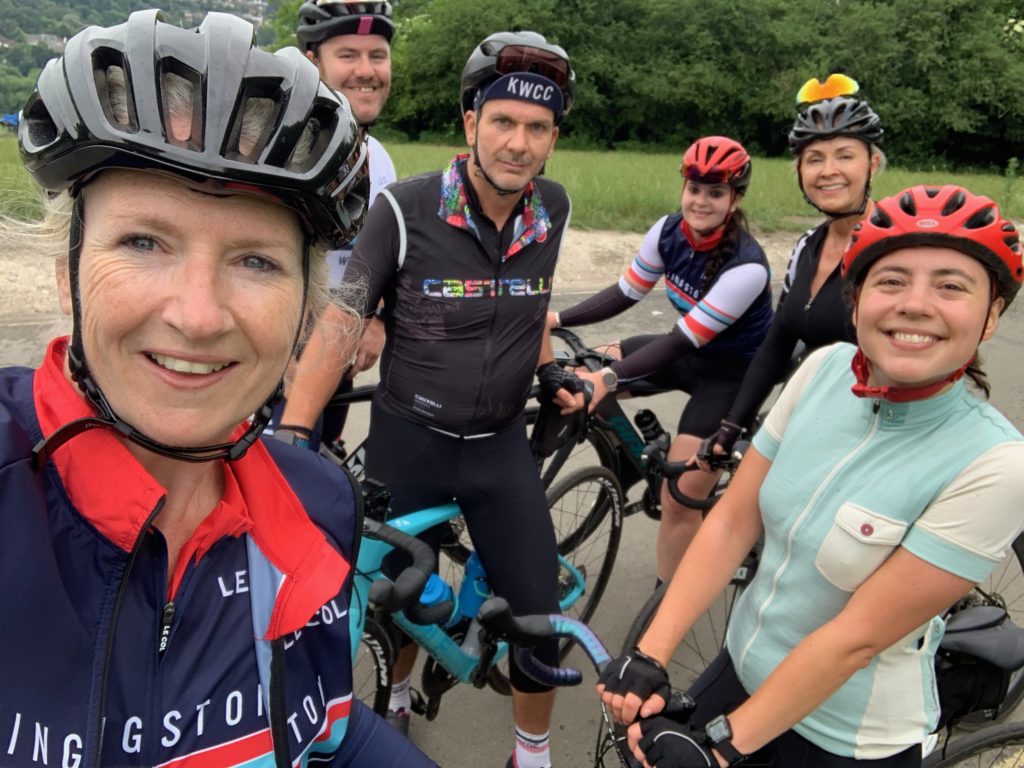 Why would you recommend Kingston Wheelers?
Where to begin! KWCC is incredibly well-run by a very friendly bunch of volunteers who care about their club and it's members. You can't really ask for more than that! It's easy to join, it's not obsessed with metrics like speed and competitive race results and the club offers lots of different ways to participate. I've made some great friends and we all manage to cycle together at some stage in the week – whether it's Wednesday laps in Richmond Park or the Sunday club ride. Strava helps us high-five on each other's activity but the KWCC members forum is an invaluable resource, keeping us all connected and up to date with events and rides. I'm so happy I gave it a go – it's been a lifeline in so many ways and I can't imagine my life without KWCC in it!