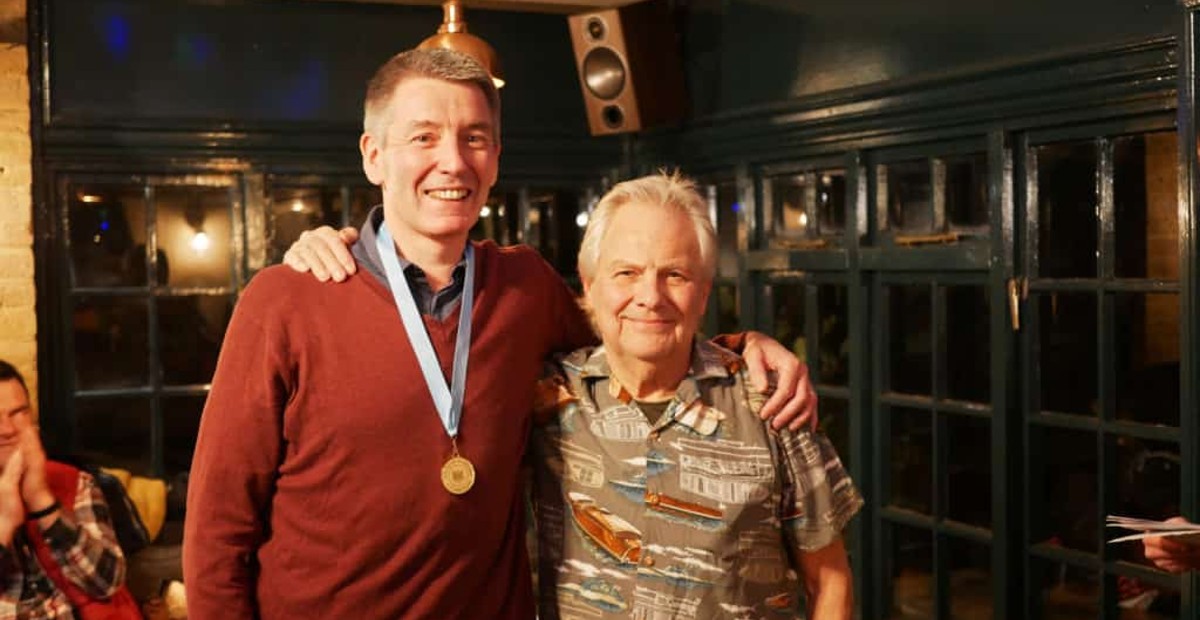 Meet the Wheeler: Matt Foote
For many who have joined the club, Matt is the first point of contact, organising our new joiner rides since 2017. Alongside this he plays an invaluable role in the cycling community through his work at Kingston Juniors Cycling Club and CX coaching. We spoke to Matt to find out more about his journey into cycling and some of the barriers to entry for younger riders coming into the sport.
Tell us about your journey into cycling
I am the classic ex-rugby player, who used solo cycling simply as part of a keep fit regime, especially as I got into my forties and went through a weight loss and fitness programme but knew little about the sport and culture of cycling. I started to notice groups of riders when out, many in Kingston Wheelers kit, but didn't think it would be for me as I had never ridden in a group before.
What changed was when I took my son Michael to Kingston Junior Cycle Club (KJCC), meeting other parents who were Kingston Wheelers and seeing how much fun cycling is when riding with others. After being taken out on a couple of club rides, getting encouragement from my Wheeler friends, and finding the confidence to ride in groups, I joined Kingston Wheelers and haven't looked back.
At the same time, I also started coaching at KJCC, took my British Cycling Level 2 coaching course, and then the cyclo-cross specialism Level 2 course. This linked me up with the others in the club with the same interest in CX, and I started to go to the evening training sessions with other club members that the late and very much missed Graham (Mac) MacNamee at Twickenham CC was running.
It opened a whole new, exciting, and muddy, sport for me, and again with encouragement from fellow club members, I signed up to my first local CX league race in Kingston Wheelers colours. I surprised myself by not coming last, while thoroughly enjoying the experience and continued to enter races as often as possible, which led to the opportunity of entering regional, national trophy races and even the national championships.
I've also been able to help a small group of fellow Wheelers organise and run our own CX race event as part of the Central CX League. This showed me at first-hand how important the volunteering part of being a club member is, because every contribution, however small, is what enables us to offer the wide range of events over every cycling specialism.
In 2017, I started helping to run the club's monthly new joiners' rides, which has been really good fun as I get to meet loads of new people with a whole range of speeds and experience levels that have then taken the plunge becoming members. I always remember how welcome I was made to feel when I did my first club ride, and it's a pleasure to meet up with those who have done the same whether on a club run, or increasingly trying CX in winter.
I'm continuing to find new ways to enjoy my cycling with Kingston Wheelers, whether on an MTB or a gravel ride, joining along on new club run routes, or simply meeting up for a ride with a fellow Wheeler. I may also finally learn how to bunny hop properly!
What do you like about riding with a club?
The encouragement, friendship and mutual support that being part of a club like Kingston Wheelers gives, as well as the opportunity and confidence to try new things, whether a new hill, route or even a discipline. There is also the real buzz that comes from riding together in a well organised group, along the Surrey Hills routes that can be so beautiful at any time of the year.
I also ride a lot in Ireland, and it's amazing how often people recognise the kit, and come up for a chat when on the road.
How can cycling become a more diverse community?
An important way is to encourage as many young people as possible to get involved, especially through the provision of organised cycling opportunities. While the Go-Ride clubs like KJCC, Hillingdon Slipstreamers, Sutton CC or specialist BC affiliated clubs like Merton Saints BMX provide a great way to support and encourage younger children, there is a real lack of opportunity in many less affluent areas of the country, and especially in London.
Cycling can be perceived as being quite elitist, especially when the bikes and kit can cost large amounts, so it's important that younger riders, and those who don't necessarily have access to the best machines or the 'proper' kit, are given the right, safe and organised access to be able to try the sport, across as many disciplines as possible.
As well as the lack of clubs and kit, one of the most challenging issues is the lack of adult coaches and volunteers to help run sessions. I would always encourage cyclists, and especially club riders, of whatever age or level, to consider helping out – British Cycling's volunteering programmes provide a great way to participate.
As a cycling club, it's great to see Kingston Wheelers, and its members do so much to promote diversity, and to support and encourage young riders, and we at KJCC are especially grateful to both club and members for the support that we have received at KJCC, but there is a need for the wider cycling community, and its governing bodies to do much more, especially to support and encourage younger riders to continue their riding as they get older and it's something that we can all help to do as cyclists.
What advice would you give to riders new to the sport?
Give it a go – it's easy to join in, whether on the road, or on a gravel ride, or doing laps in the park – you don't need all the flashy kit and the bling bike – start easy and look for gradual improvements – and try to find others to ride with (like us!) – you'll surprise yourself.
Why would you recommend Kingston Wheelers?
The club has something to offer anyone who enjoys being on their bike – whether to race, or simply enjoy a ride with like minded people, and to help you improve your skills and confidence, whether through the regular skills days, or Richmond Park laps.
The club's approach is friendly, respectful, and supportive to both its members and the general public, and the volunteering ethos means that there is a real 'all for one' culture.
There is always someone ready to offer advice, give encouragement, and if you're lucky, a nice bargain in the 'for sale' section of the club forum. The forum is a great way to keep in touch with friends and especially in the difficult times we have all faced recently, it's been a real support.
It's not just about being out and about on the bike though – the club organises great social events throughout the year which are always fun, especially seeing fellow members out of the lycra.
From a personal perspective, I've made such a lot of good friends over the years, and have had the opportunity to ride, and race, with some amazing and very inspiring people. I have had the chance to do things I would never have done without being part of the club, both on and off the bike, and I look forward to many more opportunities to come as we reach 100 years young!