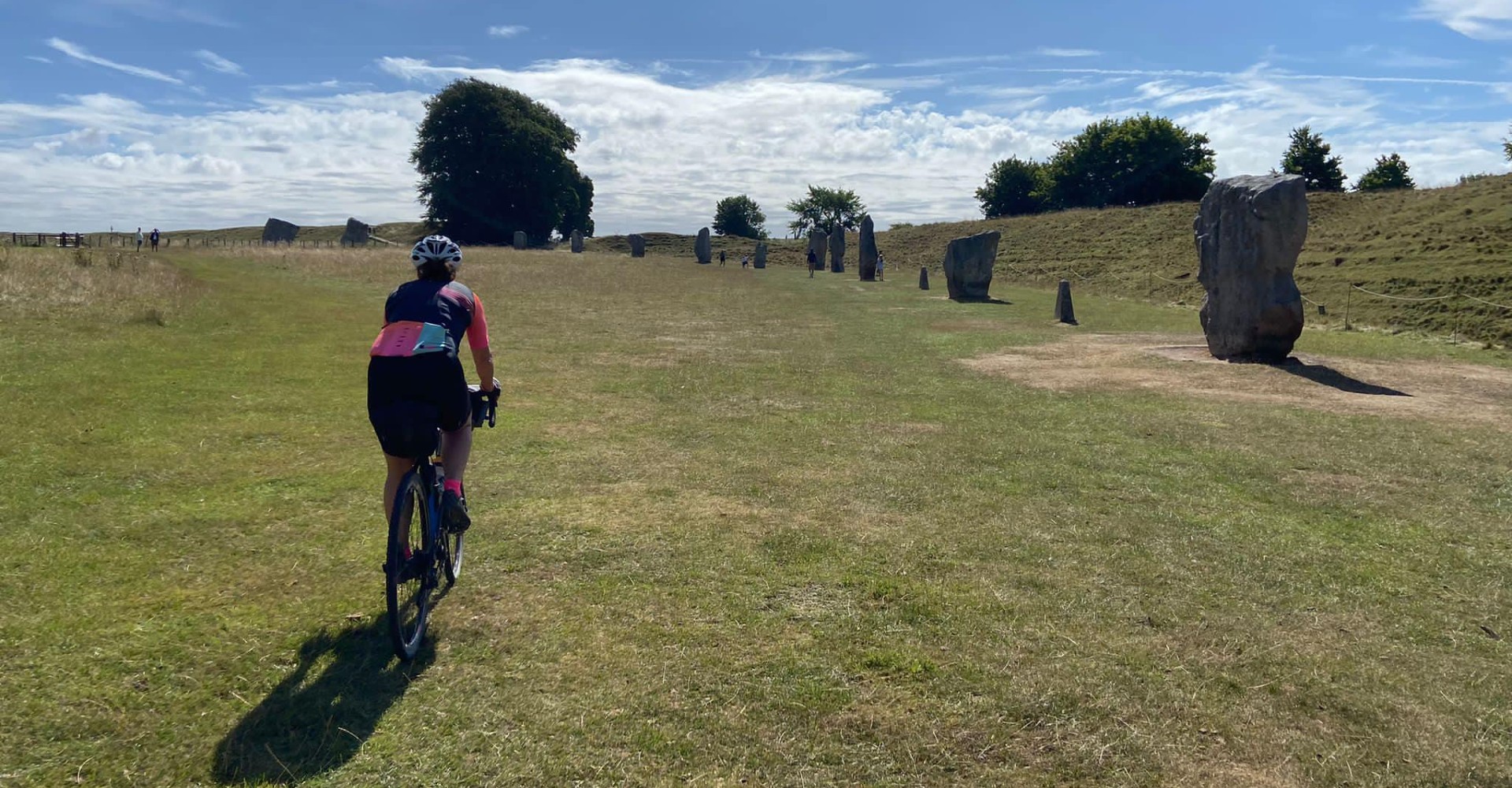 The Only Way is Wessex: King Alfred's Way
Always on the hunt for the next challenge, Gill and Alex packed their bags and set off to the conquer King Alfred's Way – a new long distance cycling route created by Cycling UK in the summer of 2020. From lost bike parts to punctures-galore, Gill Thom reports back on the adventure.
It was Alex Joss' plan to go and do the King Alfred's Way and while it's been on my list for a while, there's nothing like a bit of pressure putting a date on it to focus the mind. It's a fantastic mainly off-road circular route covering 220 miles – this was the route we used but there are lots of different options out there and you can join the route wherever you like – we chose to do it over four days to try to take it at a more relaxed pace.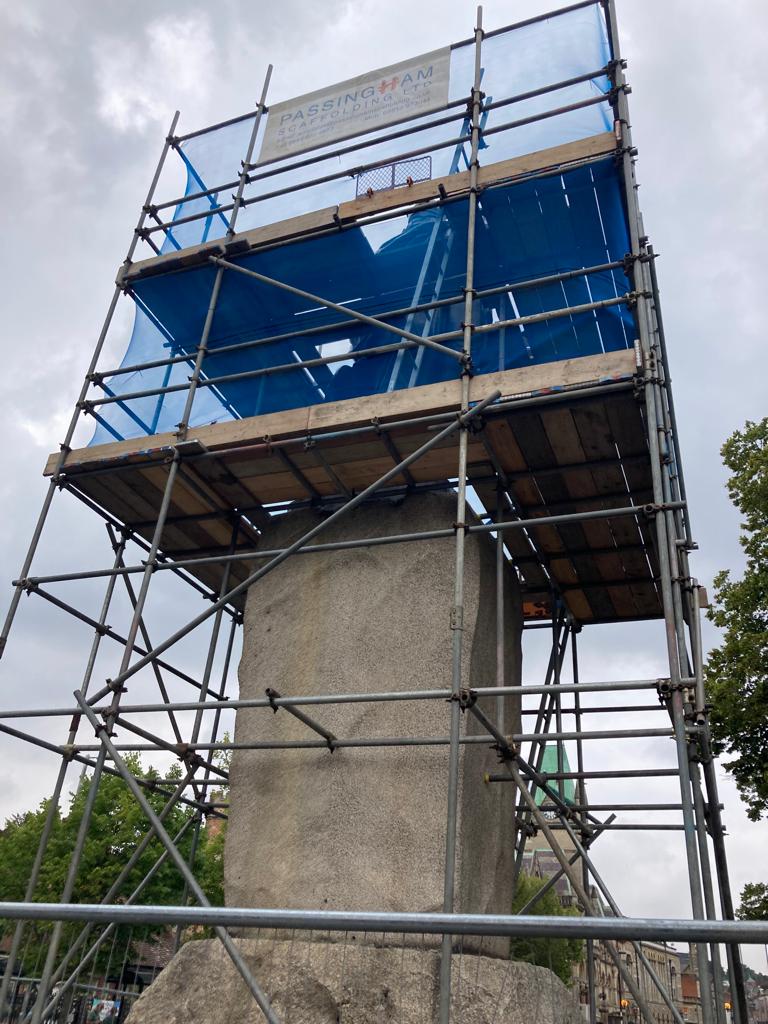 Day 1
It's fair to say the adventure didn't start well as we got to Winchester and to our rented parking space only to find that Alex had left the through-axle for her rear wheel on the road in Surbiton after removing the wheels to get the bike in the car. We then had to wait an hour for any local bike shops to open but Trek parts are not that easy to come by. Three hours later it was agreed that the best way forward was to hire a bike, so instead of us both doing the ride on slightly inappropriate cyclocross (cx) bikes (limited gears and 33mm tyres) Alex ended up with wide tyres and one monster gear, which was to come in very handy later on! Because of limited space on the bikes we didn't carry camping stuff but had booked pubs, hotels and an Airbnb so we could shower and wash kit etc.
Day one didn't really start till nearly midday from King Alfred's statue in the Centre of Winchester (where else???), which was unfortunately covered in scaffolding. And after a few wrong turns we finally got underway.
We headed out towards Salisbury (you end up north of Salisbury) through Amesbury and Larkhill and you then hit the fields, ridged tracks and gravel roads across Salisbury Plain – it's a bit relentless and there's no reference point so it's hard to know when you'll eventually leave the plains. It's worth checking the army aren't on exercise as some parts of the route would then be inaccessible. Needless to say one thing we realised was that the guy in the bike hire shop had forgotten to give Alex the spare inner tubes (I was running tubeless) and in all the rough gravel terrain the first puncture happened – no puncture repair kit but some caffeine gel and a tyre boot miraculously stuck and held until our first night stop in All Cannings (on the route). There's a fantastic pub in the Village called the Kings Arms and if you're fully loaded with camping stuff they do have a camp site. They couldn't have been more helpful when two sweaty smelly women turned up with bikes at 8pm for dinner (good to pre-book). We were staying in an Airbnb in the Village – that shower felt amazing!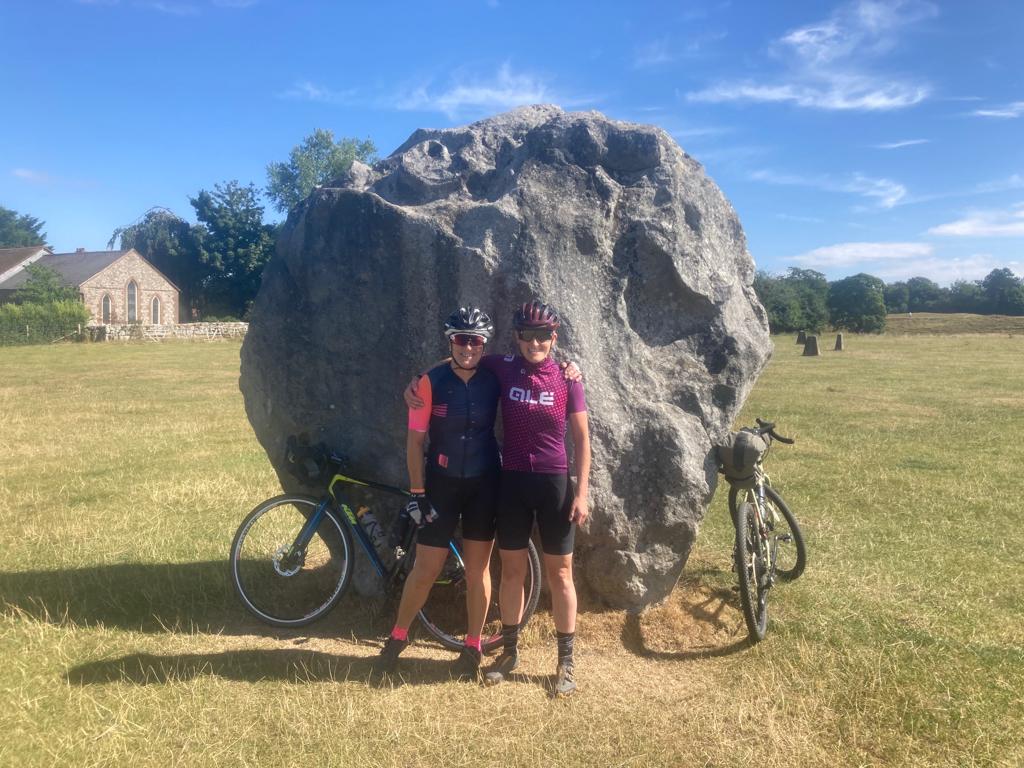 Day 2
The theme of our trip was waiting for bike shops to open to buy inner tubes! Alex got a taxi five miles into Devizes first thing, ready for the bike shop to open to sort out the puncture. Giving our stuff time to dry in the garden by the time we set off.
Day 2 was so much more visually pleasing and much nicer terrain – only 8 miles or so from the start we end up in Avebury, where the largest stone circle in the world is located. Great to see the sights and the villages around there are so stunning – endless gasps at beautiful houses!! There's also a great cricket club with a lovely café for breakfast in Avebury.
After Avebury you then hit the Ridgeway (South of Swindon). It's stunning countryside but definitely up and down and some of the tracks are quite narrow because off-road vehicles use the tracks in winter so the ridges between the wheel tracks can be really deep and if you hit one with your pedal it's a pretty speedy exit off the bike! Lots of concentration needed, We went past White Horse Hill but didn't want to stop due to timing but the views and scenery were so stunning (helped with really great weather!). It's very chalky and if it is wet the route would be very slippery and you need a lot of caution on the descents as even walking on some of the compact chalk it was like glass. It's fair to say the Ridgeway does go on forever and another puncture, a split tyre for me, 40 miles later we came off the Ridgeway down into Streatley. Yet another puncture and an inner tube in the tubeless tyre later we hit the Thames path through Goring – I was thinking it'd be flat along the Thames but couldn't have been more wrong- it was pretty brutal with a couple of walking points but we finally made it to stop 2 in the Centre of Reading. We stayed in the Travelodge – definitely not a recommendation! – it was like a sauna, dirty, noisy etc so not conducive for a good night's sleep! Note that this part of the route goes through the grounds where the Reading festival is held so you might want to avoid a clash.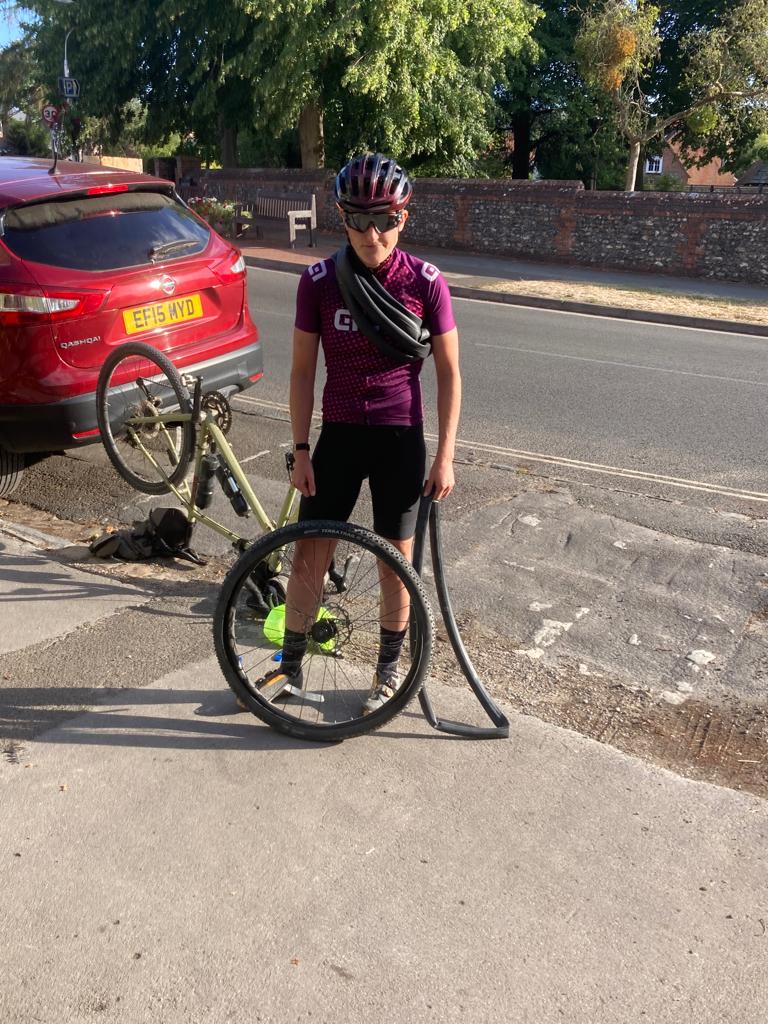 Day 3
Yet another late start waiting for bike shops to open for even more inner tubes….there's a theme running here. The first 30 miles of day 3 was flat and so nice to just spin the legs out – we ended up along the Basingstoke Canal eventually coming out near Church Crookham- there's a lovely garden centre on the route (Redfields) with a great café in the back so we stopped for serious food intake only to find the elevation then ramped up big time – not great on a full stomach! The route goes through Farnham town centre (yah – more opportunities to buy inner tubes!) and then after a few hills around the very smart Farnham suburbs it hits the sand – Farnham Heath, Frensham Common (where there had been a massive fire), Hankley Common and Thursley Common (it's like a beach around this whole area so it was pretty slow going) and then to top off a few hours of slow hard riding in sand the route hits the Devils Punchbowl – not the nice road most road cyclists know but rocks/ boulders on 20% plus- definitely walking only on our bikes – met some others doing the KAW and one lunatic who was doing it in 24 hours – he had no food, clothing or anything with him….hardcore! There was a really lovely craft beer place called Craft Brews near Bramshott Common if anyone needs a pick me up on the route. We headed to Liss for the night so we had a shorter last day and stayed in the Jolly Drover Pub which is right on the route. Fantastic shower, hot food and really comfy accommodation set us up for the last day and at last we managed to set off early (we had to get the hire bike back by 4!).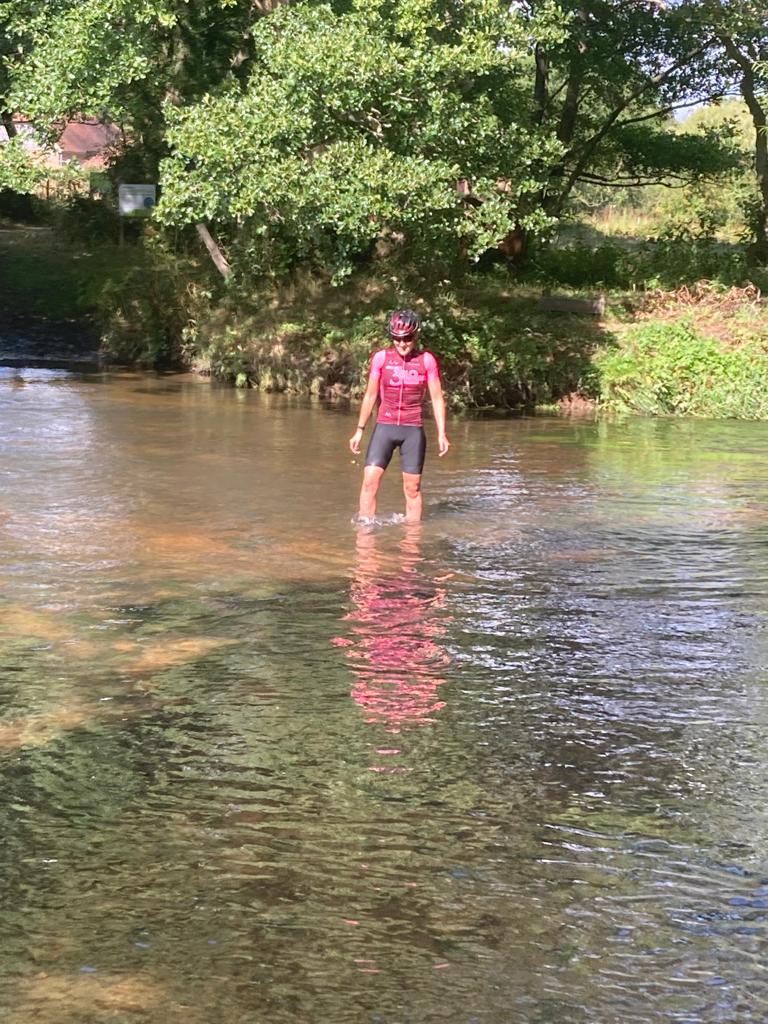 Day 4
To sum it up… hilly. The route hits the South Downs Way through Queen Elizabeth Park and then crosses the A3 and heads up Butser Hill….I've cycled down it and that's awesome but going up it is a whole new ball game! Alex clicked in her big gear and she cycled the whole way up it – I could only look on in awe and admiration as I trudged up the hill pushing my bike. It was a really hilly last day and some of the trails seem to go on forever – even 3 miles from Winchester we were doing 3mph on narrow hilly paths and that last few miles seemed to take forever. It was such a great experience to end up at King Alfred's Statue to finish the trip. What a fantastic few days – thoroughly recommend it but would say a few things are very important – fitness, appropriate gears (!!), tubeless 40mm plus tyres!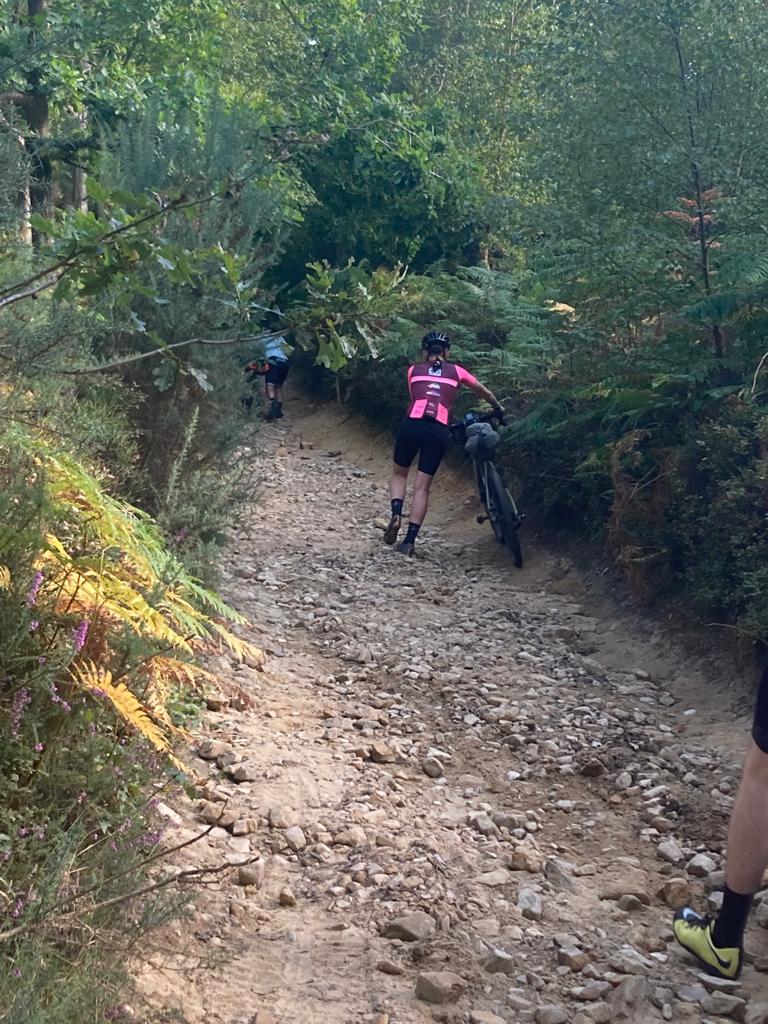 Now to think of the next challenge…