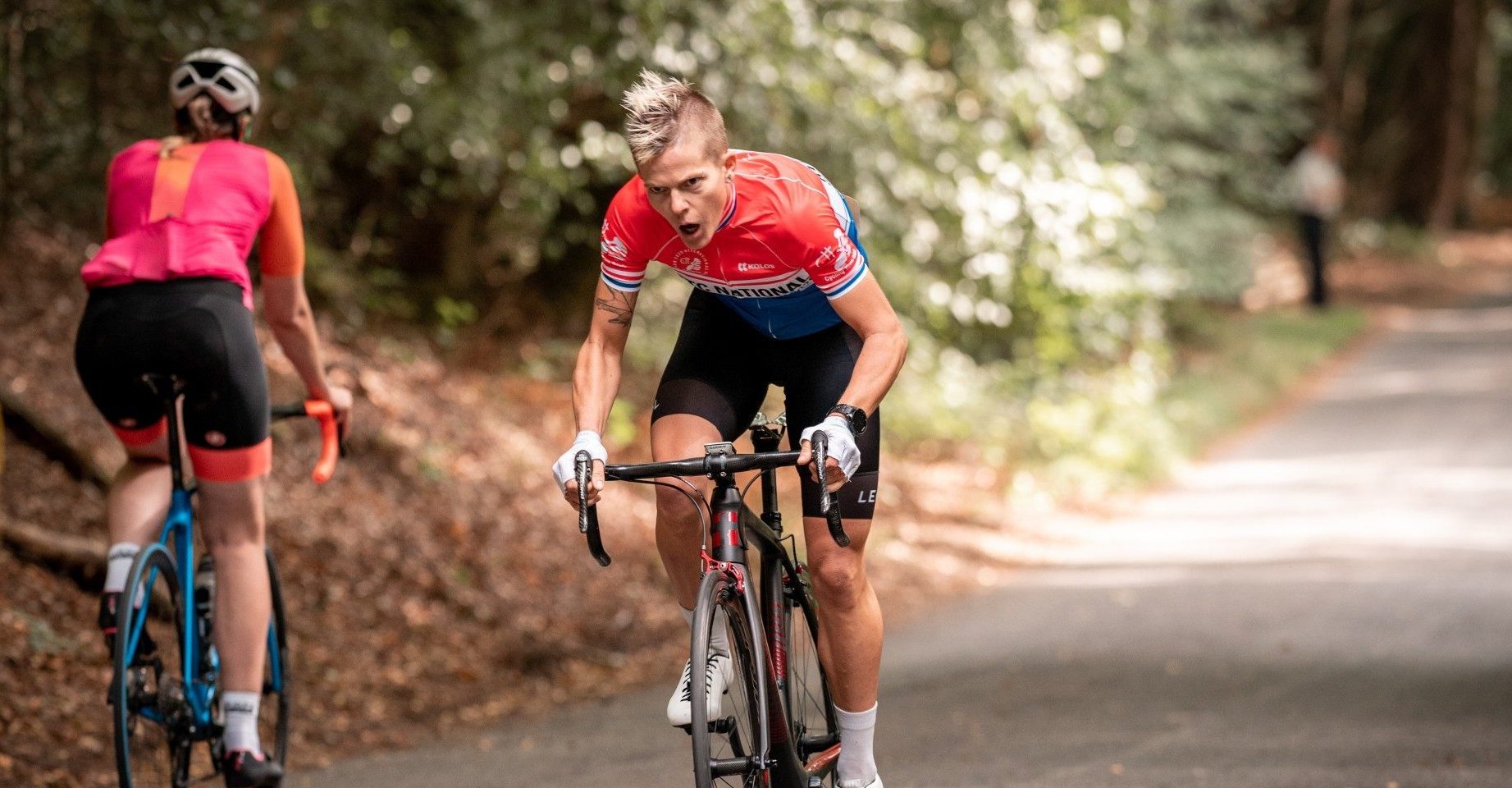 Women's record smashed on Leith Hill
Saturday 18th September saw 49 riders take part in the John Bornhoft Memorial Hill Climb, our annual race on Leith Hill. With sunny conditions we were set for a fast day and it didn't disappoint with National Champion Bithja Jones (Pankhurst Cycles) smashing the women's record (set last year by Becky Hair) and finishing in the top 10 overall with an astonishing time of 3:54 – chapeau!
Joshua Aiken from Orwell Velo took the spoils in the men's competition with a rapid time of 3:31.1 ahead of James Hayward who was first vet over the line. Other notable rides include the junior rider Finlay Hawker of VCL who finished fifth overall with a time of 03:47.6 and Mollie Bilner of Stowmarket & District CC who set a new women's junior record with a time of 05:29.2.
Big thanks to all the helpers and marshals for volunteering their spare time for this event to go ahead. Kevin Denson, for organising and co-ordinating a super smooth race day and to the timekeepers, Christina Gustafson & Paul Tunnell, for keeping things ticking over nicely.
It was great to have a big crowd out on Cowbell Corner supporting again after a quiet year in 2020.
Men's Top 10
Joshua Aiken (Orwell Velo) 03:31.1
James Hayward (Woolwich CC) 03:45.2
Darren Kidson (Onyx RT) 03:46.6
Ben McKie (VC de Londres) 03:47.5
Finlay Hawker (VC de Londres) 03:47.6
Andy Pearson (Serpentine Running Club) 03:49.0
William Collie (University of Warwick) 03:52.8
Richard Cartland (HuntBikeWheels.com) 03:57.1
David Brock (Pure Motion Cycling Club) 03:58.5
Freddie Jagger (Team Lifting Gear Products/Cycles In Motion) 03:59.4
Women's Top 10
Bithja Jones (Pankhurst Cycles) 03:54.5 CR
Madeleine Heywood (Team Watto) 04:30.6
Kate Palmer (1904RT) 05:06.0
Vikki Filsell (BellaVelo cc) 05:22.9
Mollie Bilner (Stowmarket & District CC) 05:29.2
Wendy Mathie (Penge Cycle Club) 05:30.3
Catherine Ridgway (BellaVelo CC) 05:30.7
Debbie Percival (Kent Velo Girls/Boys) 05:55.8
Hazel Wilson (Kingston Wheelers CC) 06:36.7
Maria David (Serpentine Running Club) 07:50.9
Full results available here: https://www.cyclingtimetrials.org.uk/race-results/22269