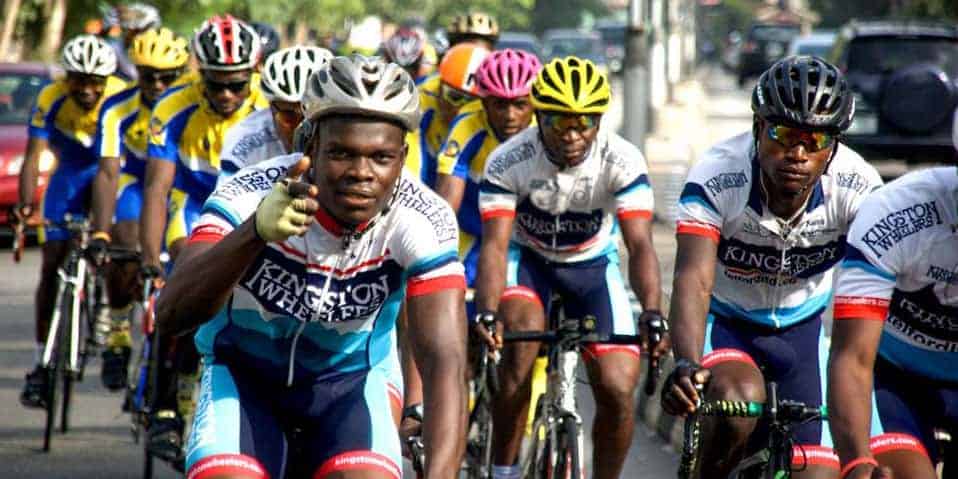 A new collection for Nigeria
Following last year's hugely successful partnership, we are working with the Sustainable Cycling Foundation (SCF) in Nigeria in collaboration with Sigma Sports to organise another kit collection. Even if you are not a member of Kingston Wheelers, if you have spare kit that you don't need and want to donate you can get involved. Big thanks to Andy Edwards for heading up this initiative.
IDEAL DONATIONS INCLUDE:
Clothing – club kit, training pro team kit, even winter kit as long it is wearable
Other kit: helmets, track mits, shoes, cleats, etc
Components – brake blocks, cables, types, inner tubes, etc
Equipment – bikes, frames, wheels, group sets or parts of groupsets
A key issue in Nigeria is there are very few bike shops so getting hold of even the most basic items can be problematic. We take so much for granted having so many bike shops on our doorstep.
Guidance: if the clothing is unwearable or the equipment unrideable, it should not be donated. For instance, with clothing second hand worn clothing, including shorts, is fine, provided it is wearable and clean.
LOGISTICS
Donations will be accepted from 18th-30th March at the Sigma Sports warehouse and collection point in Esher Surrey. The warehouse is open 9am-5pm every day except Sunday. The address is: D5, Royal Mills, Sandown Industrial Park, Mill Road, Esher KT10 8BL. On arrival please say you are donating to the Nigerian Kit Collection and you'll be taken care of.