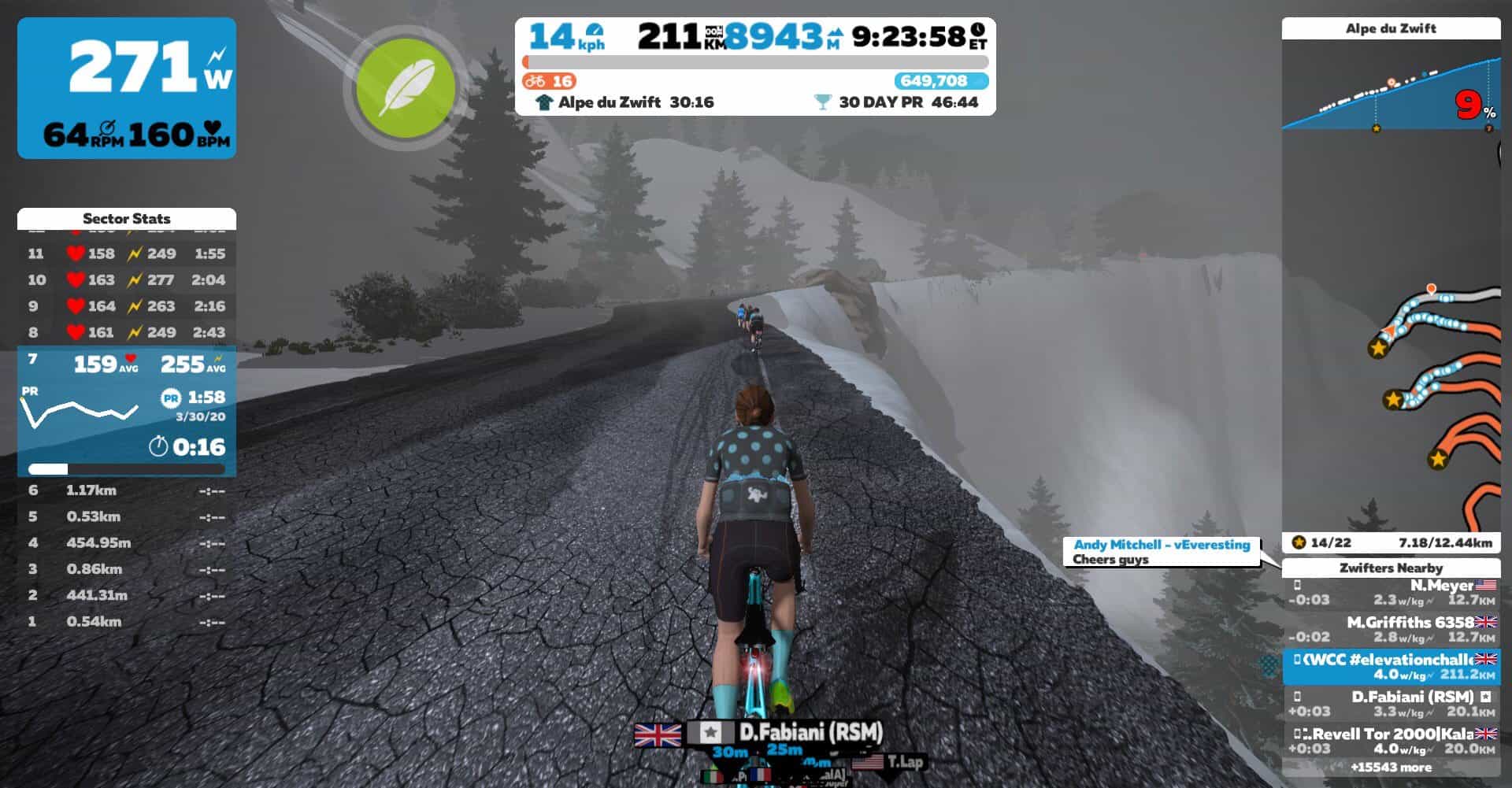 Alice sets a new women's everesting record
As part of our fundraiser for Kingston Hospital several members completed a virtual 'everesting' ride, reaching the same vertical gain as Mount Everest (8,848 metres) in a single ride. Club member Alice Lethbridge not only decided to go for the everesting on the day, but she also set the new fastest time by a woman, and was quicker than Italian pro Giulio Ciccone who rode his own virtual everesting the following day.
Here's her story of how it came about…
"I dropped into Watopia at 7.45am, uncharastically early for a club run, to wait for the rest of the team. At 8:01, Brendan, Denis, Adam, Alex, Dean and I set off on the Road to the Sky and a quick discussion of how on Earth to 'recognise' each other ensued…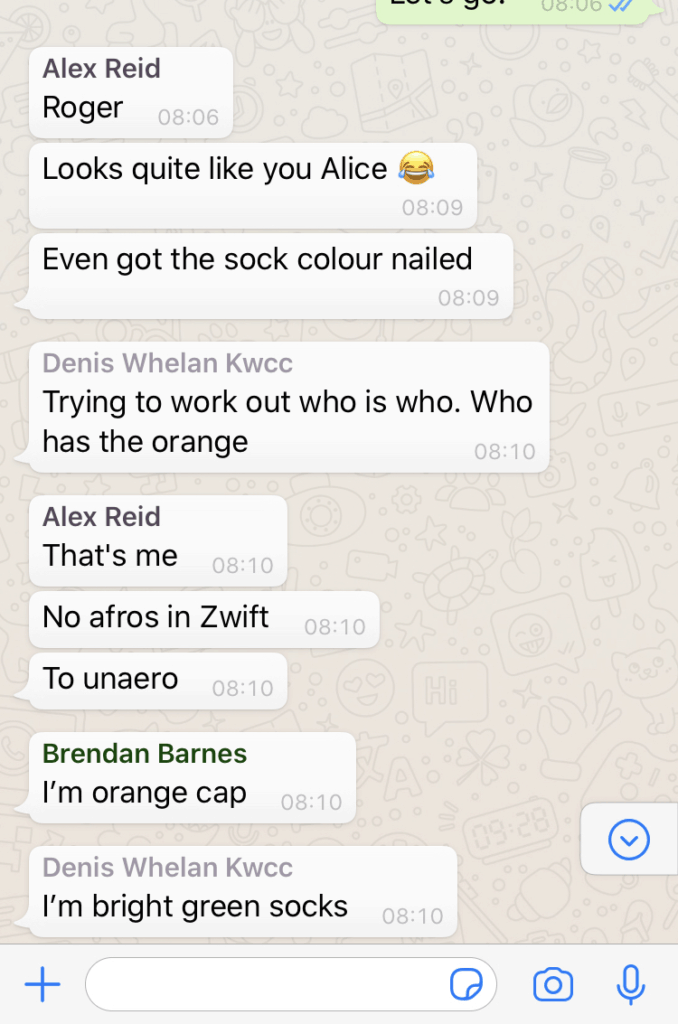 We'd agreed the night before to try and ride at 3.0w/kg, a pace we thought we could all sustain for the planned five ascents. We hit the bottom of the climb though, and like a typical club run, it exploded with Adam off at 4.5w/kg and a message from Dean asking where we'd all gone. I'd done a recon on Monday and been able to tap up at 3w/kg. Today though I immediately found myself in the smallest gear I had (36-25) so was forced to ride above my planned power target. Denis, Adam and Brendan who was "still in my big ring" seemed comfortable at 3.5w/kg so we set off up the Alpe.
Pre-event discussion had been how Adam could tow us all as he would in real life, but my inability to ride a wheel in Zwift meant I just kept riding straight past any of my club mates that went to sit in front of me. After losing Adam again, Brendan, Denis and I managed to keep fairly together on climb one, cresting in just over 52 minutes, eight minutes up on my planned pace, but feeling good. Of course, being able to U-turn and descend in unison was totally beyond us, so that was the last of the group riding!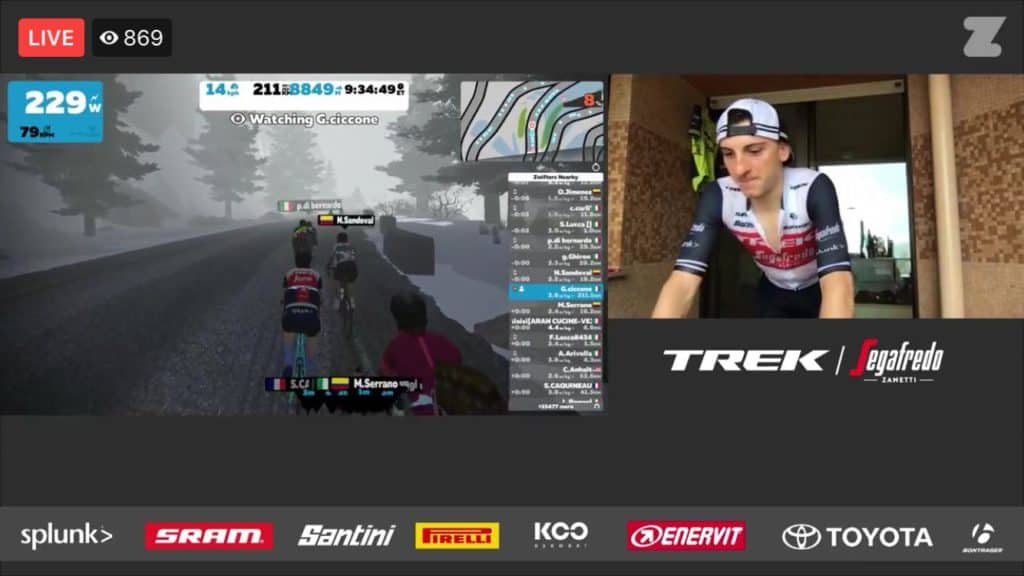 I somehow found Adam just before ascent two. We sort of set off together, yo-yoing past each other. TTers aren't very good at wheel sucking! Though he did manage to sit on my wheel for several minutes before suddenly launching a featherweight power up and riding off – cue expletives from me in the WhatsApp group. Adam's response 'I've never seen those things before, they keep appearing' – hmm sure!
So ascent three was solo, though by now it was gone 10am and we had the later starters on the climb too and it was so motivating to see all the names with "KWCC" popping up on Zwift. I reached the summit in just under 54 minutes and then had my first problem – I couldn't U-turn. Eventually the computer responded and I was on my way down. However, the same issue befell me at the base of the mountain with neither the laptop or the companion app responding. I flew out of the green wall and got lost in the jungle. Had to do a little bit of self-talk to calm myself, call the Watopia map up, work out where I was and get back onto the Alpe.
By the time I was riding in the right direction again, I could see Tom from the early starters was just ahead which helped me refocus. I plugged away to catch him, and despite my legs starting to feel it, I was motivated by slowly reeling in some of the other KWCC riders too. I passed Denis, then Seb, who seemed to sit on my wheel a bit before dropping back for a while though that didn't feel right and I knew it wouldn't last! A couple of km from the summit, he and Denis caught me back up and seemed to be attacking, just like they would up the top of a hill on a normal Saturday ride. Seb said this was his steady riding but I saw the w/kg go up! The two of them seemed to be racing ahead to the top of climb four. Whilst my competitive side wanted to chase them down, I'd already decided the legs were good enough for six ascents, with the Everest in the back of my mind, so I reluctantly let them go.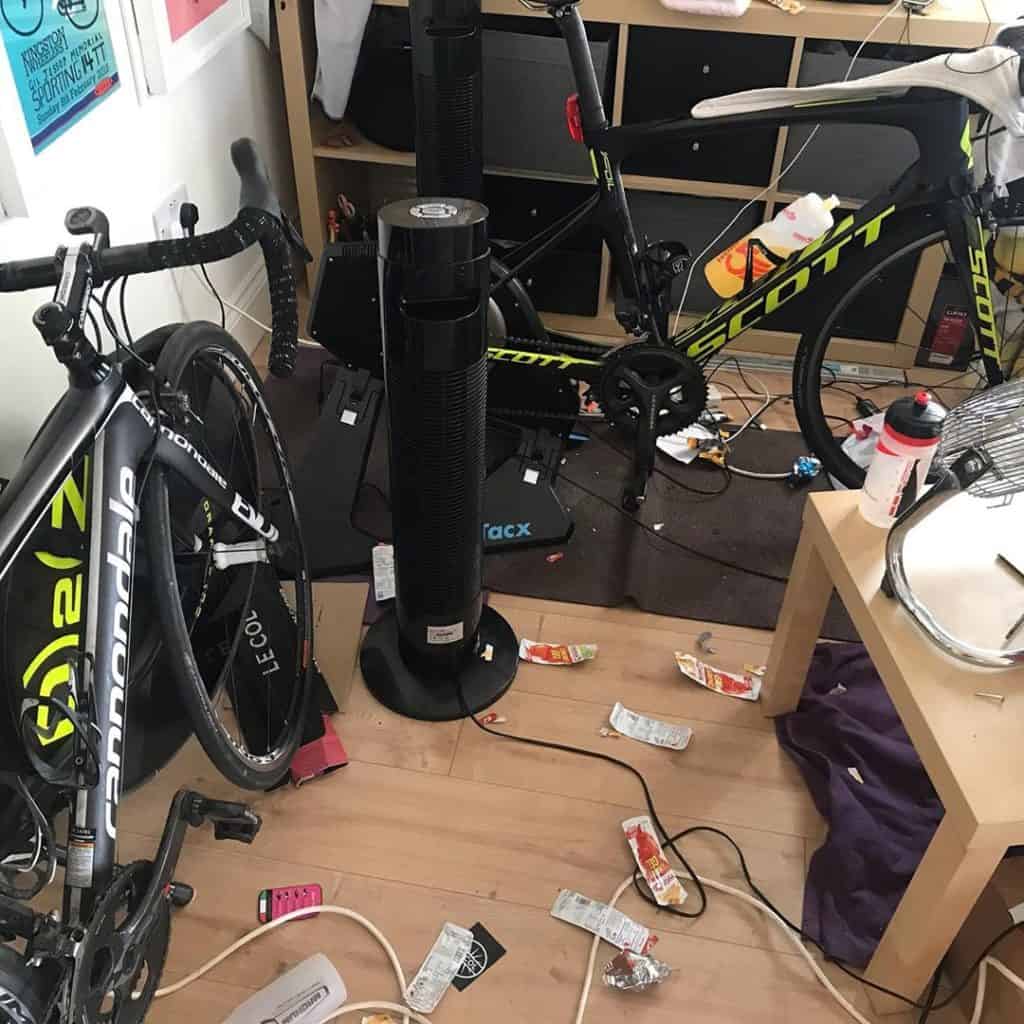 On climbs five and six I was on my own so just settled into a steady rhythm. The legs felt decent so I made a pledge for a seventh rep if we could hit £7250 on the Just Giving page. I quickly got a WhatsApp saying we'd broken the barrier so my mind was made up – the Everest was happening. The only problem was, did I ask my coach or just do it and beg for forgiveness after? I used descent six to take my first break (you're allowed to freewheel the downhills on vEverest attempts) and quickly nipped to the loo and refilled some bottles and attacked ascent seven with a second wind.
Harry had been bugging me all week about vEveresting and he'd put out an earlier tweet hinting as much. So as I climbed for the 7th time, I publicly asked my coach if that was ok as he couldn't exactly say no if it was for charity! A text immediately came through asking how many reps the Everest was, what I'd done so far and how much longer this would take than the pre-agreed 5 hours, of which I was already 2 hours over. "About 2.5 hours more if I can keep this up. Legs good" I replied. "I'm on pace to break the women's vEverest record." That was enough and he was in, my third wind came and I went into 12 TT hour mode.
That was enough and he was in, my third wind came and I went into 12 TT hour mode.
Ascents seven and eight seemed to pass fairly rapidly, as with my vEveresting attempt public, the support messages started coming in. Thank you to everyone who sent one! As I hit ascent 9, I knew it was about 25 minutes to the point that would meet the mark. That's the equivalent of a lumpy 10 mile TT I told myself which was enough to find some extra power and empty what was left in the tank. I hit the Everest elevation of 8,848m with the clock at 9 hours 19 minutes 20 seconds, but carried on to 9,000m as I wasn't sure if I'd gained any elevation on my little excursion into the jungle and the rules state it must all be on a single climb. I wanted to carry on for the 10,000 metre badge but knew my coach would never forgive me for that. He's agreed to a future attempt though!'