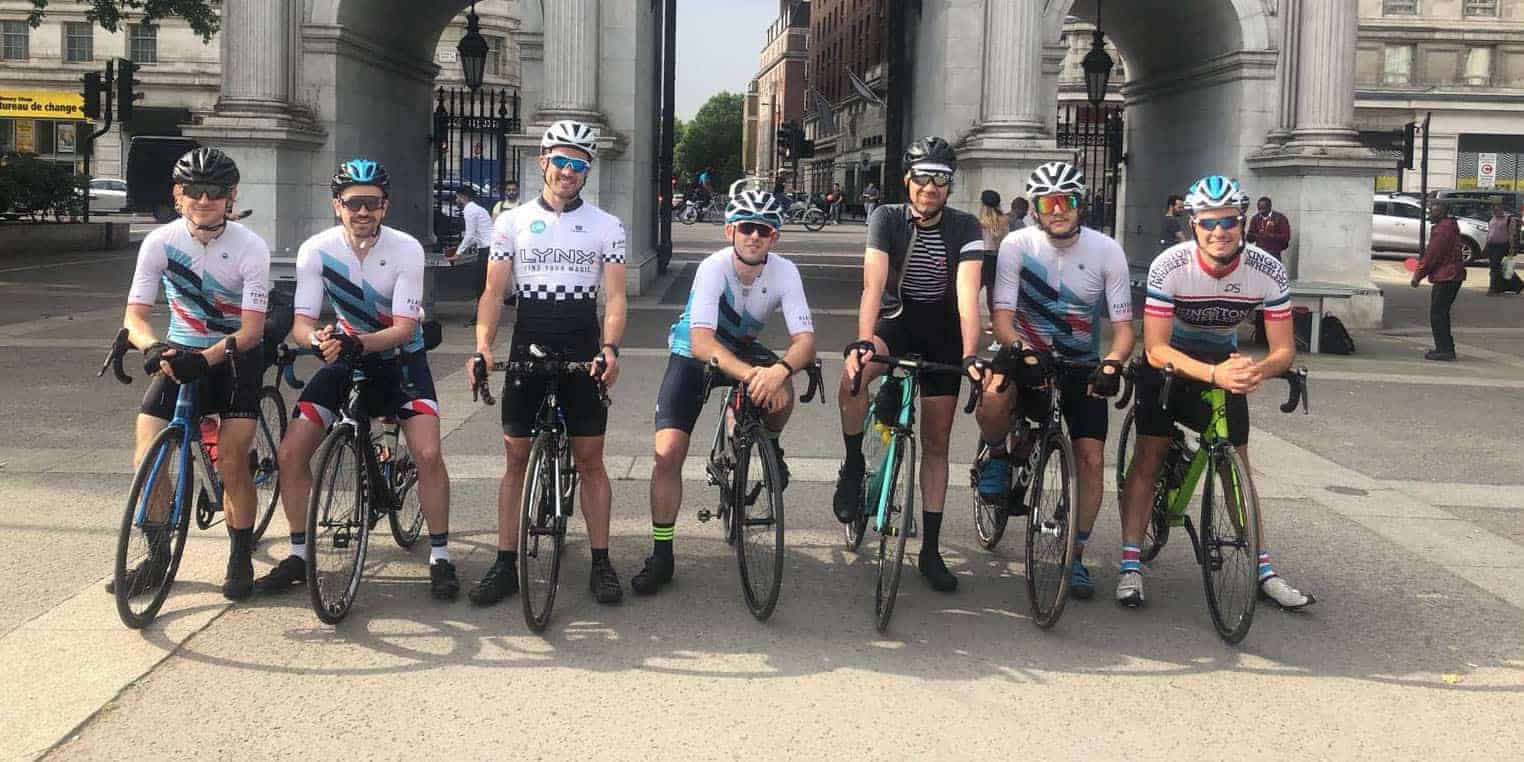 Arc-Arch-Arc
On Friday 1st June an intrepid group of Kingston Wheelers set off from Marble Arch, attempting to ride to the Arc de Triomphe and back in 40 hours. Sean, Pete, Seb, Nathan, Dean, Tom and Rich set off on Friday night after work to cycle to the coast, take a ferry to across the channel then a big leg down to Paris, before doing it all again in reverse.
Sean Standerwick recounts the adventure:
Wow what an experience.
Pete and I got the train from Surbiton to Waterloo. Surprisingly, neither of us actually knew where Marble Arch was, so we visited a couple of other arches prior to arriving at the Marble one. Once we were all together, we got some quick photos and set off on our challenge at 17.30pm on Friday.
Riding through London in rush hour, was quite challenging and very slow, as you can imagine, having to weave through traffic and stopping at traffic lights every 10 metres.
Once out of town, we started to make up lost time and get our average speed up. Some of the roads down were great and the sun was out. We had the pleasure of Rostin joining us just outside of Chipstead. It was great to have him along and for him ride on the front.
I had made a decision before setting off to try and up my cadence and not go too hard, in general the rest of the group did the same.
It was very muggy and there was an eerie mist that seemed to be following us as evening was closing in. The group started to break a bit on the hills, and there was some talk we might be late for the ferry. A couple of the guys were dropping off the back. However, despite any concerns we arrived in good time and had to queue up. We visited Sainsbury's to grab some dinner and stock up on bars and breakfast for the next day.
On the ferry we had cabins. After a shower and some food, we headed to bed. Not so easy, even with ear plugs, as my mind was slight racing, but more to do with the fog horn going off all through the night and the car alarms going off below us. Before we knew it we were be called out our cabins. Time to pack our things and get back to the bikes.
The second leg was 229 miles and we knew we had to achieve our average speed in order to make the ferry back. The morning started on the Cycleway, designated cycle paths on what used to be railway lines. We were all taking our turns on the front. As we were coming to an end of the paths people said they wanted to stop for coffee and some food. I didn't want to and was a little concerned as this stop wasn't scheduled in. We stopped for around 45 mins.
When we set off the group began to split, I started to become more concerned as our average speed was dropping fast and we had also lost an extra 45 mins. I wasn't the only one concerned. Nathan and Pete decided they couldn't hold on (or didn't want to) and we all realised we had to push on if we were to make it.
So they dropped back, deciding to go at a leisurely pace and get the train back from Paris and meet us for the ferry back.
The sun came out and it was a glorious day riding through almost deserted roads in the countryside, with flowers and fields surrounding us. Now down to five (Seb, Rich, Dean, Tom and me) and taking turns, our average speed came up. We made it up to 18 mph, ahead of the 17.3mph needed, so we started to relax a bit more. We became strict with stops, 'no faffing around'. So only quick top up of drinks when needed and grab something to eat.
As we arrived near Paris, we came across a lot of traffic and traffic lights about every 10 metres. Our average speed dropped down to around 16.3 mph and it took a long time to get to the Arc. Finally we got there around 13.30pm, though we had run out of water and needed lunch. Time for quick photos under the Arc, a quick shake of hands and congratulations to each other. Now for some water and lunch outside the centre – we decided we would make this only a 30 min stop though the itinerary had it down for three hours.
Finally we got out the centre again and found a little town with a supermarket. I began having some stomach problems, but didn't have time to shop, eat and find a toilette. So I loaded up on food (I would regret this later) and rehydrated, as did the others.
For me this part of the ride became extremely difficult, both physically and mentally. The hardest thing i have ever put myself through purposefully. I have some stomach problems as it is, but having not visited that toilet and having overeaten (and lots of bread), the food was sitting in my stomach and not digesting at all. It was coming back up, but i managed to keep it in.
The day was sweltering hot, and we were getting some great tan lines. My problems however worsened. I was struggling to drink, and I began to realise that I had to, or else I would not make it. Where possible i was taking sips. I also realised that my Nuun hydration tablets were worsening my problems. So I just stuck to water, but even that was making me feel sick. I started to debate whether to let myself throw up, but I was also worried that I would lose the food and become even my dehydrated. I made a decision in my head, i was not going to give up, i would only stop if my body stopped (i.e. i passed out). Mentally, I was in a really bad place, i was struggling to hang onto the other four, who were not taking it particularly easy, especially up the hills, but we had to press on. There were long periods of no talking, it was a hard leg. I didn't want to say too much to the others about how i was feeling and dampen their spirits, but they knew I was struggling.
We stopped for water top ups and I managed to drink a coke too. The miles didn't seem to be ticking off quickly enough. We began breaking the ride down into sections. We were over halfway back now. I broke things down into 20 miles and tried not to look at the distance much. Those 20 miles became three Richmond park laps, then two, then one. For me, and some of the others too, once we reached the cycle way, that mentally meant we had made it. So that became another section, that itself was broken into segments.
Our average speed was ok, and we began to realise we were going to make it if we kept it up. Suddenly my stomach problems abated, I digested my food and could drink properly again, and the worst heat of the day was over.
We hit the cycle ways and I began doing some work on the front, i wanted to do my bit and let the others rest as i had done nothing for a long time. Seb began having some serious knee problems, and I think Dean was a little tired, so we couldn't go too fast, but we knew we were making it. The sun was setting and it was a beautiful evening. We started discussing what we wanted for dinner. It was agreed "Pizza and Beer". Arriving in Dieppe was a massive achievement and mentally meant we had completed the ride. The hardest part was over, we had plenty of time for the last leg in England.
Meanwhile Nathan and Pete were waiting for us in the ferry area. They became concerned we'd miss the boat as they didn't realise we'd arrived and were waiting for our pizzas. That had to be one of the best pizzas i've ever had, the beer in a can was incredible too.
On the ferry we managed to get more sleep than on the way out as there was no fog horn. Before we knew it we were back out on the road. But before setting off, people wanted a McDonald's breakfast.
Once rolling the miles were ticking off pretty slowly, but again we were blessed with a great day and a beautiful sunrise. When warmed up people started going harder up the hills, we didn't need to hold back so much now.
Ben arranged to meet us nice and early to ride with us. It was great to see him, he brought some goodies with him and it was a great morale booster. He also took some long turns on the front, but was shocked when we sprinted for town signs,and the attacks on the hills. We were in good spirits.
It wasn't too long before we saw Rostin again. He came on his scooter, laden with food and drink to set up a bar. We chatted, ate, drank and had a laugh. Suddenly we heard a shout of 'choppers' and saw a massive group of Wheelers roll past who were on the audax. I've never seen so many wheelers, it was great to see them. Some stopped and had a chat, and Alex decided he wasn't going to complete the audax, so would ride back with us. Ben and Alex turned off around Woodmansterne, but once in London one of Rich's friends joined us.
It felt like a victory parade home with all the amazing support and we rolled into Marble Arch at 10.50am, greeted by Rich's mum.
Now it was time for the ride to the pub…
What an amazing experience. We all had moments where one of us was struggling, but we worked together as a team. It made me realise that as long as you do some training, you can do a lot more than you think is possible, as long as you commit mentally. Thanks to all the guys on the ride, there is no way I'd have been able to do it on my own. Thanks also to those who supported us.
Ride Stats
Distance: 360 miles
Time Riding: 21 hours 30
Total Time elapsed: 41 hours 20 mins