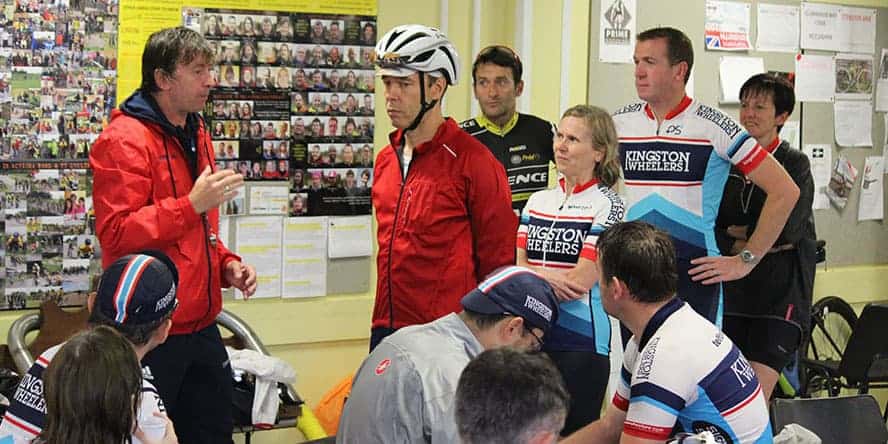 Coaching evening with Huw Williams – Planning your 2017 season
On a Tuesday evening in November we invited club members to a coaching evening with British Cycling coach Huw Williams. Club member and physiologist Simon Clark of CPS In-Motion recounts the evening.
To help our members pick through what is relevant for planning their 2017 season, our new and very active road race secretary Andrew Davis, proposed a club evening with the vastly experienced BC Level 3 coach Huw Williams.
Huw discussed some of the more relevant aspects of training and performance cycling to deliver a great interactive session to a good turnout from the club. The audience covered a wide range of abilities and specific cycling interests from newbie sportive and Cat 4 Road Racing entrants, to Cyclo Crossers and 'well established' long distance Audaxers, all with unique requirements in the sphere of cycling.
Having survived the initial pre-session banter at the bar of A Brave New World, Surbiton and admiring some of for Harry B's dodgy sales skills trying to pedal Crotch Guard, along with complementary samples, I was also personally anticipating Huw's coaching evening. I had ridden with Huw during my early days of competitive cycling whilst at Addiscombe CC, and now as a sports scientist who also supports a wide spectrum of clients it was great to see his polished, yet candid approach to performance coaching and cover some of the more practical points so well.
Huw started with helping the audience think about specific event demands and identify the main components needed to improve for different cycling disciplines. Aerobic endurance, strength, speed, power and short term muscular endurance, (STME a non aerobic endurance effort which has no component of pacing, typically less than 60 seconds) and flexibility, have varying degrees of importance in each type of event with time trialling requiring predominantly aerobic endurance, power and flexibility whilst road racing relying on most aspects equally.
An interesting early point Huw emphasised was regarding the perceived effort that typical 4th Category races demanded (In Huw's words, something Kingston's members were proudly less delusional about, compared to other clubs he had presented to), and the distribution of intensity (moderately low and very high) during a race often wasn't matched when it came to training to be competitive. Whereas more pertinent training for time-trials needed moderately high intensity training (to improve lactate threshold as the significant performance parameter). He also noted that pretty much all cyclists on British Cycling programmes were following some sort of strength training programme to assist with developing those components.
Huw moved on to the fundamental requirements of racing and competition to put physical training in context. This highlighted the importance of the other 3 elements; Technical, Tactical and Psychological which should equally be trained were briefly defined before leading into a short recovery period (essential nibbles and liquid re-fuelling, with not a single energy gel or cereal bar in sight!) followed by the second half of his presentation discussing what was the nitty gritty of the principles of training for most. More member participation helped confirm the practical aspects to rely upon for a successful season ahead. In no apparent order, Huw delved into each of the 9 elements and put them into pertinent context with his refreshing matter-of-fact style.
Recovery and Fatigue – what we do off the bike to assist with physical adaptations.
Individuality – we all respond to training differently.
Variation – changing training environment and diversity in approach.
Adaptations – positive physiological changes.
Long Term Planning – realistic goals to reach objectives and keep motivated.
Progressive – maintain momentum with challenging training load.
Reversibility – prevent detraining and not lose fitness.
Overload – achieve enough stress to cause adaptations.
Specifics – event demands/ challenges to address strengths and weaknesses.
Here, he managed to pick on some finer details of submitted questions and expressed answers as part of the bigger picture. This included the Training Load triangle that governs many of these elements; such that changing either combination of; Intensity, Frequency and Duration will significantly impact on training effectiveness and overload, something which could be figured out alone as trial and error, or perhaps, more time-efficiently with the help of a coach who can provide adequate insight and steer towards peak performance more productively.
A key message was that training is particular (Individuality) to each person, as we all accumulate fatigue, recover and respond to sessions in totally different ways and therefore have unique strengths and weaknesses. Huw managed to illustrate an important principle of performance cycling: overcompensation as part of optimal adaptations where a positive training progression is maintained as we recover from a session and become physiologically stronger before executing our next training activity. This is fundamental to avoid over-training (negative) or ineffective training (flat). Recovery is an important aspect of physical adaptation and it is our days off with very low activity, which allows us to train progressively harder. Recovery time also improves, the fitter we become. Periodisation was also briefly described, in that training volume is typically fluctuated, and tapered while intensity increases closer to an event.
Lastly, Huw finished on more practical advice for training, highlighting effective interval sessions for both road racing/ criteriums focusing on 'Russian Steps' style intervals to help improve maximal STME. Typically these interval sessions should last no more than an hour, and allow for no greater than 6 maximal efforts with the rest of the time focusing on recovery in-between to restrict lactate accumulation and increase exposure. This contrasted with more aerobic endurance efforts (TT orientated interval format) focusing on lactate threshold improvement, building up to 2 x 20minutes as an effective session on intensity rather than duration.
In all, I believe everyone found the session to be engaging and insightful into the best practices of modern coaching. I'm sure those who attended are now much more familiar with the key principles of training and, potentially, can structure their personal programmes more effectively.
Huw did a great job in decorating the evening with some solid tips, and really highlighted what is involved in training and coaching for individuals to achieve peak performance when desired. There are no short cuts!