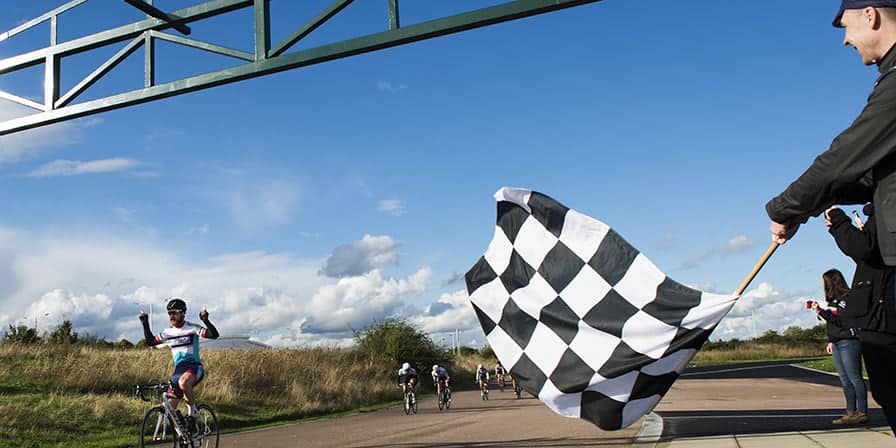 Declan wins the Club Championships
A highlight of the race season, our racers always look forward to the end of season showdown with teammates at the Club Championships. This year's edition took place at Hillingdon Cycle Circuit on Saturday 1st October, with a Go Ride race for new racers before the main event.

The Go Ride race had a decent number of entries with some strong riders taking part. Noel Baker and Will Rostron were working hard and looking good for the win. With half a lap to go Noel attacked and with Will on his wheel, Darren Marshall found himself coming round on the outside and went long from the bends holding off the rest of the field to win. It was a great race, with lots of riders with potential to do well in cat 4 races.

The main race was an eventful affair, with an attack going from the gun. Eight riders managed to get a sizeable gap on the rest of the peloton and quickly opened up an unassailable gap. The group was working well together, until the attacks started with a group of three breaking off the front, before being joined by race favourite Declan Egan. The group behind continued to work well however and the group came back together with two laps to go, with a bunch sprint deciding the race. Coming out of the bends Declan turned on the after-burners, winning by several bike lengths, leaving the rest to battle it out for the podium.

Podium
1. Declan Egan
2. Harry Bunnell
3. Neil Grunshaw
Photos by Roger Brown, available here.

Report from winner Declan Egan
The race started and we all were just about clipped in before Neil Grunshaw and a few others pulled off the front. I sat in for two laps thinking that things would settle down and we would all trundle around for 10 minutes or so while everyone got warmed up but that is not what happened. The gap to the seven riders was opening up. Within two laps it went up to at least a 12 second gap.
As there was about seven of them, all racers, the writing was on the wall and I needed to get across that gap. Since it was so early and I was relatively fresh I managed to spring across the gap quickly in a lap, albeit, one of the fastest laps I've ever done at Hillingdon. (375w, average of 28.6 mph).
I am a racer after all and I might be daft but I am not stupid! I sat in until the prime, mugged poor old neil before the line and took the prime. 1,020w for 15 seconds is a big effort though and I was very lucky that the pace drop slightly otherwise they could have dropped me.
If a couple of the others had done a few turns and kept the pace high, I would have popped but I had enough left to get in the wheels and recover.
Rupert Gordon-Watkins, Andrew Davis and Seb Ashton managed to chip off the front and built up a lead of about 15 seconds and had it not been for Rup puncturing, there is a very strong chance they would have stayed away as it was windy down the home straight and no one wants to work into that so we lost time there every time.
After Rup punctured, the boys worked well and it took a few laps for the gap to come down enough for me to ping across solo. I counted the gap on the bend before the drag to be seven seconds and I know that's a gap I can go anaerobic and get across. That took almost 900w for 20 seconds to get across. When I reached them we worked for a few laps but they got organised behind (in my absence!) and with two laps to go, we got caught.
Then it was a case of staying in the wheels and shutting any doors to attacks. In essence them means riding lines that prevent people from coming up the outside or inside, race craft.
I managed to hit the second last bend 4th wheel and went full gas from there. 1,042w for 20 seconds. Now to take a break and hatch a plan to retain back to back titles for next year!