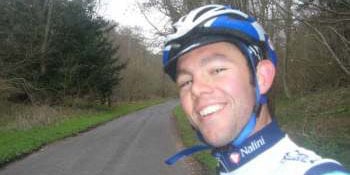 Adam Currie
Name : Adam Currie
Age : 22
Adam Currie, aka "Tikka" and "Currie in a Hurry". He's probably familiar to many long standing members of Kingston Wheelers
What made you start cycling : Someone asked me this the other day and I honestly can't remember. I have always been someone who gets an idea in their head and has to go with it but usually I lose interest. Cycling however has just stuck and I love it!! But one of the main reasons is that I used to play tennis since the age of about seven and really missed competing and having something to train for and improve at.
Why did you join Kingston Wheelers : I was looking around for a club in Hanwell/Ealing where I live and couldn't find anything that looked right. After trying to briefly set one up and having none of about ten people who said they would come turning up I nearly gave up. Fortunately, a couple of people, James Beaumont and Naz Peralta posted on another forum about the Kingston Wheelers and it went from there. I joined after my first run when I found out how welcoming everyone was and also how smart the kit looked!
Date you joined the Club : I joined in October 2006
What bike do you ride : Well at the moment I've got an old 953 steel Raleigh with Campagnolo centaur group set. Giant tcr carbon with carbon chorus 2007 groupset, Easton carbon pro equipe bars, carbon keos (ok maybe too much carbon) which weighs in at 16.45lbs (so pretty light!!) then for wheels Mavic Carbones, Open pros on Record hubs and Campgnolo Ventos which I switch about depending on what I'm doing. I also have another frame on the way which is going to be quite special when I'm done!
Give us a brief cycling background : Bought my first road bike about 3.5 years ago from Evans Cycles but have only really been riding regulary since last summer and can't imagine not riding any more. Started racing a few months back but due to work hours that seem to clash with all races haven't done one since. But I cant wait for the summer as I've got lots planned including loads of road races, London to Canterbury British cyclosportive and La Marmotte.
Who is your favourite pro or inspiration : To be honest I don't really have an inspiration or idol as I've not been into the sport for that long. As a favourite rider I do love watching Jens Voigt as hes just a bit crazy and you never know when he's going to attack again!
What was your best performance or favourite ride : When I finished seventh out of 75 in my first and only race so far at Chertsey. Equally when my camera flew out of my pocket doing about 35+ on a day out with John Coolahan and came apart in about five pieces but then when I put it back together it still worked!! see pic!
What was your worst day on the bike : When I was about four and I fell into a gooseberry bush full of red ants.
What is your favourite cycling food : Porridge in the morning with no extra milk in the bowl with spoon of Nutella, Powerbar gels and of course Peaslake Flapjacks.
Where is your favourite cycling location : Flanders was awesome but anywhere where there are lots of hills scenery and a good bit of sun!
Most likely to say : "I've bought another frame"
Least likely to say : nothing.