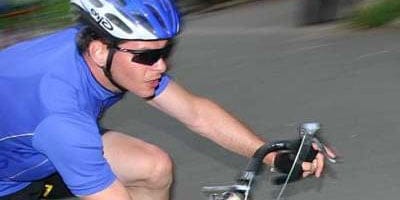 Alan Sherman
Name : Alan Sherman
Age : 29
Alan Sherman is relatively new to the club but has a background in club cycling: from getting dropped on club runs – not with the Kingston Wheelers – to winning races.
What made you start cycling : As a kid growing up in Somerset I could explore the lanes around the village, then at secondary school I got into going further and further and ended up going out with the local cycling club.
Why did you join Kingston Wheelers : Last year I started doing some London races and thought about joining a club to get more motivation for the winter months and have some team mates in races for the following year. London Dynamo stopped taking new members and I had met Chris Salt and Ben Cousins at races – they seemed like nice people so I came along on a Kingston Wheelers club run.
Date you joined the Club : November 2005.
What bike do you ride : I recently took advantage of the cycle to work scheme and got a Pearson Carbon Pro with Ultegra (compact) and Mavic Kysrium SL wheels. I really like the vibration absorption and light weight, but I'm sure the biggest performance difference from my previous (13 year old) steed is having longer cranks as a result of the bike fit recommendation.
Give us a brief cycling background : In Somerset I was a member of the 1st Chard Wheelers for a year when about 13 years old, then switched to the Wellington Wheelers because they had a number of juvenile / junior riders. I did a lot of racing in schools and BCF events including attending the national championships in Wigan (about 26th in the rain..) and was lucky enough to ride the Youth Tour of Assen in Holland before going to University and drinking / smoking / chasing women became more important to me…… After a few years of riding my bike on an ad-hoc basis in 2005 I went to a Hillingdon crit and got back into racing! I got my third cat licence and this year want to do some proper road racing and get better on the hills.
What was your best performance : Winning my last race as a Juvenile at the Castle Combe circuit – 13 years ago but I still remember the hail stinging my face and arms as I came from the back of the pack to sprint into the really strong headwind – the guy that had beaten me all season looked over and I remember the look on his face as he shouted "Sh*t"!
What was your worst day on the bike : As a kid going out with the local cycling club and I ran out of steam. The miserable old gits just cycled away and left me miles from home! Sadly not the best introduction to the cycling club culture.
Who is your favourite pro or inspiration? Greg Lemond won the Tour when I was a kid, so I guess the Z team era Lemond riding up Alpe D'Huez.
What is your favourite race food : I used to only use water, but with the plan to do longer races I will try some sugary water stuff. I think a banana is the best solid food but am partial to flapjack, chocolate, cake, yogurt or other sweet things.
Where is your favourite cycling location : The Alps – I went last year for a long weekend with a friend and we did the Marmotte route, fantastic scenery, the racing heritage, and long hard climbs that give a real sense of achievement.
Most likely to say : "I will complete a Crystal Palace race this season."
Least likely to say : "I'll attack on the big hill."