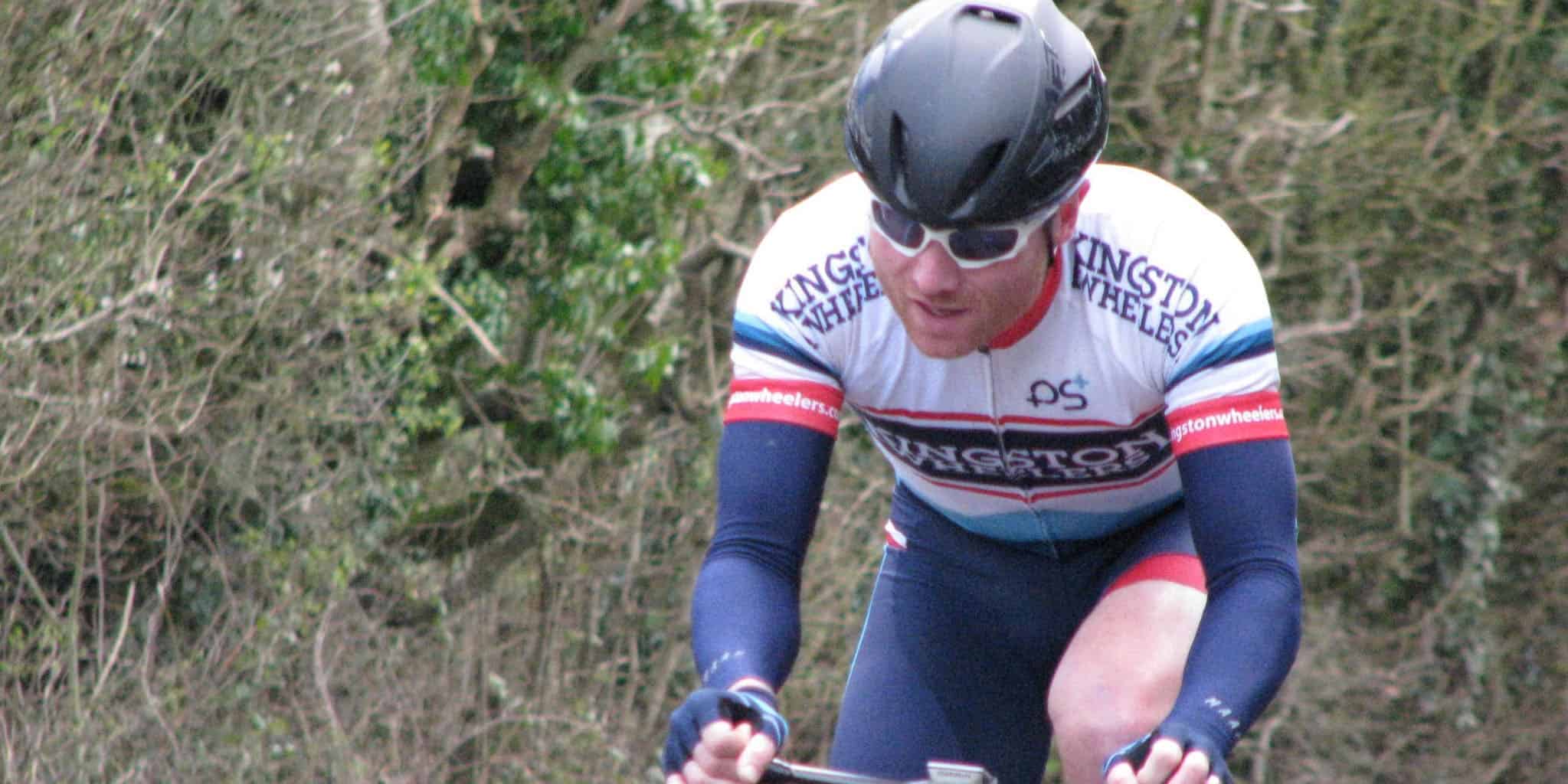 King of Kirdford
With our annual season opener at Dunsfold sadly cancelled due to road works, the first race of the Surrey League took place on 17th March at Kirdford, hosted by Brighton Mitre. Before the race we had a moment of silence to remember Keith Butler, the founder of the Surrey League who sadly passed away a few days prior. We had several Wheelers in both races, including Shaun King who reports back on the 3rd cat race…
After a good result on Sunday I was asked to do a race report. I've written it from my point of view as a fairly inexperienced racer, starting my second season racing and still learning. I've been riding since early 2012 but only joined Kingston Wheelers a couple of years ago. I got straight into the racing and have really enjoyed the competitive side, there's a lot to learn but a huge amount to be gained from it. The report is how I remember it so forgive inaccuracies!
The Surrey league road racing season was due to begin with our club hosting at Dunsfold, sadly cancelled due to road works, the season opener became Kirdford on 17th March. Kirdford is a fairly flat but winding circuit 9.8miles/16km long. The only significant rise is the top section routing west, the lane slowly climbs through Ifold and the start/finish is half-way between Ifold and Plaistow after a 14% ramp. The high point of the course is a minute after the finish line as you turn South out of Plaistow.
The Cat 3 race was just over six laps, 59miles/95km. Six riders from Kingston Wheelers and eight from Paceline RT made up one quarter of the full field of 60 riders keen to get the racing season underway. Conditions were fair, mostly dry roads, no large holes but very little original road surface! Some huge puddles remained from overnight rain and a cold westerly wind was strengthening through the morning to 15mph.
Prep was good that week, so first race, just arrive early, arrive early, arrive early. I was late! (for me) HQ with 45 minutes to go. Didn't sleep that well, bit apprehensive on form, having only done one crit over winter and my HRM decided to stop reading aaargh!!! Power meter OK. Average warm up near HQ, I'd ridden three sides of the circuit during the SL TTT in September so fairly confident on the circuit except the top section through the finish. Said hello to fellow Wheelers inside, Harry, Seb, Dom, Tom & Mark, brief from the comm, and a few minutes later I was rolling out towards the front just behind Seb and Tom. It was a bit of a hectic morning so the only real plan I had in my head was to be ready to work and as is often said, to NOT be the first to go. I figured first race, people would chase down everything in the first lap.
THE RACE
Entering the circuit, my HRM started to work, phew, big psychological boost. Flag down, race on and the pace started to build into the headwind towards the shallow climb to the finish. Seb went straight off the front solo and settled in behind the lead marshal car, probably the best draft available on that section! It took a few minutes but it came back together through the start finish after Seb was chased down.
Approaching 10 minutes in and turning South out of Plaistow the circuit starts a welcome descent, speed picked up and from a few places back I could see 5 off the front. There were two Paceline RT at the head of the race, followed by a chase group of three including Harry. Right then let's go, six-man break sounds good to me (don't bring the bunch with you) GO! Jumped and made my way up to the three. I was closing fast so decided to push on up to the 2 with the additional speed I had.
I joined the two riders from Paceline, Tom and Colin, but only Tom was coming round for a turn as we started to settle in to 180 bpm. After a few turns I looked back and Colin had dropped back to the bunch. Where's he gone!? Was I actually up for 56 miles / 90km in a TWO man break, having never been in a break of more than a lap at Hillingdon. Too late, committed now, keep working. I only had two gels and one 600ml bidon, bother!

Myself and Tom from PL put the work in and over the first and second lap we built a 2 min 45s gap (each lap circa 23 mins). Helping behind us were 12 team mates from both teams, slowing the bunch down where possible. The large puddles and patchy/lumpy surface must have slowed the chase down at times too. The two of us could pick the best lines of awful tarmac and really hit the corners full gas. Where we suffered, was the seemingly constant cross wind sections with only a small tailwind section after Kirdford at the bottom. Worst was the headwind top section and the climb, this was pushing me into the red and after two laps I verbalised I'd have to come back 20 watts or I'd blow up. I later found out Tom weighs 55kg and I'm 77kg, no wonder I was blowing on the rises. Tom was a real help and did slightly longer turns after the climb so I could recover, problem is you don't get much draft from a 55 kg climber. I wasn't confident it was sustainable at this stage.
The 3rd and 4th lap of six were uneventful but still intense, we eased off a bit to recover with the gap holding at 2 minutes 30s. I understand there was a crash in the bunch at some point bringing a few down, thankfully all ok. During the 4th lap I started to think we'd get to the line, though we were not aware at this stage a chasing pair had 30 seconds on the bunch coming after us.
TWO LAPS TO GO
Through the start/finish line with two laps to go as a pair still, I was out of gels with just some sugary gulps left in the bidon and was pushing my limits, 20 miles/48 minutes to possible victory or 2nd place. During the subsequent descent from Plaistow Tom started to shake his muscles out, I genuinely believed he was going to attack and go solo in the tailwind section at the bottom as he was gapping me being faster through the turns, he looked strong (I can see why he has apparently been doing well at Hogg Hill this winter). The reality though was that he was struggling and a few minutes later he blew up with 1 3/4 laps to go. He said his legs had gone but I gave him a chance to get back on and try to recover. Come on Tom I'm not going solo!!
Mindful of the bunch I didn't want to ease for long so I sat on the front below threshold to allow both of us to recover a bit. I gave it 30s before looking behind, Tom was falling away back to the bunch.
Errrrr ok that wasn't expected. 45 minutes of racing left and I'm on my own! Took a moment to think and process what was required and being mindful that as soon as Tom was seen by the chase group and the bunch, opponents would smell blood, I decided to simply try and hold just below FTP and see how it felt with no ability to rest anymore. Next corner and I'm told the gap is down to two minutes with the chasing pair at 90 seconds. Long drag north and then into the headwind section, elbows down, head down, keep pushing.
The PM really helps here as you can see when you lapse and ease off subconsciously.
FINAL LAP
Through the finish line and it's the bell lap, final time descending I tucked and recovered slightly, then I started to push above FTP a bit, little hamstring twinge, ok ease off. I said to myself very clearly, YOU WILL NEVER HAVE A BETTER CHANCE TO WIN A ROAD RACE, you'd better take it!
Much more enjoyable last lap with more belief, the lead car in front, outriders stopping traffic just for little me and with the comm car still behind me I had at least a minute gap, plenty of encouragement from people watching and riding past too! Into the headwind again for the last time and I was definitely looking behind too much, but I couldn't quite believe the position I was in. Worse still I now had to decide how to celebrate!
Through the final twists, up the final ramp and across the line with a semi aggressive fist pump and the gap still at 1 min 50 secs seconds to the chasers and 2 minutes to the bunch. Great feeling coming towards the line solo. Away for 2 hours 20 mins, the final 45 minutes solo, Avg 290w & NP 308w for the full 2hr 30 mins.
I remember congratulating Alex Reid just after his win at Cutmill last Summer from a late two man break (with Paceline!) as I came in 12th, but I didn't think I'd probably ever experience the same. Great having team mates come in with the bunch finding out you did it, and great to get the congratulations from other Wheelers back at HQ getting ready for the next race. Thanks to my teammates for holding up the bunch giving me the best chance. Also Rich for his support at the finish line each lap as he froze to death, while capturing the only winning photo. Tom's a good guy, we had a coffee afterwards, shame he couldn't have held on a bit longer for a better placing having worked.
Pleased to get Kingston Wheelers the victory and personally chuffed to have my first road race win. A good day out and makes all the effort worth it!
I now just need to convince my wife to sit and watch it on Strava Flybys in real time.