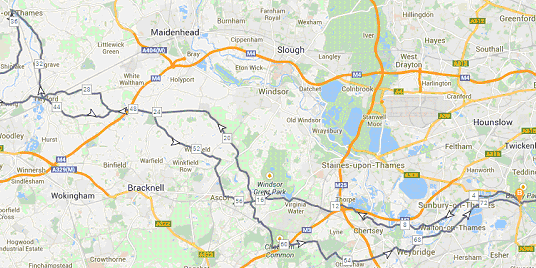 KW CC – Rapha Women 100
As part of Rapha Women's 100, Worldwide on Sunday 20th July 2014 twelve Wheeler lady members woke up very early on Sunday morning to meet at 7.00am in Kingston Market Square, writes Deborah Liew.
We were taking part in the Rapha Women's 100 invitation to women worldwide to cycle 100k on this day. Ours would be a 120k ride, Kingston – Henley-on-Thames – Sonning – Hampton Court. Our ride was registered on Rapha's webpage as Kingston Wheelers CC Henley 120. It was a humid, warm morning even at 7am, and it would soon become a hot, beautiful summer's day.
We crossed Kingston Bridge and took the typical westward route which is north of the River Thames – past Hampton Court Palace, through Sunbury, Shepperton, Virginia Water, down Drift Road. At 9.45am arrived at Henley Chocolate Theatre Café on the river Thames.
Our morning coffee/cake break was generous (1 hour!! I guess photo shoots take their time!). The road from Henley to Sonning then back to Drift Road was also new to us as a recent Wheeler women's social group. We were lucky with the route (drawn by Debs!) which 99% was only very gently rolling, and quiet and peaceful. We commented that we should come out here more often as a club. The other 1% saw a tiny bit of busy A roads.
Debs navigated, led and paced the ride from the front, aware that this ride would be some 40% longer than our previous flatter rides, and, for time-constraints today, had been advertised at the faster end of our social women's/ newbie pace. Very many thanks to Emma and Kasia, strong and fast riders, who joined us for the first time today, who so very kindly and, as normal in club cycling, offered to take the lead several times, who kept a continual watchful eye on everyone up and down the line, and to Steph for her generosity and attentiveness to those at the back. Kudos to Claire and Sarah for pacing themselves and never giving up.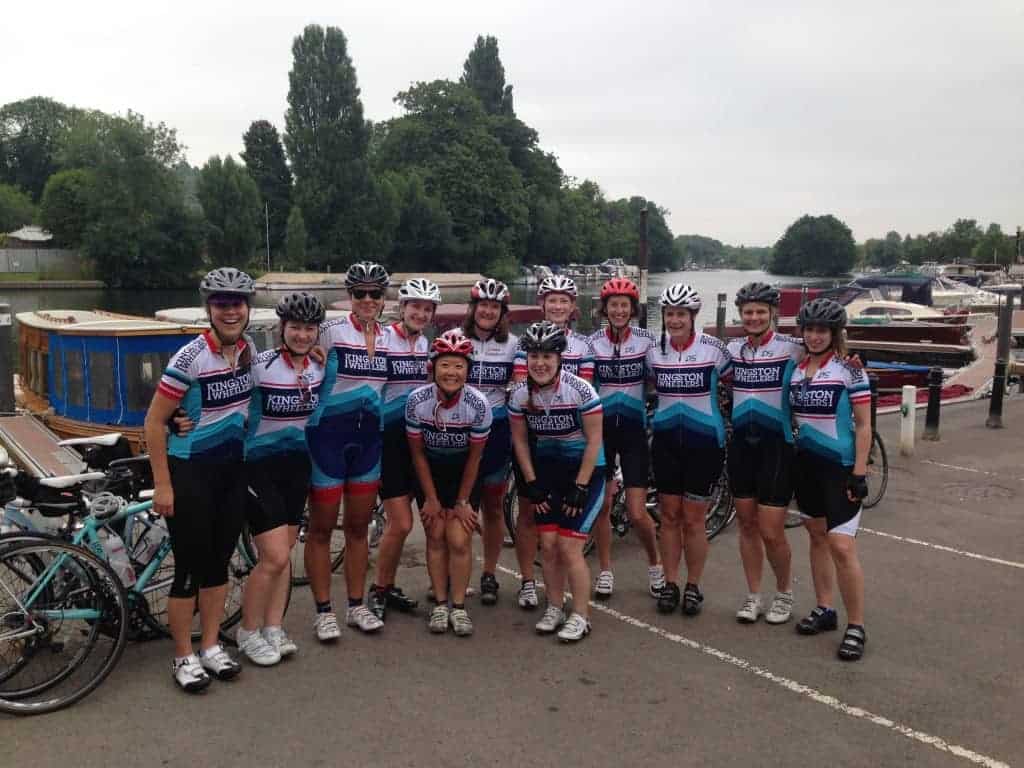 And so we rode in a beautifully neat and tidy peloton, 2-abreast or in single file, cruising at 26-29kph (16-18mph) on flat roads, slightly more/less on descents/climbs, to average 24-25kph (15.3mph) said my Garmin.
At 1:15pm, we arrived at The Minnow in Weybridge for 2 jugs of Pimms. Here are Kasia and Debs.
We wobbled back to Hampton Court to complete our 120k, then homewards (for showers, and the Club BBQ). We do not normally take such enormous breaks! But today was special!
We took this route. It was lovely and quiet, even though, after all, it was only 7:30am by the time we set off! It was especially nice riding from the Drift Road onward to Henley, Sonning, then back through Chobham Common.
It provides a 6-week rolling programme of women-only and women's mixed social rides, from around average speed 13-14mph/22kph (cruising 14-16mph on easy, flat roads) to 15-16mph/25kph (cruising 17-18-20mph) depending on the slowest rider. We cycle in the manner of road cycling club groups (skills/etiquette apply), and no one is left behind.