The Wheelers hit Flanders
Knowing a number of people hitting the cobbles this year in Flanders, there seems to be a mixed bag of reactions, physically and mentally. The weather paid a big part with several members struggling with early signs of hyperthermia, to "Never again"… here is Phil Barella report whom seemed happier with is lot.
"So, my second attempt at the Flanders sportive, and I originally wanted to do the full length version but, due to logistical issues and a prevailing health problem, I was unable to get aboard the "Proper Flandrian" train… so, as per last year, I went with Hans and Luca and we also got in touch with ex wheeler Rob Parker Cole, and his friend Ian, so we could get a group going. The weather forecasts were pretty average during the week and I thought that I might have to cover my KW jersey under my Castelli Gabba, the best bit of cycling gear I've owned for autumn/winter/spring riding. That was to be the case!
Travelled across on the Ferry, meeting Richard H and Steph, and got to our hotel for around 4pm, where we unloaded the bikes, and got set up, ready for the following morning, the weather on the way in was pretty average, so I was fully expecting at the very least, drenched cobbles and possibly a few punctures. After some pasta at a local bistro, we then went back and had a beer, and a chat about the following day. If it was to be raining I was definitely going safety first, and checked the bike over before trying to get some sleep (I didn't get much!).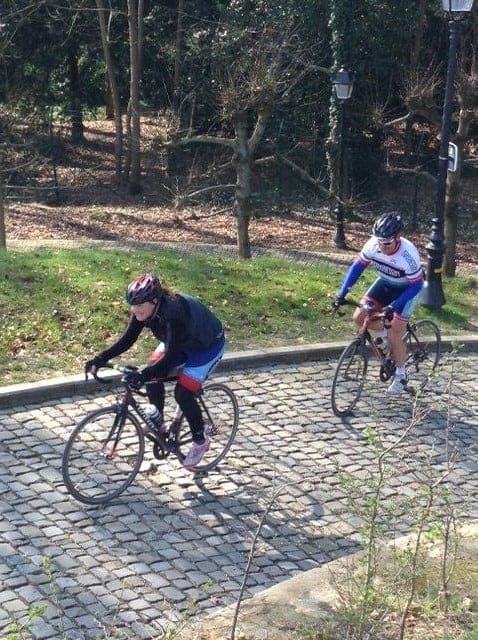 6AM, the Saturday 4th of April, and I was up, alongside Luca, Hans's alarm didn't work, so we woke him at around 7! The weather outside was pretty poor, with a mist, and lightish rain that seemed like it was going to be a persistent feature of the day coming up. Breakfast followed and the 2 cars made their way into Oudenaarde after we'd loaded everything into them. I was a bit nervous, the weather and the amount of sportive riders and choppers last year was playing on my mind to be honest. So we got parked up , and unloaded and made all the relevant checks to our bikes, then trundled towards the start line.
The first few KM were pretty easy, as we got past a few slower riders, some on road or cx, some on hybrids and some on mountain bikes. Then the first climb came up, pretty easy, moving past a few folk, and similarly the second climb, no real issues, the first bit of cobbles and the first cobbled climb then popped up, the Molenberg, and this was free of traffic so I got used to the sensation of going up on cobbles and hit the turn, then tried applying a bit of power, and that's when you realise you don't accelerate hard up wet cobbles, the rear wheel spun up, and I then immediately throttled back, and just made more gentle progress up it. After that the cobbles got my full attention, and respect, as last thing I wanted to have happen was what happened later on… (not to me of course). So over a few more climbs ( with them often gridlocked with traffic, so no PB's up any climbs), then onwards towards the Koppenberg, the one climb I did really want to nail.
So to the Koppenberg, and sure enough I made sure I had a fair bit of room before getting set up and in the right gear, but regrettably the pinch point where you can get maybe 2 or 3 bikes across was jammed with people walking their bikes up the hill. Oh well. Next time. A bit frustrating as I really wanted to do this climb. But there were 16000 entries, and I guess you can only get so many people on one bit of road. So, after that anti-climax we all rode around to the remainder of the climbs with varying degrees of success up the climbs, me personally, I got stuck behind some folks on the Oude Kwaremont, and heard people running into each other on an ascent with the sound of a dull thud and the cracking of carbon fibre, as they hit the deck. Not good.
After the Kwaremont was the Paterberg, the final climb. This was a favourite from last year as the cobbles are amongst the most misaligned and painful to travel up. I started to make good progress, but then someone fell in front of me and I had to either trackstand on a 20% rise or unclip, and unsurprisingly with my legs feeling a little jaded, I unclipped and went about walking up to the top. Across from me at the same time was a guy that tried powering up the climb and managed to spin up his wheel, and then had a moment where he was ejected from the bike that went up in the air and nearly clattered someone next to him. Not a pleasant site as he whacked his shoulder on a bollard and when down with a loud yelp. After the Paterberg there is a long section of fastish flat road, which is about 7km long and unfortunately there was a monster headwind to contend with so whilst I did some work on the front or bridging across to faster groups, this being my favourite part of the ride as people that know me, know that I'm not really the best at climbing… so overall it was good, and a challenge, as per usual, and works out it was my second hardest day on a bike, that I've recorded. Strava gave me a score of 381 which is epic on their scoring system, my NP for the ride was around 200 watts for the 5 hours 10 minutes I was moving on the bike. So a productive day.
Something that stood out to me was the food stops and water stops were busy as were the loo's but never too busy, and the marshalling was top notch, roads were part closed so occasionally you'd get stuck behind a car!, but unlike a lot of UK drivers they were pretty courteous, and I didn't see any incidents. It's a really well run event, and is great fun.
One thing that was clear to me was the cobbled climbs use up a tonne more power than the regular climbs.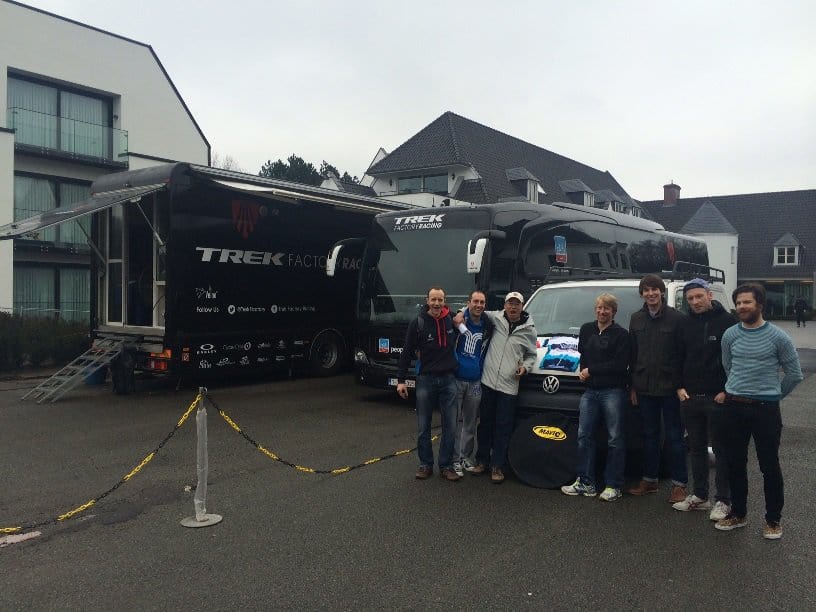 Also, feeding and keeping warm, were a priority for me. It's vital that you keep yourself as warm as possible, and to that extent I had one mesh base layer, and one normal base layer, my wheelers jersey, some Roubaix bib longs and 2 layers ( a skull cap and a proper cap) on top of my head, under my new Giro Helmet as well as arm warmers. Also, I've invested in some vittoria pave 25mm tyres recently and they worked really well, offering excellent grip and feedback in pretty horrific conditions ( I believe the average temperature was around 5 degrees for the ride) My feet were freezing and took around 2 – 3 hours to properly warm back up. After the ride we all met up and packed up and got back to the hotel. Showered and cleaned up and got changed into something warmer, and then went out for dinner, and proceeded to eat loads, and have a few cheeky tripels! Following that, some sleep and to the race in the morning.
The place we decided to get to was the Tiegemberg so we cycled there in our civvies, and got a good spot, it is a climb that was on the bigger ride, and offered a fairly good view of the riders climbing up the hill, then we went to a local bar to watch the rest of the race. As per usual it was pretty epic with lots of attacks and breaks that didn't quite work, but did show the sponsors logos! The winning selection was Niki Terpstra and Alexander Kristoff, and unsurprisingly Kristoff, even though Terpstra was playing a canny "waiting and not working as much as he should" game, he didn't have enough in his legs to compete in the sprint, and with Kristoff being far the better sprinter in most conditions, so the inevitable happened, Kristoff led out and won the sprint.
After that we trundled back to the ferry and got back into Surbiton for around 10:15pm. A very good weekend, and can't wait for the next one. Sounds like a few of the others on the longer ride had a very tough time, and hopefully they are ok."