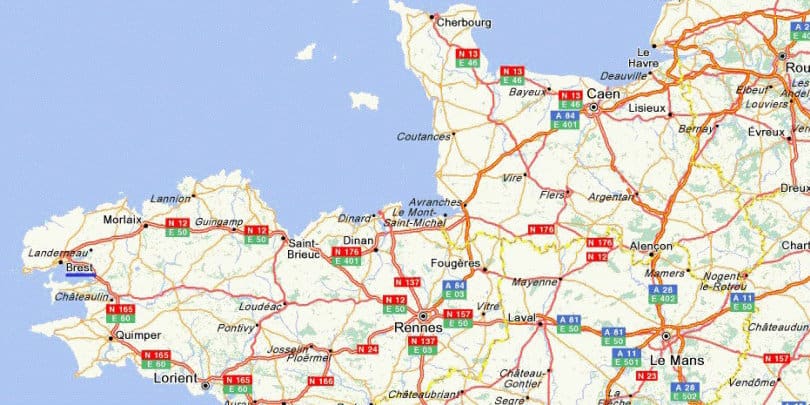 Paris-Brest-Paris
About the event
In August 2007, more than 4 000 randonneurs gathered in Saint-Quentin-en-Yvelines near Paris to enter into the legend of the Paris-Brest-Paris (PBP) Randonneur. Since 1931, thousands of randonneurs have tried their hand at the most famous brevet at "allure libre" (self paced rides), the 1200 km PBP, which must be completed in 90 hours, the present maximum time limit.
My story
At the end of last year I heard from a friend of mine that her 70 year old father is the current Audax points champion in Bulgaria and I should go for a ride with him (after showing off to her how long and fast I can cycle… oops!)
A short Google search led me to the International Audax Club website and its Bulgarian branch. I enquired further and found out that the 16th edition of Paris-Brest-Paris marathon is taking place in August 2007. Since the event is held once every four years I didn't want to miss that chance.
I got in touch with a great Bulgarian guy and a veteran racer – Lazar Vladislavov, who was organizing the Bulgarian squad for the event. It turned out that you can't just pay your fee and turn-up at the start in Paris. In order to be allowed to register, every participant must cover 1500km in qualification brevets within a predetermined time limit. The events are closely followed and timed by a motorised judge who won't hesitate to disqualify or penalise you with couple of hours of your time if you get caught breaking the highway code, not following the prescribed route or lack a piece of lighting on your bike.
Lazar fired me up for the qualification events in the end of March this year. I took time off work and with my then new Bianchi C2C, set-off for a hard week's riding on the less than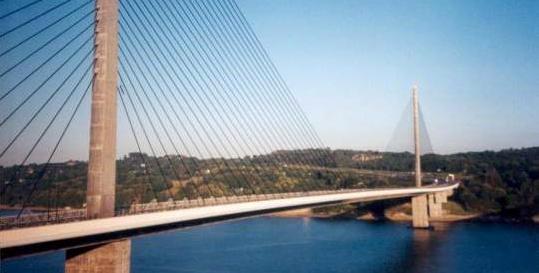 hospitable Bulgarian roads. We rode four brevets (200,400,300,600km) one after the other with a day of rest between the 400-300 and 300-600. I was fine on the 200km but it got very difficult on the following days when all your little pains start kicking in after long hours in the saddle.
We just stopped to record time at control points, water refill and three or four roadside-inn meals. Average speed was just over 20km/h but it felt very, very hard going after the second day. Typically, the group would spend three or fours hours in the saddle, stop for a pee and water refill and then repeat this to the next control, and so on. Needless to say, in the six days the qualification lasted, we learned everything about each other! I just about managed to drag myself through all stages and awakened to the fact that this Paris-Brest-Paris ride had a lot more to it than I initially bargained for. At the end of it I wasn't sure at all I wanted to do the "real" thing. This was only the preparation and it left me with saddle sores, rickety knees and night time cramps that didn't go away for a whole month.
The Paris-Brest-Paris start on 20 August was drawing close and scared of failing miserably before Bulgarian team-mates double my age, I joined Rob and Jerry for a week in the Alps and did numerous sportives in a desperate effort to pick-up my form before the big ride.
Unfortunately, just two weeks before the start I fell-off on some amply placed Belgian gravel (in the Liège-Bastogne-Liège sportive), badly scraping my knee, limping and oozing right into the start in Paris. Work was also in short supply at that time and I hardly had the funds to even buy the Eurostar ticket to Paris. A big thanks to club-members Rob Leslie, Tim Woods, Keith Griffin and Chris Hathway for their prompt help and advice! Without them, I would not have made the start line!
I made it on time after all, Lazar have supplied specially-made Bulgarian Audax team kit, gone through bike and documents checks with the PBP administration and was ready to go.
Lazar and I registered and started with the 80 hour group at 8.00 pm on 20 August. The rest of the 11 men Bulgarian team aimed for the 90hour finish. The reason for starting with the first group was to avoid the crowds and go swiftly through controls. There were thousands of people for the start in Saint-Quentin-en-Yvelines, the whole town centre was cordoned off, fireworks, music, barbecues and a lot of police were lining up all major roads. Everyone was cheering, singing songs and taking goodbyes with relatives and friends for the long road ahead. A flare gun went off and we were off!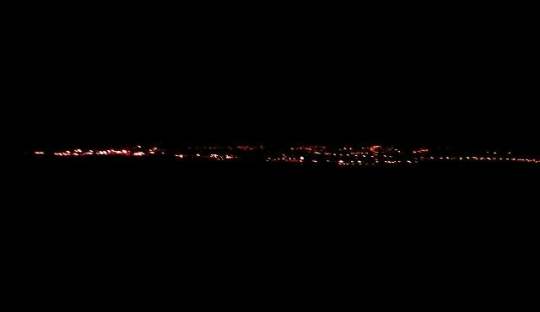 It was a tight squeeze through the town but once on the open roads the pace picked up very quickly, reaching 30-35km on the flat sections. We had some early crashes en masse but two or three hours in the ride a lot of 50 to 100–strong groups formed. We could see lights snaking in the dark for many kilometers in front and behind our group. Lazar and I were going well, constantly switching groups to move ahead in the echelons. We reached the first control point at Mortagne-au-Perche, had a quick sandwich and rode-on. By that time the pace had eased off but it was already past midnight and I started feeling sleepy. We reached the next control at Villaines-la-Juhel in the early hours of the morning after our group of 30 people got lost in the night and took an extra hour to get to the next control. By that time we were 220km deep in the route and I started nodding off on the handlebars. Before we reached the next control 300km in the route, I started dropping places, lost Lazar in the night and had to stop as I couldn't keep a straight line. I lied down in a wet cornfield by the side of the road and set the alarm clock at 30min, I fell asleep immediately but could hear the swish of passing cycles and the occasional French word from the side of the road. It was surreal! 30min later I got up, somewhat refreshed, and joined at the back of a group. The next day was OK, it all looked much more encouraging in daylight. The control points were very well organized with hot food and toilet facilities available.
In the afternoon it started raining, steadily and persistently, it kept raining for the next two days. About midnight on 21 August I reached the sleeping control at Loudéac, soaking wet, chain creeping and facing enormous queues for hot food, shower and beds. The food on offer was great, cooked chicken, fish, pasta dishes and multitude of deserts, drinks and snacks to choose from. The whole village was at work at the local facilities, cooking, cleaning, and helping riders in every way possible. The patience and dedication of the local people along the route was amazing – Chapeau to all of them!
The washing/sleeping facilities were usually based in a village sports hall with hundreds of military bunk beds placed in long rows. We queued for a number, than a volunteer would escort you through long rows of sleeping people to your place. You tell them what time you want to wake up and another volunteer come to wake you up. The conditions were primitive and it was cold, but nevertheless well organized. The time spent queuing, eating and sleeping counts towards your total ride time, so one aimed to keep those at the bare minimum… not in my case…
I slept for five hours that night, and when I got up it was still dark, still raining and there was no dry kit to put on. I slipped very slowly my reserve clean (but wet) kit on, shivering and confused trying to put the left shoe on my right foot and couldn't work out why is it so difficult for few minutes… The PBP hit me very hard that night and I couldn't recover to the end. My spirits sunk very low and I started switching my senses off. By that time my pace wasn't exceeding 20km and I had more people passing me than I was them. On the morning of 22nd I rode with two French guys into the port town of Brest-600km and halfway on the route! It was a glorious morning, the rain from yesterday had stopped, clear skies and sun shining, we crossed the spectacular hanging bridge into town and crawled up the hill, into town centre, crowds cheering all the way! I had a good long breakfast and slept on a warm sunny grass patch for another three hours. I was well behind any sort of schedule now and doubted I'd even get into the 90hours cut-off time. By this stage, it was more a question of surviving the ride than achieving a good time.
I left Brest at noon on 22nd in good spirits but physically shattered. My knees had swollen badly, I was constipated and had a skin rash; just about every joint in my body was begging me to stop, now! I'll only say I've used up two blisters of Ibuprofen on the way back and don't feel bad about it at all!
The way back seemed a lot slower and longer, we came back on the same route but this time it was even more crowded and I spent hours queuing for food, shower and shelter.
I should say I was very lucky with my bike (the blue Cannondale R500 with Tiagra), got away with only one puncture and oiling my chain regularly (it would screeching from the constant wet weather). The roadside was littered with people having punctures and more serious breakdowns.
It was mostly dry on the way back but I was feeling lower and lower with every kilometre and start having a lot of short breaks,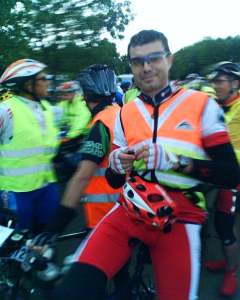 stopping at every opportunity to have free crêpes and coffee which local housewives would take by the side of the road to relieve passing cyclist. Motorists were honking and shouting "Bon Courage" at us and there were more and more people cheering on the roads as we neared Paris. Few villages along the way had organised fetes in riders' honor with tunnels of people cheering every rider in and out of a control stop. We received a hero's welcome in almost every village on the way back. It was all very emotional and for a while you stop feel the idiot you are to hurt yourself so badly, as they say, French people do understand cycling and cyclists!
I entered Saint-Quentin-en-Yvelines at noon on Friday the 24th and went to stamp my time card. I made it just 15 minutes before the 90 hours cut-off time but failed to complete in time for the 80 hour group I started with. Lazar was two or three controls ahead of me all the time completing the course in 76 hours and setting the record for the Bulgarian group. All but two of our group completed the course within 90hours.
This ride must be the most intense and hard thing I have done in my life and it is a real learning curve, you start appreciate and respect older cyclist a lot more for their mental fortitude and experience on the road. I met people on this ride from all over the world, from Australia, through Japan, China and Russia, The Americas and from every corner of Europe. The French were readily dispensing jokes of the rashness and impatience of the Italian riders whilst other nationalities were not short of banter about the French. It was all done in good humour and cyclists' camaraderie.
The attitude of all participants in volunteers made this otherwise very taxing effort somehow pleasant and one tends to retain the good memory of being part of this great cycling tradition. Big thank you to all of them!
If in good health and shape, I'll most probably do the next edition of PBP in 2011. Perhaps a few Wheelers would join as well – the memory of having done this ride is well worth every hardship endured!