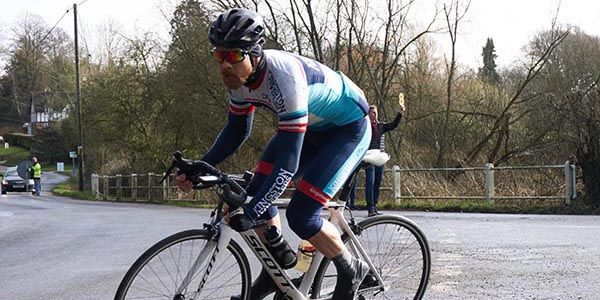 Podium at the Dunsfold Road Race
Every March the club organises the first Surrey League road race of the season on the Dunsfold circuit. The 3rd category race unfortunately didn't go ahead, so the 2/3 race took the early slot at 9.30am on Saturday 4th March. The reigning champion Declan Egan reports back from the day's action. 
In 2016 I took the win in the KW road race so had self-imposed pressure to produce the goods this year! Last year things were very different. I was preparing to peak for a Stage Race at Easter, the Gorey 3 day, and had been on a 10 day training camp in Calpe and had no doubts of form going into last year's race. Some pre-race advise from Andy Edwards proved to be instrumental in the win.
This year, I had broken my scaphoid in November and had to adapt my winter training.
I had also managed to get myself dropped in a race around Preston Park (the flattest track in the land) the week before. I was so embarrassed about this race that I didn't even make the ride public on Strava. I was appalled at how badly I rode that race. So things were very different for the 2017 edition of the KW road race.
Looking at the start sheet, there was many riders who could ride hard in a breakaway, but almost too many of them, in so much as that if a strong rider wasn't in a break, they may be able to drag the break back, so a successful breakaway would need the correct composition of riders.
I knew the form of a few riders based on results in recent race results so was keen to get a breakaway going with some of these riders. The manner in which I won last year was to attack from the gun in a breakway of about seven, but after a few mentions of my tactics from last year at HQ, I knew the peloton was wise to my tactics.
A few moves came and went in the race but none of them could get organised enough to get away. I got in a really nice move with some strong riders but we had a very inexperienced and dangerous rider amongst us who ruined the rhythm and the move came to nothing. It just proves that to get a break to work, you need full commitment and fluid consistent turns.
At some stage two riders went up the road and rode hard and got out of sight. I figured this was the point in the race that the peloton had softened up enough to let moves go, so I forsake all good racing tactics and jumped off the front solo. This is seldom a good move, especially as my sustained power is a weak point for me.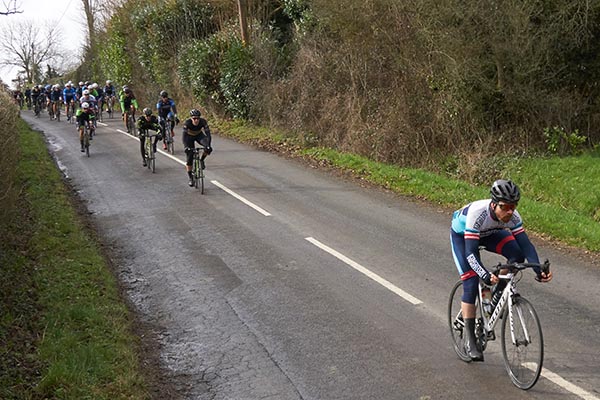 I dangled out there for a while before thankfully I was joined by four others, one of which fellow Wheeler Andrew Davis. Also in the breakaway was the eventual winner Arlen Vartazarian of Regents Park Rouleurs. He was known to me as I had raced Hillingdon back in December and he dragged us around the final 5 laps at 360w+ after an hour of racing so I knew he was in good condition.
All five of us worked hard and got the gap out. Everyone did full pulls and the chaingang was smooth and fluid and we got a solid gap. I am told that the RPR boys did a job on blocking and it allowed our gap to get our far enough for a car to be put in the gap. That was good old going as VC Meudon did have quite a representation in the race and should have been able to ride us back.
We did catch the two up the road eventually but they were gassed by the time we reached them and couldn't jump on to assist our break.
With two laps to go, Arlen jumped away on the drag. He didn't jump super hard but was clearly determined.  We let him off and I watched him sail away. This was the exact same tactic that I employed in 2016 but my confidence was down, I didn't think I would last, even just sat on his wheel, and let the move go.
In 2016, with two laps to go, a rider jumped away (now a pro rider with Bike Channel Canyon) and I jumped across to him on the drag and we worked all the way to the line before I was able to take him in the sprint. So Arlen did the same thing and we never seen him again and he soloed home, with a serious ride.
The issue arose was that one of the breakaway riders was a RPR rider and therefore he no longer needed to ride as his teammate was up the road. This upset the rhythm and a group of about 6 chasers caught us, swelling our breakaway to about 10 riders, a few VCM lads, 2 dynamos, and a few others.
Things got a bit sloppy with about 2 miles to go and a Dynamo rider got away. Unfortunately I was on the front at the time and I chose not to chase him, as did everyone else so he got away to take 2nd uncontested. It wasn't the fact that I couldn't chase him, I could have most definitely done that (he wasn't riding super hard) but I believed that there were a sprinter or two in the breakaway so was not point gassing my legs as they would probably outkick me in the end if I did.
So now it was going to be a contest for 3rd. I know the finish well and whilst I am not confident in my sustained power, my 30 second power is super competitive and I have no fear of anyone over this duration. I sat in for a bit and as we came over the top of the first dip, I hit the front and carried the speed into the hill, 1000w for 25 seconds and got a gap on the rest of the breakaway. I looked around to see there was no one with me and took 3rd uncontested.
3rd is a decent result, in light of the field but I there is always lessons to be learned and I took a few from this race. Andrew took a top 10, which he will admit is a great improvement on last year and bodes well for the rest of his reason.