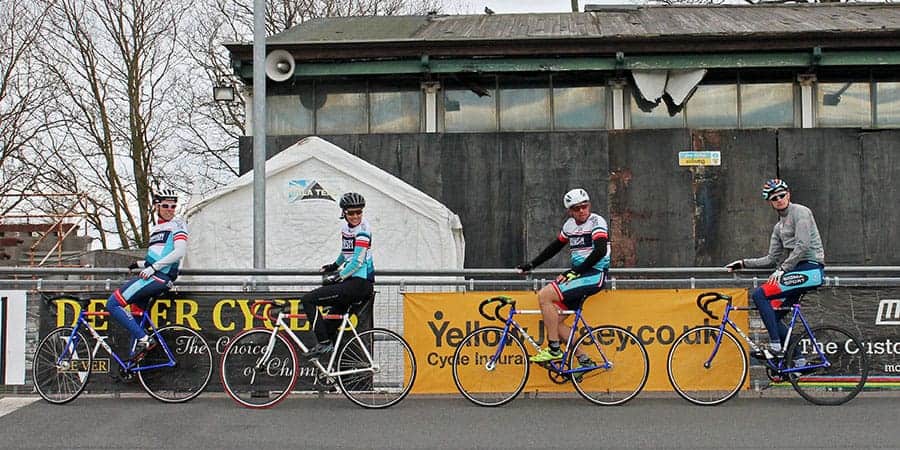 Track Day at Herne Hill Velodrome 2016
The annual Kingston Wheelers track day took place at Herne Hill Velodrome on Saturday 9th April 2016. It was a chilly, buy sunny day and we had a great turn out of members. Novice track rider Anna Kulka reports back on the day.
Miraculously, despite all the bad forecasts and threatening clouds, the rain held off for most of the day and we even had blistering sunshine on a few occasions. The aim of the day was to introduce women and men from KWCC to the iconic Herne Hill Velodrome (HHV) and give everyone a chance to learn about and try the six different events contained therein. With a fantastic turnout of around 40 men and five women the scene was set for some great bunch track cycling and some racing too. All levels of experience were represented from novice track riders, regular HHV visitors, to road racers and our amazing junior, Jack.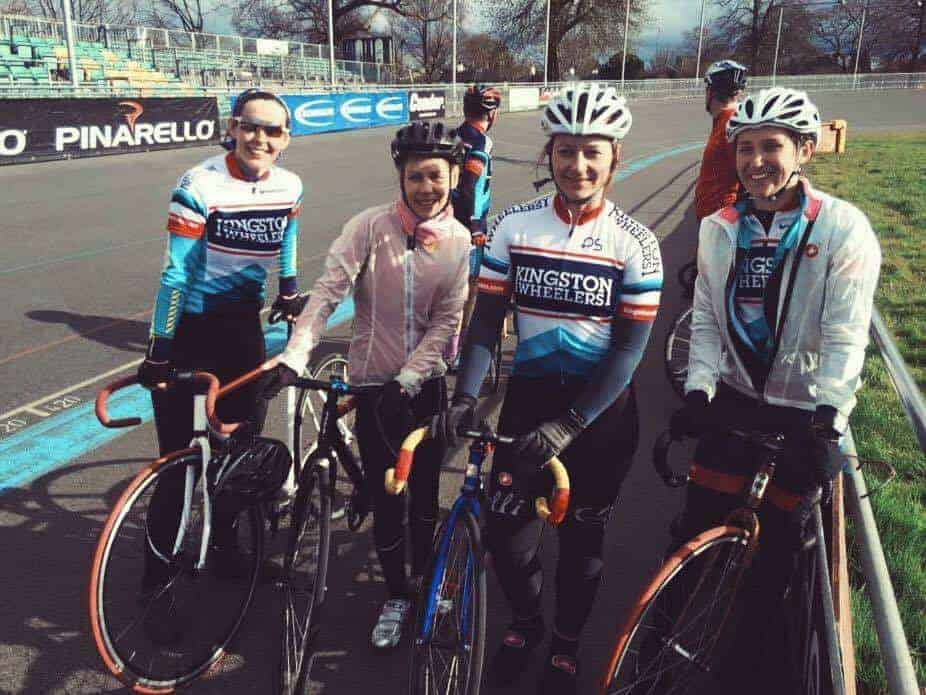 After a briefing, Tony and Joseph, our coaches for the day, had us up on the track for an induction to track cycling where we were coached in the use of a fixed wheel bike and some basic skills and new techniques including group riding, track gradients, hand positions and riding in a line after which we went into a progressive warm up split in three groups. The following exercises were practiced over three hour slot: ½ Lap Changes, Pairs Changes on the Blue, Rotation, Taking laps.
Once we felt a bit more comfortable on the track, we moved onto the two bunch races that also occur on accreditation training sessions of the HHV – the Elimination race and the Individual Pursuit. After a brief but concise explanation of what these events were about we were sent on the track and the racing evolved.
The Elimination race is the most technical bunch race in the Velodrome and is all about maintaining a good position in the bunch. Everyone learned this lesson in a practical fashion as they were eliminated lap by lap, the wiser for next time. However, the highlight of the day was the Individual Pursuit. Attacks were going off at all stages from the gun with people beating their PBs on solo breakaways as well as some great head to head sprinting.
It was superb to see all the Wheelers ride so well and to try different things. A sincere thanks to Mike for organizing the session and the girls who turned up and made the day so enjoyable. I hope we can form a strong Wheeler Women track group next year!