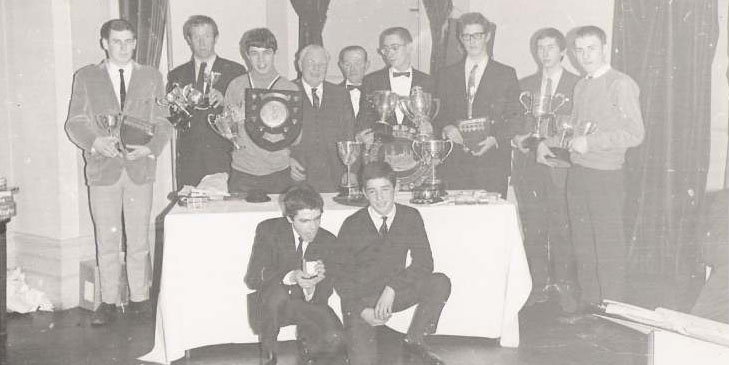 Roger Mitchell
Roger Mitchell died yesterday in Kingston Hospital. He was the longest-standing club member and by some way. He joined the club in 1961 aged 18, soon getting the regulation club kit which included a jersey and a black beret.
A prolific racer in bunch races and then time trials his name is engraved on many of the club silverware in circulation today. That's him second from left with three trophies from a club dinner in the 1960s. He met his wife Janet through the club around this time.
Later on he was a regular on the club run. Back in the days a good turn out a Sunday morning meant ten riders you could count on him to be there and he helped out with the club's races, always cheerful and happy to help out. More of you will know from the club nights in the pub where he kept up to date with what was happening in the club after he stopped riding. A few years ago our club presented him with the "Lifetime Clubman Award" trophy in recognition of his long and continued membership.
Condolences to Janet, his family and friends from the Kingston Wheelers.