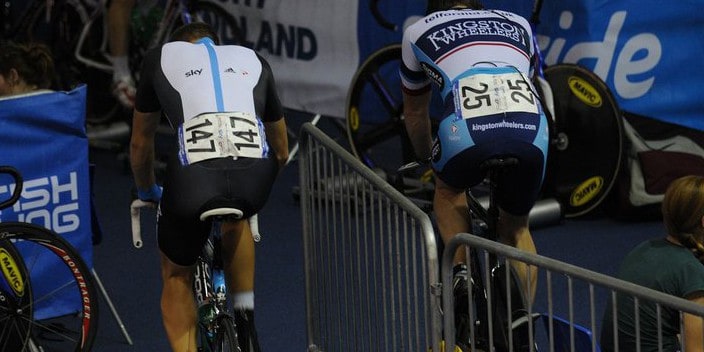 Senior National Track Championships
So it had finally come round, the event that I had been looking forward to all year. I really had no illusions or expectations going into the event, all I wanted to do was to gain some experience and ride in a major competition with some of the best riders in the world – what a privilege!
As I arrived at the velodrome the day before my first event I suddenly became very aware that this was going to be the first time that I had ever raced on an indoor velodrome (I'm not sure that the 40-lap race at the KW Newport track weekend counts, this was clearly going to be a very steep learning curve.
After grabbing my accreditation and helpers pass I made my way straight into the bowels of the velodrome, underneath the track and into centre to watch some racing and start soaking up the atmosphere. The track centre is an odd place with various barriers erected into great metallic paddocks for people to pick out their warm up area on a first come-first serve basis (by the end of the champs everyone generally stuck to the same place day in day out). Another part of the centre was left completely empty for riders to turn their legs over whilst circling a table of Gatorade like unnaturally smooth, Lycra-clad, carbon-fibre riding vultures, with a final area set aside for Commisaires, officials and measuring equipment for checking bike dimensions.
Because of the nature of track racing in the UK (only having two international standard indoor velodromes) it's quite a small world with many familiar faces and recognisable names. This became quite apparent when entering the track centre on day one to find Miles Anon and Miles Stovold (Team Terminator) warming up for the Team Sprint, Emma Williams (Twickenham CC) getting ready for the 500m TT and eventual Points winner Corrine Hall (Team Corridori) chatting to her partner before the Madison. Seeing all the Herne Hill and Reading Velodrome locals suddenly made me feel a lot more at ease with the whole situation, perhaps I do deserve to be here?
I then turn my head and look two feet away from me to a swarm of people all wearing BC clothing whilst furiously studying laptops and iPads. Oh that's Iain Dyer, the GB Olympic Sprint Coach, Jan van Eijden, another sprint coach. Two more feet to a group of very familiar looking riders all on plain black bikes, effortlessly spinning on rollers wearing blue and black kit. It was the Sky Track Cycling Pro Team of Peter Mitchell, Matt Crampton, Ross Edgar, Jason Kenny and some bloke called Sir Chris Hoy. This is clearly the other end of the spectrum. Also present was a very serious and stern (almost mean!) looking Victoria Pendleton demonstrating how quickly she can sprint on the rollers before comfortably retaining her 500m TT title.
Day 1 – The Scratch Race
With just over 50 riders signing on for the championship, the event was going to be split into two 10km heats of 25 riders with the first twelve riders going through to the 20km final later on that evening. I liked those odds, it was simple, all I had to do was finish in the top half of the field – how wrong I was… Whenever I had mentioned to people that I had entered the Scratch race there was generally the same response, a sharp intake of breath through clenched teeth before saying something like; "you do know how fast those races are don't you?" or "why on earth have you entered that?!".
Originally I'd planned to enter the Keirin, however, I realised that I'd never raced one before and I'd probably be a danger to the other competitors! The Scratch race seemed like a good idea, I'd done fairly well during the season in that event, I'm sure I'd be fine. The allocation of riders to each heat was completely random, although I think some of the seeded riders were separated to make sure that there would be a very competitive final. Whilst I was waiting for the start sheets to come out I decided to set up my warm up area pretty much in the Team Sky/GB camp hoping that some inspiration would rub off on me. All that really happened was that I became increasingly nervous and started to second guess some of the decisions I'd made. Gear choice in track racing is so important; ride a gear that's too small and as the pace ramps up you're going to spinning your legs and going nowhere. Conversely ride a gear that's too big, when the pace picks up its much harder to get up to speed and you may get left behind. All the races I'd done at Herne Hill this year I'd never gone bigger than a 90″ due to the fact that it's outside and the wind plays an important factor. I knew I needed a bigger gear but how big? Listening to some of my slightly more experienced neighbours, Ben Swift (Team Sky), Peter and Tim Kennaugh (Team Sky and 100% ME respectively), George Atkins and Eric Rowsell (100% ME), a 94″ might see me through the race. No sooner had I made this decision when a couple more people made their way over to the camp, however, these guys were a lot more familiar. "So are you going to go to the games?" "Well I haven't decided, I'd heard some news about the accommodation". Geraint 'G' Thomas and Ian Stannard had just walked in. "Oh I'll probably be riding a 98". "Good choice, good choice, its probably going to be pretty fast with all these youngsters". Bugger, time to gear up! The start lists come out, I'm in heat one with Stannard, Thomas, Rowsell, Atkins Graham Briggs (Rapha-Condor-Sharp) just to name a few, no problem!
So the warm up on the rollers begins, I decided to wear enormous headphones to try and prevent any distractions, however, I couldn't ignore the guy who was warming up next to me who I can only describe was effortlessly 'twiddling' a massive gear on his distinctive Pinarello Dogma road bike.
It really made me smile when British Cycling added the following caption to the above photo: 'David versus Goliath. The beauty of these championships: A Team Sky professional (Thomas) warms up next to a club rider from Kingston Wheelers'. That's probably the first and only time I'll ever be considered to be David, especially as I'm probably more than 25kg bigger than Thomas!
We lined up against the barriers for the start of the race, I made sure I pushed as near to the front as I possibly could just in case the race went ballistic from the gun. The race started fairly easily with a few riders staying near the front gradually increasing the pace for the rest of the riders who were bunching up behind. 35 laps to go, if it stays like this I fancy my chances of qualifying if it comes down to a sprint – silly boy. The first real push came and the race suddenly turned on its head and all 25 riders were in single file chasing a couple of rogue riders. Break caught and immediately another one goes. Five riders this time, there's no way they'll stay out front with 30 to go and especially as no-one form Sky is there. Break caught but the pace stays high with riders flying up and down the track, finding impossibly small gaps to squeeze into without a word being said. I can't believe how frenetic it all is, on the road this sort of switching would never be tolerated; however, here it seems to be perfectly acceptable and all par for the course. Randomly people would pull out half-way down the string to retreat to the back to make sure they do zero work on the front. My turn on the front and I do literally 10m work before pulling up then flicking back down the track finding a gap half way down the string rather than going right to the back. No appearances from Sky yet.
25 laps to go and the race is now starting to get pretty pacey with all the riders strung out once again with gaps occasionally appearing in the line. Thomas and Stannard are now on the front absolutely drilling it and the race explodes. In the space of 5 laps the selection was made with only four people able to keep up with the pace that Sky are setting. 17 laps to go and people are now starting to drop out of the race. In
the chase group I do my turn on the front and go to take my place at the back of the line, the riders beneath me are absolutely hammering it to get back on throwing everything at them to pull it back. I glanced around to other side of the track to see how much of a gap they've got when I suddenly realise that the last man of the string has gone past me. A 2m gap opens up and I spin my legs out and desperately try to get on. A lap goes by and now it's really starting to hurt but I'm not making any ground. I make an executive decision and pull up to the top of the track, 15 seconds later the train that is Thomas thunders underneath me and the lap is taken.
Oh well, just the Kilo and Sprint to go! I took solace in the fact that it was a particularly savage race with the 10km being completed in pretty much bang on 11 minutes, the average speed being 54.54kmh or 34.08mph! The winner of the final was Peter Kennaugh (Team Sky).
Day 2 – The Kilo
Bizarrely I couldn't wait for this race. Most people dread the kilo because of the extraordinary amount of pain that is suffered in such a short space of time. I set up my camp in exactly the same place as the previous day, right in the middle of team GB. After spending a bit of time tinkering with my bike changing my bars to the TT setup, a voice out of nowhere asks "Getting ready for a bit of Kilo pain then?" Its GB sprint coach Jan van Eijden. "When is it not painful?!" I reply. We get chatting and he asks me my expectations of the event where I explain that I've never done a proper competitive time for the Kilo before, the only thing that came close was the 1.15 I did with the Wheelers at the Newport track weekend!
After sign-on the riders are seeded by what times they have set in previous events, as this is my first time I know that I'm going to be one of the first riders off, it turned out I was second.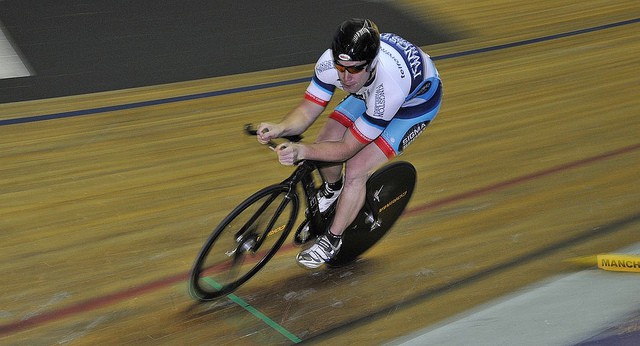 I went to get my setup
measured by the officials to make sure that the bike was UCI legal, a heart stopping moment occurs when there is a discrepancy between the distance of the bottom bracket and front axle but eventually all is well. A quicker warm up than I would like and brief motivational chat from Jan van Eijden and its time to head over towards the starting area. This is one of the loneliest places in the entire velodrome, sitting down bike in hand ready to give it to the starting official in the precise position that you want it for your attempt. I'd spent the previous night constantly visualising every single aspect of the race, right from the practicalities of getting on the bike whilst in the starting gate to the feeling of the final bend of the final lap – this solitary time was a chance to go over things one last time.
Once in the gate and the starter had checked that I was ready, 11 seconds were flashed up on the clock. The beeps started, 10 seconds to go. Deep breathing, silence. 5, 4, 3, 2, stand up and forward right over the handlebars, 1, shift all weight back, arms straight and backside over the saddle. 0 throw all weight and energy through the core, hips into legs and then the pedals. Lock arms, pull through the hips and resist the urge to rock the bike from side-to-side. With commitment, pull away from the gate driving everything through each pedal stroke, breathing in time with every revolution.
After the start, I don't actually remember much of the race. The only thing that really sticks in my mind was crossing the start/finish line for the bell lap, my legs absolutely burning and feeling like they were a creaky, rusty old machine. No matter how much I tried to convince them to speed up they had clearly gone on strike! I stopped the clock at 1.10.469 (51.08km/h or 31.73mph), nearly 5 seconds quicker than I have ever gone before. For that very brief moment in time the scoreboard read: Open Kilometre TT 1. John Coolahan KWH 1.10.469. If only I could stopped it there with Kingston Wheelers leading the competition! After 3 laps of trying to slow down I made it back to warm up area where I collapsed and had to lie down on the floor with my feet on a chair. Jan would then come over to me: "great start, but here's where you can improve…" I was now getting free coaching advice from the GB team! Apparently I sat down to soon down the back straight meaning I never quite got 'on top' of my gear enough so I could have potentially gone quicker. You're always going to die off in this event, it's just a cause of whether you slow down from 60 or 59km/h that makes all the difference. An agonising wait then ensued as all the other riders posted their times. Eventually I had to settle for 12th overall, only 2.2secs off a bronze medal. The event was won by Bruce Croall (City of Edinburgh) in a storming time of 1.04.909.
Day 3 – The Sprint
I woke up feeling pretty rough from the previous evening's efforts. Warming up on the track I did a couple of efforts at 75% to ensure that I was taking the correct line (believe or not Manchester and Newport are actually shaped slightly differently) and that everything was ok with the bike. I set up in my usual spot with Jan cheerfully coming over and enquiring as to what I was expecting to do. The fastest ever time that I've set for a flying 200m was once again with the Wheelers at Newport doing a 12.28, I was aiming to get pretty much bang on 12.00 or less, hoping that it would be enough to qualify for the finals.
I decided to do one more effort before it was time to get off the track. With sprinters all over the place it was quite hard to keep track of where everyone was and what people were doing but every now and again you'd see somebody dive down off the banking and absolutely rocket round the track. I did my final effort but some reason it felt different, a little bit quicker for some reason. As I swung up it turned out that Sir Chris Hoy was rather rapidly coming up behind me… Back on the rollers to keep the legs ticking over and the start list came out. Once again, being my first championships meant that I would be one of the first few riders off; I think I may have been about fifth or sixth so it gave me quite a good opportunity to look at people's technique and also the etiquette of starting the event.
The flying 200 is a way of seeding the sprint. Every rider gets three and a half laps to get up to speed and post their time. Whilst the previous rider is posting their time, you're held up by an official down the back straight who then pushes you onto the track as the rider crosses the line. For something a simple as doing 200m as quickly as you can, there really is an art to setting a quick time, from the speed that you enter the final lap with to the angle that you come down off the banking. I posted a time of 11.701 (61.53km/h or 34.46mph), over half a second quicker than my PB. The fastest time was set by Hoy in 10.233 (70.36km/h or 43.98mph). Unfortunately setting a PB wasn't quick enough to see me through to the finals so for me it was championships over.
The whole experience and atmosphere of the championships was absolutely phenomenal. One thing that really struck me was how friendly all the competitors and staff were right from the receptionists at the velodrome right up to multiple Olympic gold medallists! Big thanks have to go out to various people, all of the Kingston Wheelers who have encouraged and supported me leading up to event. Wheel builder extraordinaire Rob Pennel for letting me borrow the base bar for the Kilo that made such a difference.
Massive thanks to Steve Wright for the loan of the Corima disc and 4-spoke, I don't know where I would be without those, going slowly I'd imagine! Probably the biggest thanks have to go out to Natalie for looking after me over the event, helping shift all the equipment about day in day out as well as keeping me calm and sane over the entire championship!
Herne Hill
Getting back from the champs on the Saturday I decided to race the final Omnium at Herne Hill on the Sunday. A small field turned out and I decided to take my experiences from the Nationals and try a couple of different things. It worked well as I took first place in the Scratch race, 3-Lap Sprint and the Elimination race and a second in the Points, winning the Omnium overall. It was a good event to end the season on and am looking forward to racing at the nationals again next year with more than 5 months training and another years experience!