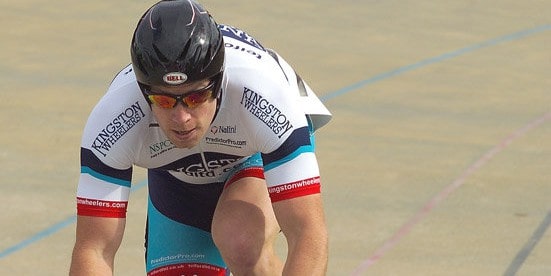 South East Track Championships
Herne Hill Velodrome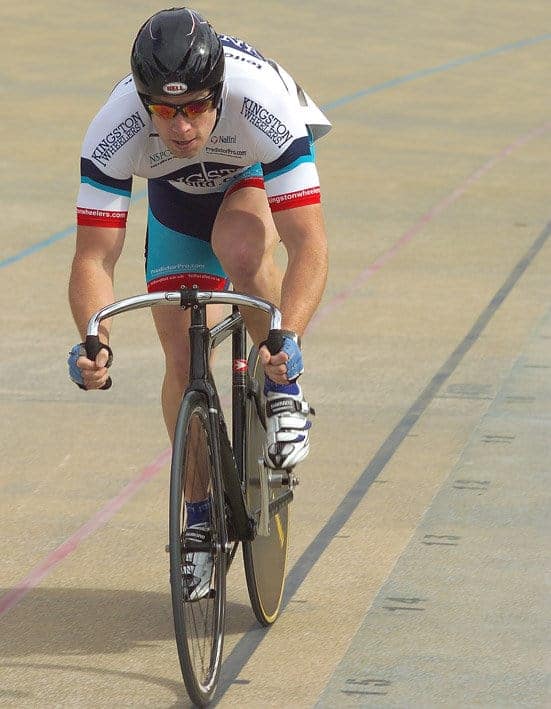 An absolute scorcher of a day greeted the riders at Herne Hill for the annual South East Track Championships, it seemed that the heat would be the main competitor of the day rather than the other riders all competing for the hallowed purple and white winners jersey. A healthy number of riders signed on and soon began setting up their stalls in the centre of the track, before you knew it the once clear grassy centre of the velodrome was filled with an array of fantastic looking race bikes, elite riders on rollers stretching their legs and about every type of track wheel you have ever seen; Mavic discs, corima 3 and 4 spokes, deep section Planet X's – a bike geeks paradise all in all. For me it was the same as any other week, bombproof 2kg Navigator Pista's, or "Fat boy" wheels as Craig MacLean affectionately called them…
I came to the Champs with no real agenda other than riding in the Sprint and even then I had no idea how that would pan out having never ridden in a major competition before. There were plenty of other winners jerseys on offer with the Points race, 20km Scratch and Individual Pursuit, however, I knew these really weren't for me considering the weather and also my physiology – anything over a Kilometre is too much for me so I focussed my energy on the Sprint…to begin with.
Qualifying
As this was a championship event the sprint was to be run via seeding and that meant completing a flying 200m effort. Embarrassingly all the times that I have trained or raced on Herne Hill I have never done a 200m effort (on this track) before so this immediately meant that the day was going to have a steep learning curve. Whilst warming up I rode right at the top of the banking to try and observe what would be the best line to take, in the end and after much deliberation and an endless internal monologue I decided that riding as fast as bloody possible would be the best solution.
Fortunately I was the sixth rider to post his effort so got to observe a couple of more experienced riders complete their effort before me, happily they had taken similar lines to what I thought I'd end up taking. My turn came and went without incident thankfully, it was quite a tough effort due to the wind and also the fact that we only got a 300m wind up from a standing start to complete the effort (Normally on an indoor velodrome you get 2 and half laps to hit top speed). After all the riders had completed their efforts it was back to the tent to put the legs up and see what the result was. I was hoping to qualify and was very surprised to find out that I had set the 4th fastest time overall; "lets stop the competition right now" I thought to myself – "I'll take 4th overall!"
The Heat
Being seeded fourth had a real advantage that I hadn't banked on earlier; it meant that I raced in the fourth and final heat (top 16 from qualifying progress, 4 heats of 4 riders) which I was then expected to win, however, if I did progress my semi-final would have a shorter recovery period. The four riders drew lots to determine where we would start from in a horizontal fashion on the start/finish line, I drew position three, to be honest I didn't really know if this was good or bad, I hadn't even really decided what my tactics for the race would be! 2 laps of the 450m velodrome awaited, should I go from the gun and try a kilometre effort? Should I let someone else make the move and follow them? What would Chris Hoy do? Was I riding the right size gear? What direction is the wind blowing? Have I had enough coffee?
As soon as the starters gun went I pushed off and immediately assumed the front position leading out the three other riders. I kept the pace slow riding at the top of the banking meaning that if the riders were going to try and jump past me it was only going to happen on the left. Before I knew it the bell sounded and we were on the last lap, the pace was very slow, largely being dictated by me which was what I wanted – a race on my terms. It soon became apparent that no-one was going to try anything and as we exited turn two with 300m to go enough was enough, I jumped as hard as I possibly could catching the other three unawares and opened up a gap that couldn't be closed. With 50m to go I even managed to sit up and preserve some precious energy for the impending semi-final.
Semi Final
I was pretty chuffed, a semi final place meant either progressing to the major final or the minor final for 3rd to 6th. The second place finishers in the heats went to the repechage where the first and second place riders went to the semis, (at the expense of an extra race) this meant to semi finals of 3 riders each. Personally for me, the less riders in a race the better as that means it's a lot easier to control. After a 45 minute wait we drew lots again and it was race time. Taking my place on the start line the perceived pressure of the situation became very apparent that I was racing for a place in the final – both my pusher and I looked down at my hands and feet to see them shaking pretty badly, clearly too much coffee, I lied…
The gun went and I pushed to the front again leading the riders out for what turned out to be a far more tactical affair riding against more experienced (than myself) riders James Solly (VCL) and Elliot Tabraham-Dowers (Onelifedevelopment Squad). James set himself up on my wheel moving up and down the track, faking the jump to try and make me go too soon whilst Elliot lurked dangerously a couple of metres back again quietly observing the race unfold. Bell lap and again it felt like a now or never moment, exiting turn two the kick came again, this time I knew I hadn't opened up a significant enough gap and James jumped into my rather sizeable slipstream, as we came out of the final turn I could feel James move out of my draft and try to pull around me, with one final seated push I just put my head down and drove to the line. I'd made the final.
The Final
As the seeding had largely followed the formbook the favourite and quickest in qualifying, Miles Stovold (Team Terminator) progressed to final and was my 1 on 1 match sprint opponent. Miles is a rider with obvious talent, taking a bronze medal at the European Masters Sprint champs last year and dominating the men's Kilometre TT at the National Masters champs last weekend in Newport. We were pushed off and the race began with me leading out in my usual fashion.
A real sprinters match ensued as we rode the first lap at an easy pace, eyes firmly fixed on each other with little regard for anything else. Coming into the home straight for the bell Miles pushed up the track and squeezed on the pace trying to come over the top, fortunately I saw the move and followed suit, pushing him so far up the banking we both nearly went into the fence. Rolling down the back straight with less than 250m to go the same tactic again from Miles, this time with 100% commitment and power I just couldn't match.
Over the top he went, I dug in to chase but alas he was long gone so I had to settle for second place.
Apparently it was a good race to watch as a spectator with two pure sprinters going at it hammer and tongs, personally I was quietly disappointed that I didn't win as I would have loved to have pulled on the jersey.
Scratch Race
After finishing the Sprint final I was feeling on a high even though I'd lost, I was going home with a silver medal at least – what have I got to lose? As a bonus for me it had also been shortened to 15km as opposed to 20km due to time constraints, personally I think they should have shortened it more to 2km but that didn't go down too well so 30laps it was… The pace started fairly steadily with very few rider really wanting to do any work, a strong wind had picked up coupled with it being the last race of the day saw some lethargy amongst the riders. I was feeling  really lazy so whenever I was on the front I either pulled up immediately or slowed the pace down to what I though was acceptable, this was not particularly popular with eventual winner Symon Lewis (Sigma-Sport Specialized) who told me in no uncertain terms to 'stop being such a fat lazy sprinter', charming! A couple of digs of the front were either pulled back by myself or a couple of the other riders, but eventually consecutive attacks with 12 laps to go snapped the elastic with a group of four breaking of the front – that was the move.
Sitting in fifth or sixth position I gathered myself and weighed up the options; pack it in, sprint for fifth, continue to roll around and see what happens? A rider from Dulwich Paragon and I worked well together to minimise our losses when I saw the front group split into two groups of two with the latter looking pretty tired. 6 laps to go and we were neither gaining or losing time on the 3rd or 4th placed riders, this gave me renewed strength and I started to hatch a plan. With 4 laps to go I came through for my turn but this time intentionally put my head down and attempted to lose my companion. After two laps on my own I had managed to bridge the gap and made contact with the two riders ahead, I hedged my bets and sat on the front hoping that they were too tired to come round me. Bell lap, waiting, waiting, waiting, 250m to go. Kick! With a positively guttural cry I kicked with every ounce of energy I had left in me to hold the other two off taking the final podium spot.
In some respects I was more pleased with this race than the sprint. It's the first time ever in a race I've bridged a gap alone, formed chase groups and had the confidence in myself to have the endurance to last 15km. It was is a bit long though, don't fancy it every week…