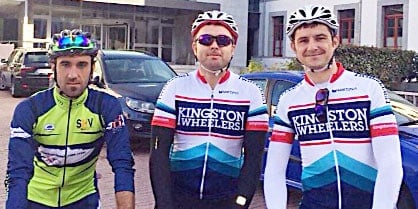 The Angliru
Having decided to attempt the Angrilu with David O'Donovan as a 40th Birthday 'treat'. I cannot recommend more highly Road Cycle Asturias who planned the entire trip for me. The only downside was I wish I went for longer! writes Martin O'Sullivan.

Prior to arrival Jose dealt with everything. Over the course of a few weeks I had been advised on the best clothing for the area, was sent Garmin files for the routes I wished to do, arranged meal times, bike fitting, booked rooms and transfers, discussed training and most importantly Jose had arranged for our guide up the Angrilu none other than ex-pro Carlos Barredo!
The trip simply could not have been better. With an easy 40 minute transfer from Asturias Airport we arrived at Las Caldas Villa Termal. This hotel is simply amazing. The staff at the hotel were fantastically helpful throughout the trip and immediately welcomed us. The room was spacious and meticulously clean with a superb shower. The hotel had even provided us with a complimentary power bar and energy drink in our room!! We ate like champions during our stay. Each part of the tasty three course meal was perfectly cooked and delivered with outstanding service. The breakfast was fit for a king and ideal before the hardest climb in pro-cycling.
After breakfast we met Carlos, a true gentleman and riding with him certainly added something special to the trip. He entertained us with his stories of the pro-peloton while showing real humility and a great sense of humour. Carlos was a huge motivation on the climb refusing to leave me when I asked if he wished to push on. With 4km to go Carlos made sure I kept a few matches dry as the section called Cuena Les Cabres approached. This section is the first time I have ever thought I might fall off on a climb. With my front wheel lifting off the pavement Carlos continued to stay just the right distance in front for inspiration. Once through this hell and approaching the finish Carlos lightened my efforts with a humorous call for me to 'sprint!'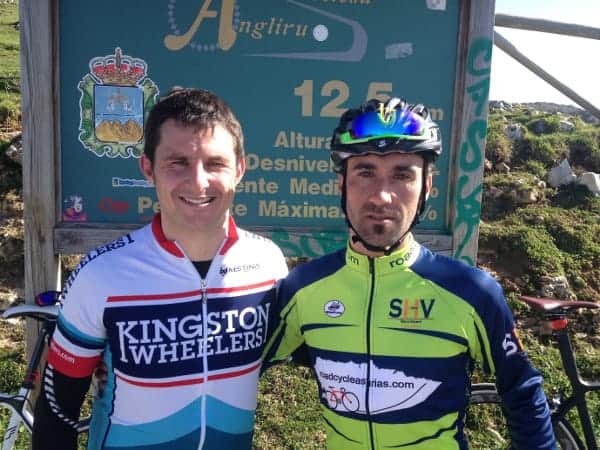 At the top Carlos was happy to pose for a few snaps and we even shared some family made cakes which totally hit the spot. Carlos then checked out our brakes and then escorted us safely to the base of the climb. At the bottom we rode back to the hotel, a round trip of 40 miles. We then shared a cheeky beer and Carlos headed off into the sun.

After a spot of lunch we indulged in the lovely hotel spa, the perfect end to a challenging cycle. My only regret was not staying longer. Having spent time riding I was fascinated by the experience Carlos had and in particular the difference that specific training in a location such as this could have on your ability to race, timetrial or just improve in sportives. The area is a paradise for cyclists, the accommodation is magnificent and the advice bespoke. What more could you ask for. I will be back!
Thank you so much to Jose and Carlos for an amazing couple of days in Asturius.
For those who are interested here is the main package Jose will put together. Price wise is much better for 7 nights at £1100/person for groups of 14 with everything included (except flights) and Carlos training you for 6 days across the nicest routes in Asturias including Lagos de Covadonga, Farrapona, San Lorenzo and Angliru for the bravest). Carlos will also do 1 stretching and 1 core strength sessions at the hotel gym. They can organise the training camp for smaller groups and the cost should not be much higher. Included in this trip will be:
Full board accommodation at a top level sports and Spa Hotel Las Caldas Villa Termal
7 nights at 4 star Hotel in a double bedroom
Breakfast buffet
Food provided at the beginning of the ride and additional food supplies at midday (except during active rest day where food will only be provided upon departure)
Packed Lunch on arrival at the Hotel
Water and isotonic drinks en route
Sports dinner
2 support cars with bike service and maintenance (spares at extra cost)
Introduction to water sports recovery circuit (first day only). This can be done on your own on consecutive days
Secured bike storage facilities and workshop
Bike washing facilities
Cycling kit express laundry (clean and ready for next day)
Access to Hotel Spa centre
Access to Hotel Gym
Free WiFi
There is also a sports testing lab there if you want to really go mad!