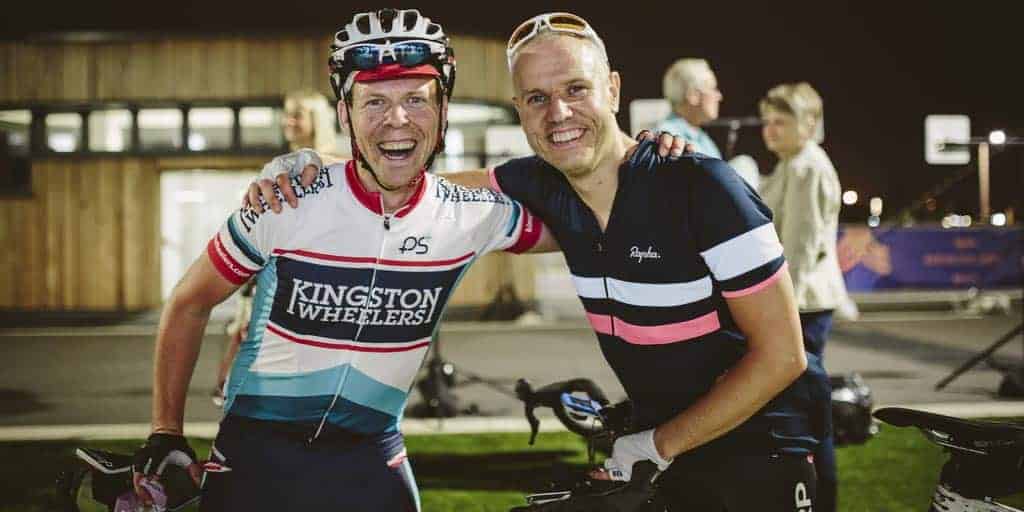 The big one: Manchester to London
How do you celebrate a big milestone in your life? Well for Will Rostron, who turned 40 this week, he decided to cycle 227 miles from Manchester to London in one day! So on Sunday 4th September, Will and fellow Kingston Wheeler, Chris Young, lined up for the Annual Rapha M2L event. Here's their account of the day…
Chris Young:
Perhaps more than we expected, it was a challenging ride, and contrary to the forecast of no rain, the drizzle at the 6am start at the Manchester velodrome turned into proper rain by Stockport and then driving rain by the Peak District – local cyclists assured us that there were amazing views from the top of the hills, if only we could see them…

Thankfully the rain eased off after the first of four feed stations at around 50 miles and the challenge then became to eat enough to go some way to replenishing the 10,000 calories the organisers told us we'd burn that day. 

The route south took us along a succession of country lanes, disused railways and quiet roads however on arriving in a small village somewhere north east of Milton Keynes we were greeted by a fleet of police cars evacuating residents due to an unexploded WW2 bomb! They were not too sympathetic to our group of five cyclists (around 170 in total did the ride) and the detour took us what turned out to be an extra 10 miles. Not so much in the scheme of things, maybe. But at the time, 160 miles in, it felt like a lot longer as we re-traced our steps.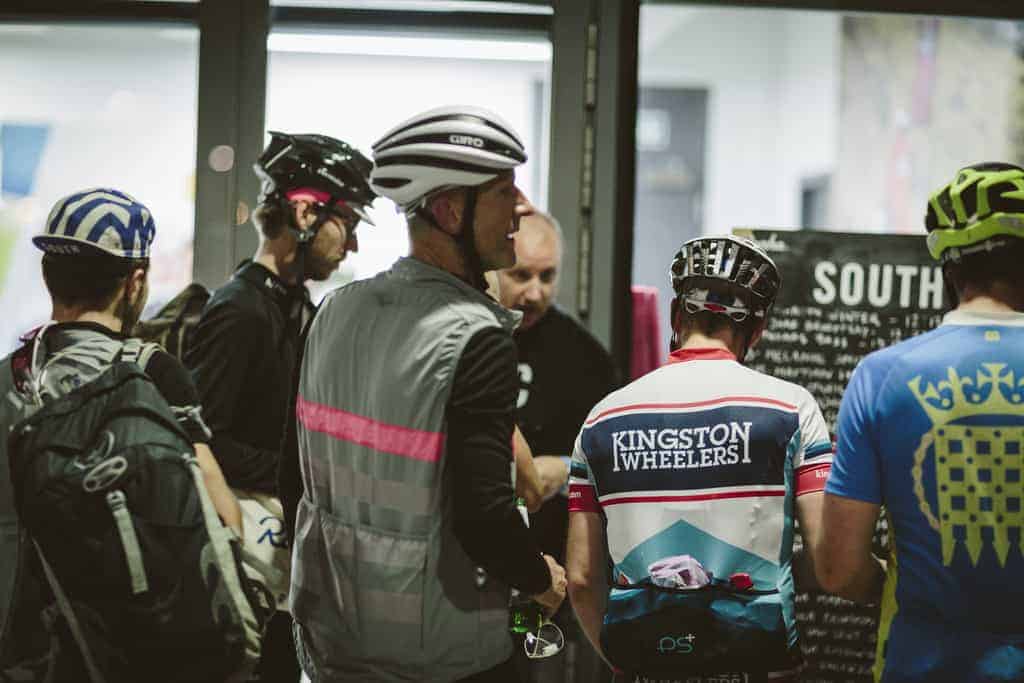 By the time of the final feed station, in the Chiltern hills, it was getting dark and energy levels were flagging (revived only partially by tea and a can of coke – check out the 'updates'). But the first sight of the lights of London in the distance lifted our spirits and we made it to the Olympic velodrome soon after 10pm and, most importantly, raised over £2500 for Ambitious about Autism. 
There is more info on the ride from Rapha here however as, unlike most of the participants, we weren't clad head to toe in Rapha (preferring to ride in KWCC kit) we don't feature too much!
We were bang on the average time but slightly rue the 10 mile detour that we took and the 3 hours we spent not actually riding during the day – however our aim was to finish it and enjoy it, not to go for a time – and you can see by the end photos that we definitely finished with smiles!