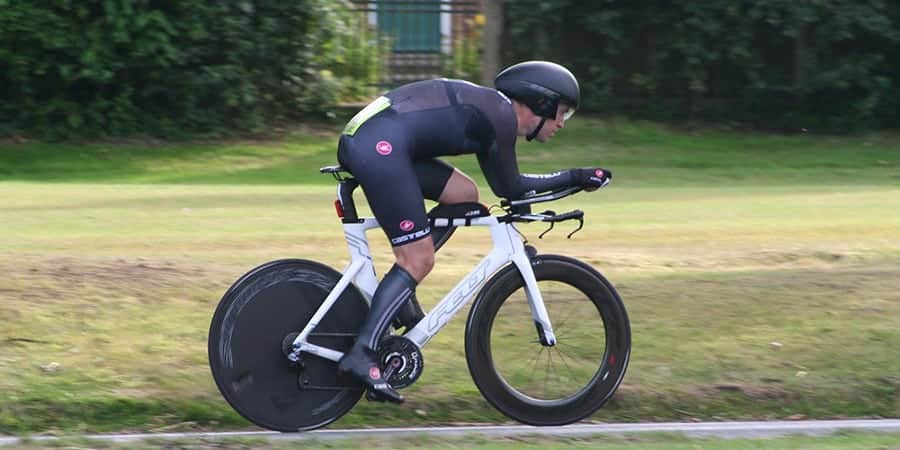 The Race of Truth
The Best British All Rounder competition is run every season to find the best men and women across a variety of long distance time trials. Henrik Persson recounts his experience…
The BBAR is a prized national time trialing competition, conceived in the 1930s by a previous incarnation of Cycling Weekly as a way for riders to compete over a season without needing them all to be on the same course at the same time; that would at the time (and even maybe today) have been a logistical impossibility.
Until relatively recently, Cycling Weekly and the other UK cycling journals would really celebrate the competition and publicise results. The BBAR has wained in popularity over recent years, not least due to the increasing popularity of shorter time trials and sportives. Maybe, just maybe, this year evidenced the first signs that the BBAR is enjoying a little resurgence.
The BBAR league table is calculated by ranking male riders by the average of their average speeds in their best qualifying 50 mile, 100 mile and 12hr races in a season, and for the ladies, by the average of their average speeds across 25 mile, 50 mile and 100 mile races. Those were, once upon a time, the most popular time trial distances. Men attaining a result of not less than 22mph (approx. 35.5 km/h) from their three times receive certificates for their efforts. Women do so if their average is at least 20mph (approx. 32.25 km/h).
Whilst previous winners include British domestic legends such as Kevin Dawson (a record 11 wins) and Beryl Burton (25 consecutive wins up to 1983), as well as Michael Hutchinson (that guy who writes the last article at the back of Cycling Weekly each week), the BBAR does not attract the Wigginses and Dowsetts of this world as rather obviously, it would be difficult for a professional rider to justify the time to ride up and down the UK's bumpiest A-roads in traffic with us amateurs many times over a season.
Jasmijn Muller won the ladies' BBAR in KWCC colours in 2014. I can't find a record of the last time a male Wheeler appeared up the tables.
Despite having ridden a few 50s and 100s, I had never seriously considered taking on the BBAR; it seemed ridiculous to me that people could hold obscenely fast speeds over the '12' to register massive distances of well over 300miles. By way of context, our club records were 256 and 254 miles for men and women respectively. Tejvan Pettinger put it really well: "I've done the odd 100 mile TT, but despite getting close to thinking about  a 12 hour time trial, I've never got round to it. To be honest, I've found it's very easy to think of a reason not to do a 12 hour time trial".
This all changed after a couple of pleasing results on 50 mile and 100 mile races (bouncing up and down the lunar road surface of the A31 around Bentley) early in the season showed a bit of promise. A bit of idle fag-packet maths suggested that I would only need to ride at an irritatingly achievable 14-15mph for 12hrs to get a BBAR certificate with which to decorate the new house.
Then two better results, being a 1'43 for a 50 and a 3'47 for a 100, plonked me really quite far up the midseason virtual BBAR leaderboard. This is when a perfect storm of information led to everything getting a bit out of hand – our own Adam Bidwell rode a massive 252 miles in a '12', narrowly missing the club record and securing himself a certificate, and then a stranger on the start line of a race mentioned in passing that getting into the top 12 of the BBAR entitled you to a nice dinner at the CTT's expense at their annual awards – with rubber chicken in mind, I rushed to sign up to race, and not just complete, a '12'. 
I worked out that I would need to ride more than 270miles or 22.5mph to get an overall average speed that would have got me into the top 12 in the last few seasons. This was also coincidentally the distance that my coach had picked (he won't admit out of thin air).
Accordingly, on the first weekend in September, I turned up for the Breckland CC 12hr race in Norfolk. The rain had blessedly stopped overnight but the wind wasn't great, and at 6am, it was frankly cold and miserable and the idea of riding for 12hrs up and down the A11 was no longer a compelling proposition. Plus most of my kit was still damp from raced to a PB over 25 miles in the driving rain on the previous afternoon (52:13, since you ask).
All that said, Andy, a good friend had been amazing enough to give up his weekend to sit around in laybys with sketchy mobile signal handing up bottles and food to me, so there was no way that I would let him down by not giving it a go. I also wanted that certificate and free meal. And to beat Adam, obviously, and take the club record.
Psychologically the 12 is a funny beast. In other races you know how far you'll ride but not how long it will take; by riding faster, you get to the end sooner. It's very strange to set off knowing exactly when you will finish but not, however hard you go, be able to bring forward the end of the discomfort.  
The race itself is not particularly interesting but I could talk about it for a long time. 
I could talk about the big downs and the big ups, the average power (average 230ish Ws) and speeds per lap (not enough), but reality is that that I was just on a TT bike for 12 hrs, riding from the HQ to the first loop, 4hrs around one loop, then 4hrs around the second loop, and then the rest of the time going around a more remote, small, "finishing circuit" where the vocal support and encouragement of everyone's helpers and family and friends was very much appreciated. Andy, particularly, still had not lost his boundless energy and determination to push all sorts of energy products onto me. Rob Gardner, club TT secretary, had much to my surprise cheerily waved across the car park that morning and carried on the support throughout the day. He was there in his capacity as Jasmijn's hander-upper.
For the first 100 miles I couldn't wait to get to 100 miles, then for the next couple of hours I couldn't wait to get to six hours. Between six and nine hours were the worst – I'd emptied any residual reserves of energy and interest, and I spent the time praying that the food I'd thrown down my throat at the pitstop was enough to get me quickly back to the pitstop. The weather and temperatures changed during the course of the day, but the wind from the east was a constant companion.
I was one of the first onto the finishing circuit and this was both motivating (woo! I'm amongst the fast boys!) and crushing (I'm so lonely!). The first and last lap were fine, for obvious reasons, the only problem is the countless laps in between. The finishing circuit presents a massive psychological challenge in a different way to the rest of the '12' because your tired body knows that can step off at any time and not be a DNF; you score your distance to that point. Stepping off was so very tempting. I was grateful for
having that temptation to resist; it gave me something to think about. I'd emptied my brain of any thoughts. Having to think about resisting the urge to step off to think about was a very welcome distraction.
12hrs after I had started, I pulled up at the nearest timekeeper. I was more emotionally than physically spent, but still could barely get off the bike. I wobbled my way into a layby and as any remaining adrenaline faded, I stood hunched over the bike that I couldn't get off, sobbing, until Andy screeched up in the car to foist a recovery shake, more food, some clothes for my modesty (for some reason I'd decided it was a good idea to start unpeeling my skinsuit by the side of the road), and a manly reminder to sort my life out.
I was pleased to get 273 miles, for 10th on the day. The winner was in the 290s. I could have done better and have learnt a heck of a lot for next time – I wish I hadn't faded so much on the finishing circuit (my average speed reduced crushingly quickly from comfortably over 23mph on the main loops to 22.8mph overall). I probably could have eaten better, and I should have been less conservative and ridden harder at times. The faster guys were impressively metronomic as they whooshed past on the finishing circuit, looking as strong then as they had during the very first few laps of the day.
The atmosphere of the event was unique. The riders and their supporters were so warmly supportive, encouraging, and welcoming of each other. I could not see any of the self-absorption that the TT world is sometimes associated with; the race felt like a collegiate, comradely, shared endeavor. As evidence, witness the remarkable sportsmanship of the third-placed rider who, having finished his ride, saw that the eventual winner had punctured and gave him his disc to keep him going during his closing laps.
In terms of the BBAR, I ended up 14th overall with an average speed of 26.032mph. I agree that 14th of the 140 or so men who completed all three distances does not sound massively impressive (I mean, it's a good four podiums' full of riders before I'd be on the podium). Furthermore, a good few big names didn't really turn up this year. I'm however really proud to have got even that high – it was the fastest ever BBAR, and my average speed would have got me into the top 10 in any other year.
Far more impressively, Alice Lethbridge (second claim Wheeler) came 3rd in the ladies' BBAR with 26.524 mph over her three distances. Adam Bidwell of our club got his certificate and finished 48th amongst the men (24.295mph). I've no doubt that he could have gone higher had he chosen to take on another 50 and/or 100. At the Breckland 12 itself, despite not having raced or ridden outside for a long time prior, Jasmijn came 3rd with 265miles! 
It would also be totally remiss of me not to take this opportunity to thank Mark and all of the gang at CC Breckland for putting the '12' on, as well as everybody who has organized, marshaled or staffed a race this year. This wonderful little minority sport can only carry on carrying on thanks to those people volunteering their time, graft and expertise.
And if you're thinking of giving the "Race of Truth" a go (even if only because you like the sartorial elegance of a pointy hat and a skinsuit), whether over 10 miles or 12hrs, do please get in touch and I would be delighted to help.