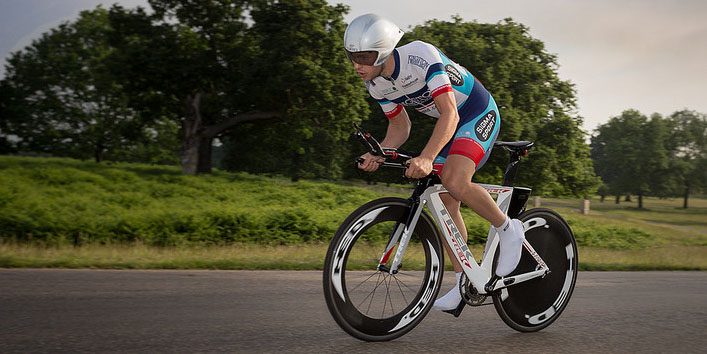 Time Trialling
Whilst time trials are a key but rare part of the big races professional races like the Tour de France. In the UK time trials are held everywhere and it's common for many riders to race just time trials week-in, week-out.
Time Trials are a great way to get into racing as they're simple, you ride as fast as you can by yourself over a set course and you get your time at the end. Drafting and tactics don't matter, it's about concentration, keeping as high a pace as you are able sustain for the duration of the course. With experience you'll perfect the art of maintaining a high speed and knowing how to save those precious seconds.
Part of the attraction of time trialling is that you are racing yourself, often trying for a new personal best time for a particular distance. As such, this means it's easy for newcomers to try a time trailing, without having to worry about the tactics and dangers of a 60-strong bunch in a road race.
Many of our members have found it a good way to begin competitive cycling and the Kingston Wheelers has a series for members that runs from spring until mid summer, it is an ideal place to start. As it is for members only you are among friends and will get to know everyone very quickly, the course is 10 mile time trials on a dual carriage way so not very technical. The club also takes part in team time trials where you work with a partner for the best time and there is now an award at the end of season for the best pair.
Gil Jessop Sporting 14
Kingston Wheeler hosts an open time trailing event in the Gil Jessop Sporting 14. This take place usually in February and is one of the first events of the CTT calendar. It is usually well attended by the time trialling community and a good event to dip your toe into an open event.
John Bornhoft Memorial Hill Climb
Kingston Wheelers also hosts a hill climbing event in autumn up the well known Surrey climb Leith Hill. A hill climb is classed as a time trail as again it is a defined course where you compete for the best time. It is hosted as an open event and we often get some very good national level competitors entering the event. Kingston Wheelers Maryka Sennema who was 2013 & 2014 British Hill Climbing Champion has won here many time. This is a great event to enter or watch! bring your cow bell and stand on the corner and cheer on the climbers.
Club Time Trial Series
We have a special season-long time trial competition based around a series of designated TT events, mostly events are open  but including a few popular club events hosted by other clubs. The aim of this is to get us all riding the same events and generally making time trialling a bit more sociable, but we'll be publishing rankings throughout the season, and we award trophies at the end of the year.
Club 10 TT Series
The club runs a summer series of 10 mile club time trials on the Holmwood (G10/42) course near Dorking. Would you like to start racing? For beginners and seasoned racers alike, there are few events more fun than the club's summer Club 10 series. These are 10 mile time trials held every two weeks on a Wednesday evening and they're an ideal way to try your first race, not only because of the short distance but also because the friendly atmosphere means there's little competitive spirit.
The series runs between April and August. The start time is usually 7:30 pm with riders setting off at 30 second intervals. For information on how to enter, check the time trialling forum. A forum thread will be posted for each Club 10 approximately two weeks beforehand, describing how to enter.