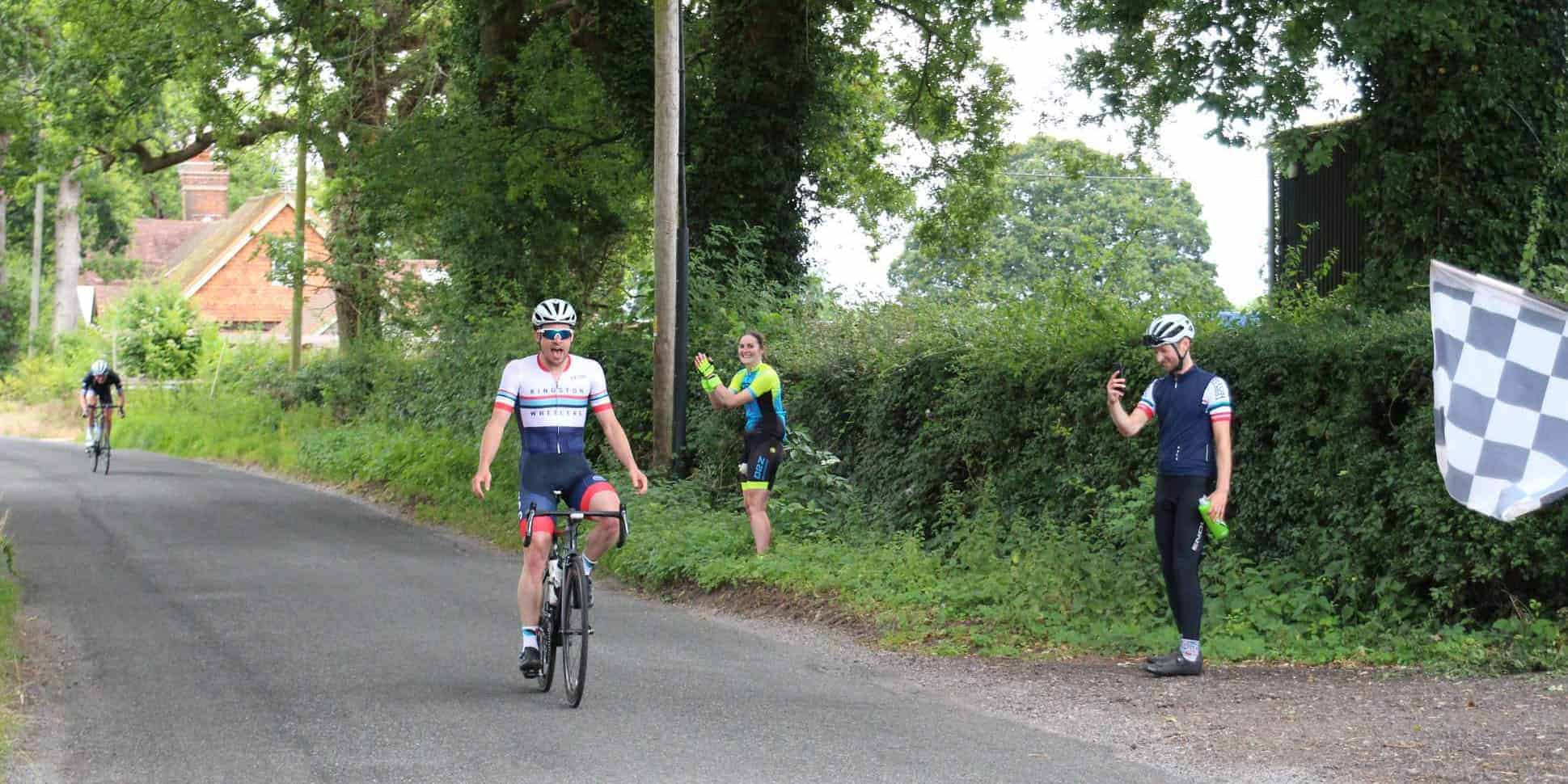 Victory for Rich at Chiddingfold
On Sunday 14th July, our 3rd cat team took on the Surrey League Chiddingfold Road Race, hosted by Southdowns Bike. Rich who just finished the Tour of Sussex reports back from a successful day of racing…
In my third season of racing with Kingston Wheelers now and finally have my first road race win. I'm not in the best form I've had in the last three years, but I've picked up a few things from doing a bunch of races and from the other racers in the club that really helped today. The main ones being knowing when to back out of a move that is doomed to fail, spotting the other strong riders and second guessing their tactics, and knowing when to be near the front of the bunch and when to drop back and save the legs… all of which is more luck than judgement, but there is judgement, and I had the luck today.
We had a strong team out with Dom, Shaun, and Harry, and I called it before the roll out that we should be able to get a result. There were numerous moves in the first half of the race, all of which included at least one of us, but none of which had the strength to get free due to some other teams not seeming to want to commit to a break. Shaun in particular spent a lot of time off the front so we saw who was willing and able to ride him back (Addiscombe), and who was interested in working to attack (Dynamo), and we did a good job of sharing that information between the team during the race.
After a couple of laps we saw that the defensive teams were stronger than the attacking teams, so in the second half of the race I saved the legs by pacing the climbs a little and allowing myself to drop back to mid pack each time.
I was planning on trying a move from about 4km to go, but then got caught up in one from about 8km, which I quickly realised wouldn't stick so sat up, but was still recovering through my intended attack point. Was surfing wheels down through the final KMs when the guy off the front from Surrey Hills seemed to grind to a halt at the base of the final climb. I rolled past and found myself clear from the bunch at about 2km to go; I hesitated for a second but then Ray Wilson from Dynamo popped out to join me and Harry shouted to 'GO', so we did.
We traded a few turns towards the line but at about 400m to go I sensed I was stronger and that the bunch wouldn't catch, so came round full gas and dropped him, getting enough of a gap to sit up and enjoy the win (first road race win so no apologies for milking it).