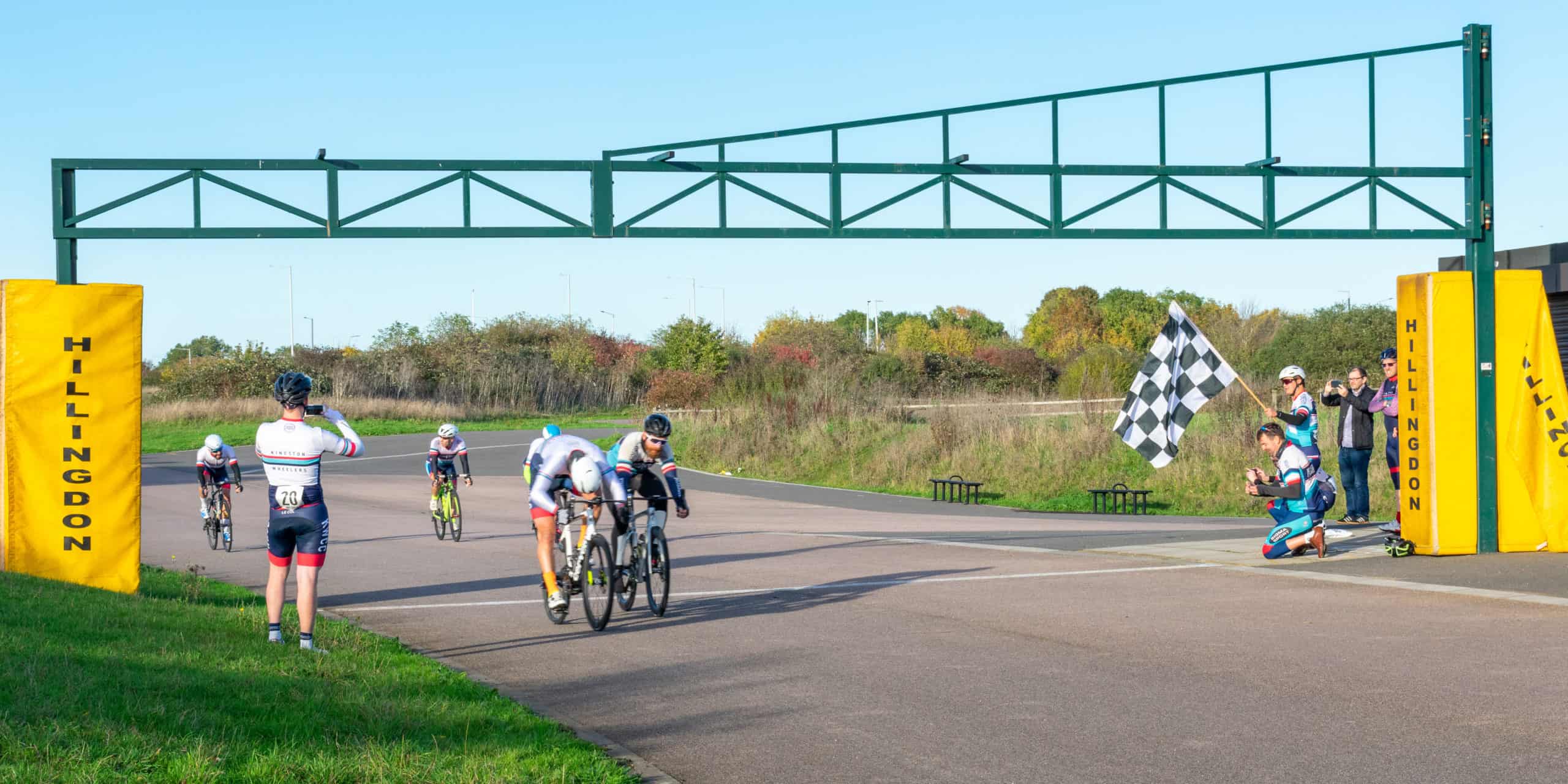 Wins for Linton & Alice at the Club Championships
Our annual club championships took place Sunday 27th October, an opportunity for the great and good of the club to duke it out at Hillingdon to determine the best racer of the year. Organiser Phil Barella reports back on the action.
"This year's championships was slightly different in terms of format. We had five new riders including two under 18s, a women's 12 hour record holder and a couple of folk new to racing, as well as most of the usual suspects!
The format was to have been three races but everyone was confident that they'd be able to "do something in the race" so we put everyone together in one race and handicapped it. It proved that after the groups were broken up into groups of four that the handicapping worked reasonably well and some of the less fit racers got pushed up the field so they could compete.
The race went off with 15 second time gaps, except to the second cats who had 30 seconds. Immediately, the first group had dropped Sam, who was riding at a slower pace until he retired. The second group and 3rd bridged in time for the first Prime which Andrew won, easily, then the final group of 3rds joined pretty much immediately afterwards. The second cats then joined a few laps later and the attacks and general pace had caused the peloton to fragment on occasion. Craig and Connor being two that suffered, and slowly they dropped away.
In the meantime with the tempo already high a few people started putting their noses in the wind and attacking for short durations, Harry, Brendan, Pete, Seb and Tom all had digs, but usually within half a lap or a lap they were caught and recovered. The one person whose attacks were more prominent was Shaun, he was gapping the group repeatedly, and after the second prime (knowing Declan and Linton would contest the sprint and would have to recover), Shaun attacked and stayed away for a while. Others (Seb especially) tried to bridge and were pretty close, but with the peloton strung out Declan then got across using one of his trademark sprints across the gap that he does so well.
The peloton had only a short time to recover and some of the stronger riders got the group back into shape for the final lap. The final kick (as well as bridging across gaps repeatedly) must have cost Declan too much as Linton just about had enough to keep him at bay and Rupert got the final podium spot. Those that can sprint will do well at Hillingdon, and so it proved.
Thanks to everyone that attended and helped, you know who you are, it was a very decent race, and we had a few people who are now hooked on the racing side of things."
Top Five:
1. Linton van Zyl
2. Declan Egan
3. Rupert Gordon-Watkins
4. Harry Bunnell
5. Andrew Davis
Women's Champion:
1. Alice Lethbridge